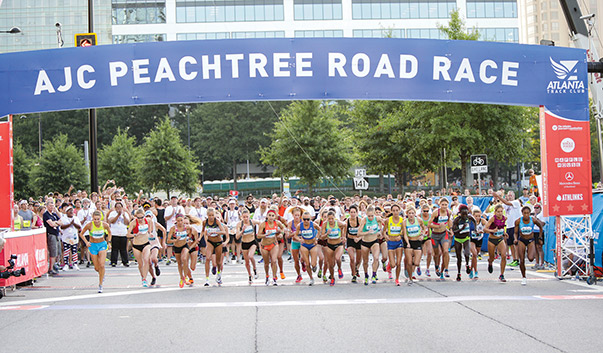 The 48th running of the Atlanta Journal-Constitution Peachtree Road Race hosted by the Atlanta Track Club lived up to its hype with heated competition and warm temperatures. With an estimated 55,320 finishers and about 200,000 spectators, the event known as the "World's Largest Running Party" certainly shined in Georgia's capital city.
"The 48th running of the AJC Peachtree Road Race was a success by pretty much any metric that I can come up with," said Atlanta Track Club Executive Director Rich Kenah, who oversaw his fourth Peachtree race.
Enhanced security measures were in effect along with a few new additions, including a chill station at the Piedmont Park finish and a big-screen video board at the starting line. Thanks to high temperatures and muggy conditions, the race was run under a red alert that advised runners to hydrate and consider slowing down to avoid overheating. "We believe, based on the number of participants that we saw at our medical tents, for the most part, people heeded the warnings," Kenah said. "We were less busy at the tents than we were last year."
Safety measures included more than a dozen road closures beginning at 5:30 a.m. on race day, on-site medical and emergency staff, and support from city emergency management and first responders. For the first time, there were security checkpoints for those entering Piedmont Park to meet athletes.
The race relies on about 3,500 volunteers, some of whom worked at the new chill stations. "We decided to commit to cooling all of the water that we distribute at the finish line," Kenah said. "I believe cooling the water was one of the reasons we were able to keep our medical tent visits to a minimum this year."
Peachtree partner Coca-Cola supplied an estimated 100,000 bottles of Dasani water. Another sponsor, Kumho Tire, provided a large video board at the start line. The screen displayed live footage from roving cameras, as well as highlights from previous races and a social media feed. "As a former competitive runner and marathoner, I know a little bit about what it takes to make the experience of running a race a positive and memorable one," said Amy Chown, the Atlanta Journal-Constitution's vice-president of marketing. "I continue to be incredibly impressed with Rich Kenah and his team at the Atlanta Track Club—how they organize and execute the race and related activities and how they work with us to enhance the value."
The first Peachtree Road Race was held in 1970 with 150 competitors and 110 finishers. The current Peachtree has a cap of 60,000 entrants. "Depending on the day of the week on which the Fourth falls, it impacts the no-show rate of race participants," Kenah said. "Sometimes we experience a higher no-show rate on a midweek day than we do on a Saturday, Sunday or Monday July 4th."
Next year's 49th Peachtree will run on a Wednesday. "There's always a reason to try to do things a little bit better from year to year," Kenah said. "I'm sure that we will have some new twists for 49."