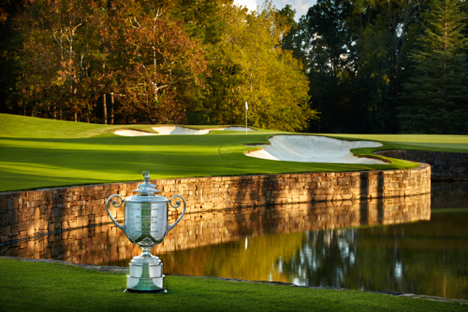 The PGA of America has announced that Quail Hollow Club in Charlotte, North Carolina, will host the 2025 PGA Championship. It will be the second time the event is held at Quail Hollow, which also hosted in 2017. The event is expected to be staged in May.
"The PGA of America is proud to return the PGA Championship to Quail Hollow and the wonderful host city of Charlotte," said PGA of America President Suzy Whaley. "Quail Hollow's course has a well-earned reputation as a stern test for the world's finest players, but what sets the club apart is its membership and the welcoming atmosphere that they promote. The state of North Carolina's appreciation for the game and major championship golf is remarkable."
"Quail Hollow is thrilled to welcome the PGA Championship back to Charlotte in the spring of 2025," said Quail Hollow Club President Johnny Harris. "Great events such as the PGA Championship don't occur without an exceptional venue and the strong public-private partnerships we are grateful to enjoy with the city of Charlotte."
Quail Hollow will become the first golf course in North Carolina to host multiple PGA Championships. It has hosted the Wells Fargo Championship since 2003 and is scheduled to host the 2021 Presidents Cup.
"To have Charlotte serve as the host for a second PGA Championship in eight years is an incredible honor and also reflects Charlotte's reputation for world-class hospitality and our growth on the national stage," said Charlotte Mayor Vi Lyles. "I want to thank Quail Hollow and the PGA of America for their partnership which will again allow us to host the world and celebrate golf on the grandest stage right here in the Queen City."