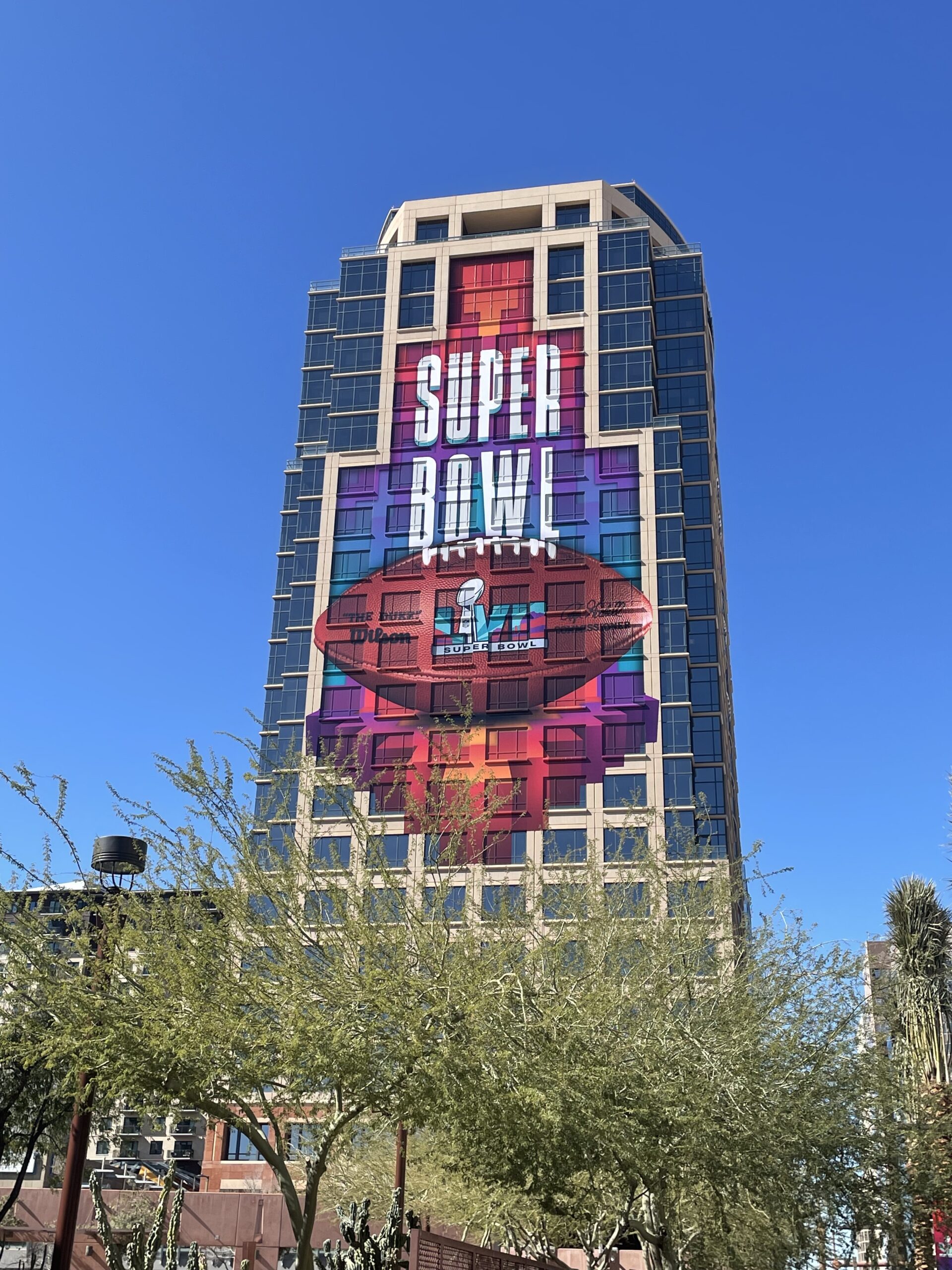 When the Super Bowl is in Arizona, something historic tends to happens. The first game in 1996 was the Dallas Cowboys' fifth Super Bowl title. The 2008 game saw the New York Giants upset the previously unbeaten New England Patriots in the final seconds. And in 2015, the Patriots used a late interception at the goal line to sneak past the Seattle Seahawks.
What will happen on Sunday when the Kansas City Chiefs and Philadelphia Eagles kick off for Super Bowl LVII at State Farm Stadium in Glendale is to be decided. But it will be the culmination of five years' worth of planning for the region to welcome the football world to town and eight years after its last chance to showcase the Valley to one of the biggest worldwide TV audiences each year.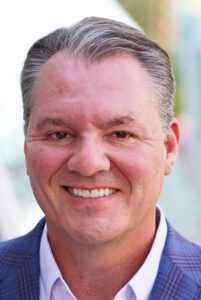 "Every Super Bowl changes a little bit and I'm talking about all the events, not the game," said Ron Price, president and chief executive officer of Visit Phoenix. "It's those non-gameday events that really kind of make each destination unique. And so for those (years of planning), you're going and learning about how some cities are doing unique things and what they do. Your takeaways are, OK, what are the things that are most important to us in our destination that we want to profile and take advantage of? How do we put a spotlight on things that are important to us because you are on the world stage?"
Those who last visited Phoenix for the 2015 Super Bowl will discover, in some ways, an entirely new city. Sky Harbor Airport has two new terminals that are unrecognizable from eight years ago with floor-to-ceiling glass walls making the concourses noticeably brighter, plus better and more exclusive high-end food options than five years ago.
Eric Kerr, vice president of insights and development for Visit Phoenix, said the organization works with OTA Insights to track visitor demand around the Valley with map colors ranging from blue to red, with red denoting areas of greater activity. "We're basically all red," he said. "Doesn't matter if you're Peoria, Tempe, Chandler, Gilbert, North Scottsdale, we're seeing massive demand pick up all around the Valley."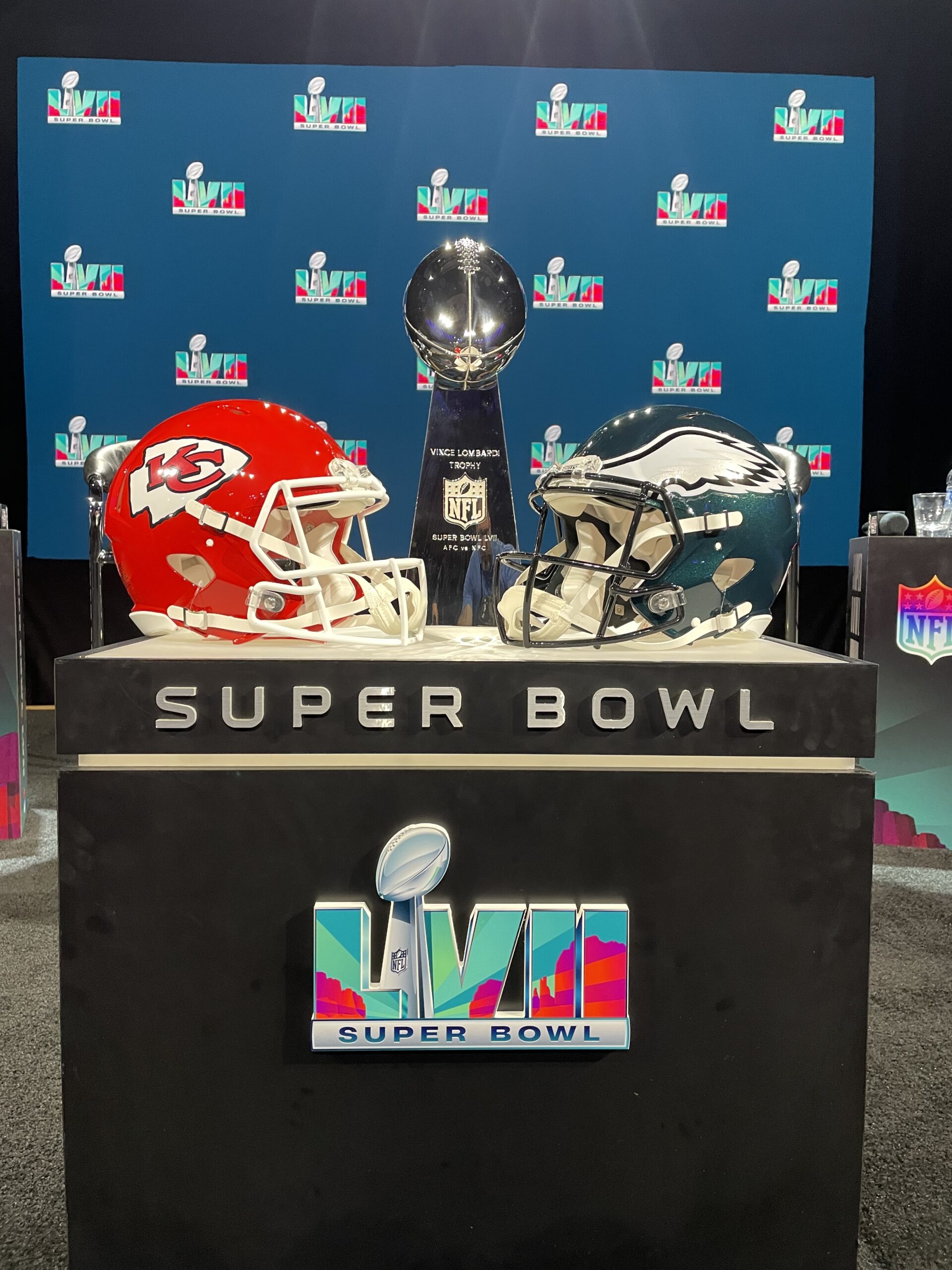 Additional Hotel Room Inventory
The region itself also has expanded its ability to accommodate large events. The Phoenix hotel market has expanded to 69,000 hotel rooms spread over more than 500 properties. The Airbnb market, which was around 1,200 units in February 2015, now has 7,500 available units in the city. HotelPlanner.com said this week the Holiday Inn at Glendale Stadium has been sold out since last year and the average room rate is $800–$900 per night over the course of the week.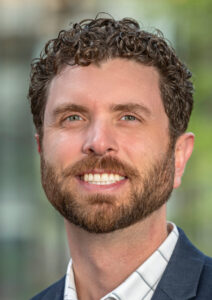 "We can distribute these visitors throughout the area a little bit more, provide additional options for families or groups that want to come to the market and maybe not want to rent out a whole floor on a hotel," Kerr said. "So it's additional opportunities, more places to have visitation, additional tax revenues coming to the city."
And there is one big difference for Phoenix this year compared to the past two Super Bowls in Los Angeles and Tampa Bay: "With the pandemic, we have a big difference this year where the previous two Super Bowls weren't really the full Super Bowl experiences," Kerr said. "We saw this as an opportunity to be the first big party, post-pandemic Super Bowl. And we're seeing that with the number of events, the celebrities and parties coming to town."
Speaking of parties, Price points out the region this week is not only hosting the Super Bowl, but one of the PGA Tour's biggest — and always its rowdiest — events of the season. The Waste Management Open at TPC Scottsdale, which traditionally finishes on Super Bowl Sunday, means the Valley is loaded with more visitors than any Super Bowl host in the years the game is at State Farm Stadium.
"We are all working hand in hand on these things and we have to be on the same page to be able to pull off hosting these types of events and to do two of them at the same time," Price said. "These are great opportunities that we look forward to with our relationships with cities around us. We have a great consortium of DMO leaders, and we get together and it's every department in every city getting together."
That exists for the hotel community as well when attracting visitors this week in the Valley, whether for Super Bowl weekend or the entire week's worth of activities.
"You have to be strategic with what you're looking for," said Brendan St. Jacques, global key account director for Sonder Hotels. "I think this week in Phoenix is a little unique because you have the combination of Waste Management Open as well as the Super Bowl. Looking for customers who are willing to book for multiple nights is a big piece of it. Looking for customers who are willing to pay more is a big piece of it."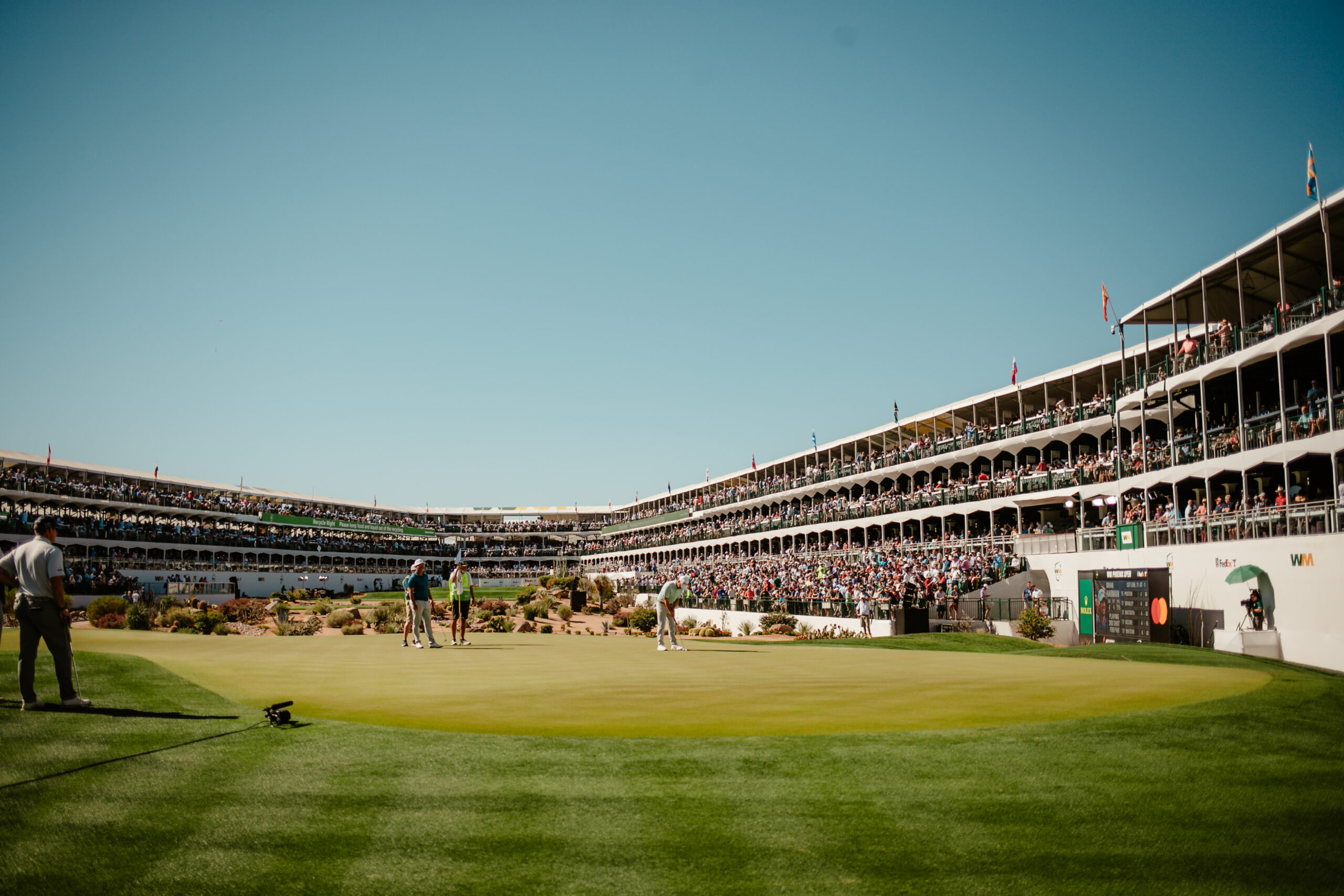 Coordinated Planning Effort
The level of planning has been detailed for years as the host committee and various subcommittees have worked on nearly every conceivable topic under the sun. Volunteers are stationed at tables throughout the airport for any questions that visitors would have immediately upon arriving. Once traveling downtown and spending time around the area during Super Bowl week, visitors can see how the footprint changes daily; streets around the convention center and NFL fan experience areas were mostly open on Tuesday, less so on Wednesday and nearly all closed Thursday as more fans came into town.
"This is our meetings and events world — move-in could be a weeklong and then three hours after the event you have an empty room," said Price, noting while the buildup for major downtown events has taken several days and NFL operations people have been in the region for nearly a month, almost all streets downtown will be fully open on Monday morning. "This is where the coordinated efforts for the last couple of years start to play out."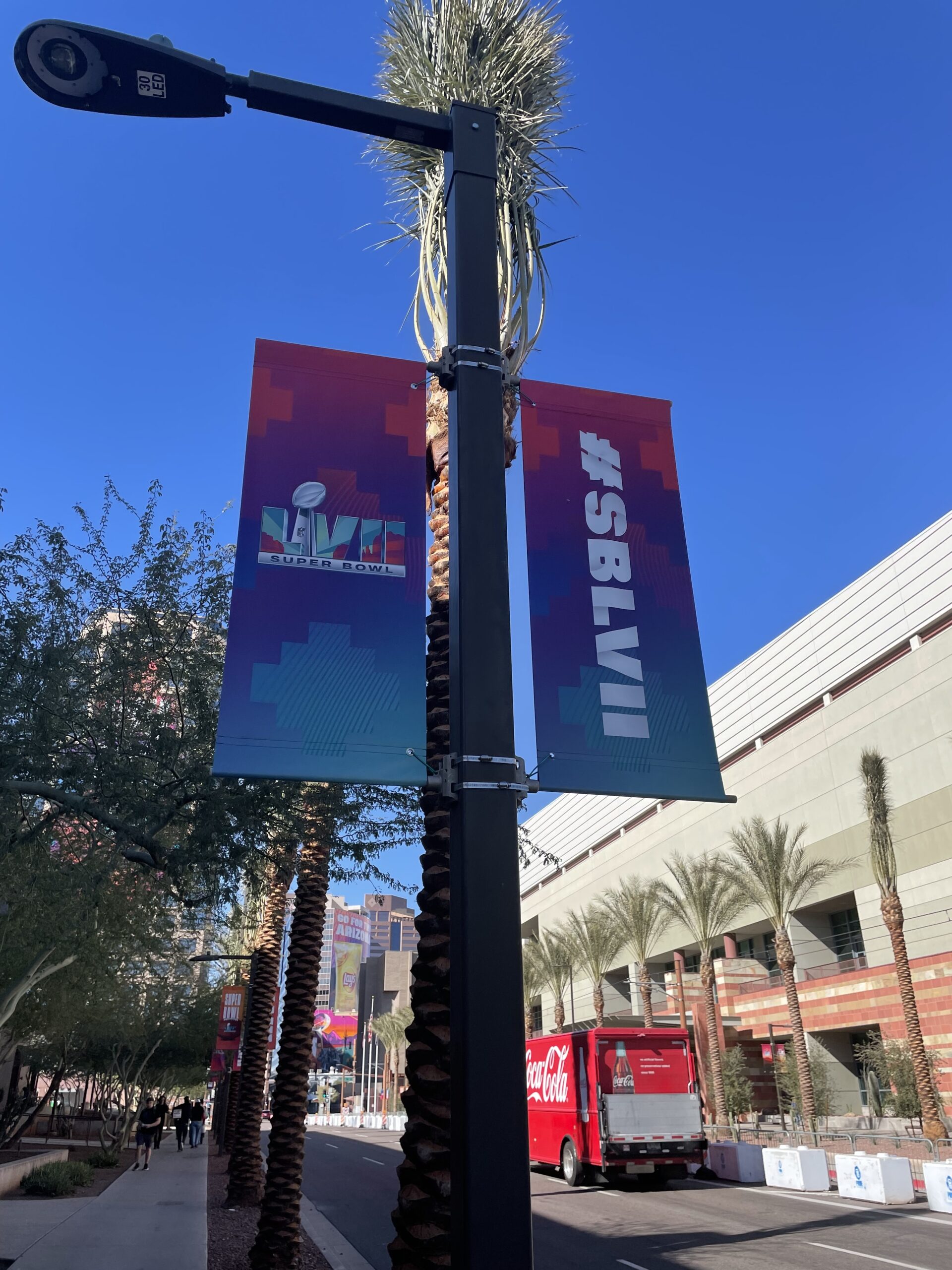 Kerr added because it was no secret the Super Bowl was coming — how could it be? — items such as planned street and sidewalk improvements were scheduled to be finished before February. Downtown Phoenix, Inc., the local downtown association, also held meetings with local neighborhoods to hear concerns and communicate about what the plans for street closures and such would be far ahead of time.
For all those businesses, of course, the potential for a surge in foot traffic and casual commerce is a motivating factor. The estimated economic impact of this year's event will be determined later in the year; the 2015 Super Bowl had an estimated impact of $719.4 million. For those restaurants and coffee shops, the need for extra staffing is important; for the city, to make sure the fan experience goes smoothly, there's the planning needed to make sure volunteers and other services such as fire, police and EMS staffing is also prevalent.
"Because it's a five-year runway typically, you're budgeting for all this staff," Price said. "5,000 volunteers, it takes a while to plan it out and make sure everyone is where they need to be. That's a major part of it. If you're going to host these mega events, part of the requirements as a host city is you're able to fulfill these needs, especially when it comes to the fire, police, EMS — for any city that's going to have a monetary impact. And so you budget for these things further out.
"We knew going into this year obviously that there was going to be an anomaly in the budget, hosting this type of event," Price added. "This is just so unique and the fact that you have so many people coming in during one time. That kind of goes back to the importance of a DMO or a sports commission and in this case, the host committee to have the ability to communicate with the city and to say what the needs are."
And now, it's just waiting for the 72nd hole to finish in Scottsdale before kickoff in Glendale and the closing party in Phoenix.