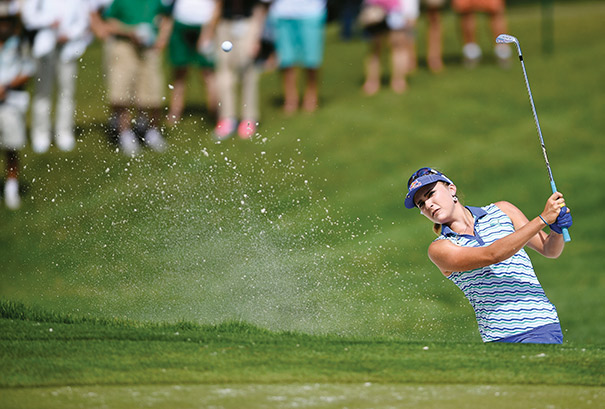 Michael Whan is all smiles when talking about the Ladies Professional Golf Association's current state and its bright future—and for good reason. When he became the LPGA's eighth commissioner in 2010, the tour was doing its best to rally from a bleak time in its history, the result of a global recession, financial losses and management tumult.
"I'm proud of how we have grown from where we were when I started," said Whan, whose contract was recently extended through 2020. "Today's players are proud of our sport and they're always smiling, enjoying themselves. I always say, 'Smiles on tour, smiles all around.'"
When he initially set out to revamp the organization, first on Whan's agenda was a revitalization of the LPGA Tour, with an increase in tournaments, prize purses and television coverage and plans to boost the fan experience, all of which have been accomplished. The 2016 season, which began in January and is scheduled to end November 20, will see golfers representing nearly 30 countries competing in 33 official events in hopes of  grabbing a piece of the $63.1 million total purse. Television coverage will be a record 410-plus hours.
"I don't know which measure you'd use to evaluate the strength of a sport or a plan, but I think whichever you use, definitely, the LPGA is on a pretty good run," Whan said. "Whether it's tournament growth or purse growth or TV growth, all of those things for us are up in the triple digits. We're on our way to where we want to be."
Leading Ladies
Now halfway through its 66th year, the LPGA is one of the United States' oldest women's professional sports organizations. The association was founded in 1950 with 13 members playing a 14-tournament schedule with $50,000 in total prize money. The current tour comprises 515 members, of which about 200 are active players, including 29 rookies. And although the LPGA is U.S.-based—its headquarters are in Daytona Beach, Florida—the majority of its current active-player pool hails from around the globe with 127 international members representing 28 countries.
With 33 official tournaments in 14 countries and one unofficial team event, the LPGA's 2016 calendar represents the strongest campaign since Whan took over as commissioner. "The LPGA Tour is doing great right now," said 21-year-old Lexi Thompson, an American who turned pro at age 15 during Whan's inaugural season and has since racked up seven career LPGA Tour victories.  "We've grown so much. It's such a global tour. We have girls from all over the world. We have bigger fan bases out there following us, more TV coverage on Golf Channel and on some mainstream channels for our majors. It's good for us, and it keeps on growing."
Thompson is going to accrue her share of airline miles this year as the schedule has not only 23 North American stops—there are 19 events in 14 states as well as two events in Canada and one each in the Bahamas and Mexico—but also 11 international tournaments on the calendar: two in China along with competitions in Australia, England, France, Japan, Korea, Malaysia, Singapore, Taiwan and Thailand. The LPGA has five majors this season offering $16.85 million in prize money.
The CME Group Tour Championship, running November 14–20 in Naples, Florida, will conclude the year as well as the season-long Race to the CME Globe points battle. "The entire year comes down to the Race to the CME Globe," Whan said. "Each week during the season, players accumulate points—think FedEx Cup, but a little simplistic in the fact that there are no decimal points and nothing gets rounded off. If three players tie for second place, they all get second-place points.
"When we get down to the week before the CME Group Tour Championship, we take the 72 best point-gatherers for the year, and they get in. We reset points and the person who wins the season-long race earns $1 million, he said. New Zealand's 19-year-old Lydia Ko has won the last two CME Globes and is in position to take the title again in 2016.
There are three breaks in this year's schedule. The first occurred in April for the PGA Tour's Masters. The second will take place in August to coincide with the Olympic Summer Games in Brazil. The final off-week occurs after the fifth and final major in September, prior to a six-week trip for consecutive events in Asia.
Success on the Shore
To sustain a strong schedule, the LPGA needs robust backing. Its corporate and marketing partners include a wide variety of worldwide leaders who  utilize the LPGA to build their brands. LPGA corporate sponsors include Acer, All Nippon Airways and Titleist, and in April, the LPGA announced STI:L, Korea's leading mobile accessory company, as its newest official marketing partner, making it the association's eighth new marketing partner within the past two years. "Our corporate sponsors make us big, and we don't survive without them," Whan said.
But the LPGA's success also depends on its tournament hosts and how each tournament is organized. One mainstay on the tour is the ShopRite LPGA Classic Presented by Acer. The tournament, which began in 1986, is held in late May on the historic Bay Course at the Stockton Seaview Hotel & Golf Club in Galloway, New Jersey, near Atlantic City. It welcomes 144 LPGA players who compete in a 54-hole, three-day event for a $1.5 million purse, including $225,000 for the winner. The tournament also hosts the largest pro-am in professional golf and a variety of ancillary events.
"Seaview is a resort where a majority of the players stay on-property," said Tim Erensen, executive director of the ShopRite LPGA Classic. "It's really a convenient week for the players. No rental cars or getting lost in a community or city that they're not familiar with. They roll out of bed and they can walk to the driving range."
Another strength of the event is its fan-friendliness. More than 65,000 attend the ShopRite LPGA Classic each year, and a major attraction is the pro-am, where fans can play with LPGA professionals. Due to overwhelming demand, the pro-am is actually staged at four courses in the region, as more than 1,500 pro-am rounds are played over two days, according to Erensen.
The tournament is also a destination event; more than 90 percent of spectators come from outside of Atlantic County, according to a study conducted by the Lloyd D. Levenson Institute of Gaming, Hospitality & Tourism. The event annually generates an estimated $19.2 million in new economic activity.
James Wood, president and CEO of Meet AC and the Atlantic City Sports Commission, said preparations for the next event begin once the current one ends. "The event is always being evaluated," he said. "Any time you hold an event of that size as an annual show, it's being evaluated every single year to make sure the subtle tweaks are done, to make it a better experience not only for the golfers but for the fans as well."
Team Effort
Relatively new to the LPGA Tour is the biennial mid-season team battle known as the UL International Crown, which debuted in 2014 and is the tour's lone unofficial money tournament. This year's event, scheduled to run July 19–24 at the Merit Club in Gurnee, Illinois, will feature eight teams of four players competing by nation for a
$1.6 million purse. It will be aired on the Golf Channel as well as during a two-hour Sunday telecast on NBC.
The format concept was a triumph in its own right. Unlike other international team formats that typically pit the United States against Europe (such as the Ryder Cup and Solheim Cup) or the United States against non-European countries (like the Presidents Cup), the International Crown allows players to compete for their own country.
"It's always a little bit daunting when you try to bring something to a sport that the sport hasn't seen before," Whan said. "When I got here in 2010 and started traveling the world with the LPGA and realized that we were putting 30 countries on display every week, U.S. versus the rest of the world just seemed a little dated to me."
There are no selection committees to determine which nations will qualify. Instead, players will qualify based on the Rolex Women's World Golf Rankings, the ladies' individual season points system. This year's Crown teams were chosen based on the Rolex standings after the completion of the LPGA's first major, the ANA Inspiration in April. The eight qualifying countries are South Korea, the United States, Japan, Chinese Taipei, Thailand, England, Australia and China. The inaugural International Crown champion, Spain, did not qualify this year. The specific player pool is determined following the conclusion of the KPMG Women's PGA Championship in June, when the four highest-ranked players from each of the qualifying countries are decided.
Unlike other team tournaments, the UL International Crown has no coaches or captains. It's a true team effort, Whan said. "Each team's four players get together in rooms and decide as a team who their playing partner is," he said. There's big incentive on the line in terms of money: Winning team members this year will take home $100,000 per player.
Event organizers had to overcome a significant preparatory glitch for the 2016 tournament. Rich Harvest Farms near Chicago had originally been chosen to host (it hosted the 2009 Solheim Cup), but last fall the LPGA and Rich Harvest Farms announced they had mutually agreed to relocate the International Crown. That's when attention turned to the Merit Club, which is 30 miles north of O'Hare International Airport and hosted the 2000 U.S. Women's Open. "Merit Club is pretty special," Whan said. "When we started discussing Merit Club, we knew pretty quickly that, if we could find a way to get that done, it was a home run."
According to Don Pieper, the club's general manager and director of golf, it wasn't a long courtship. "The LPGA came and asked us and several other suitors, and we said, 'We're willing to do it if they want us to have it.' The LPGA wanted to keep it in the Chicago area, for sure, and UL, the major sponsor, is in Northbridge, a suburb about 15 to 20 minutes south of us," he said. Although the new venue had just eight months to prepare, everything has been done with great anticipation. "Everyone here at the Merit Club is excited for this opportunity," he said, noting that the club expects as many as 75,000 spectators and hopes to enlist the help of about 800 volunteers.
Major Matches
Majors in golf are the sport's most prestigious tournaments. And this year marks the fourth consecutive season that the LPGA Tour features five majors: the ANA Inspiration, which was held March 28–April 3 at the Mission Hills Country Club in Rancho Mirage, California; the KPMG Women's PGA Championship, played June 9–12 at Sahalee Country Club in Sammamish, Washington; the U.S. Women's Open held July 4–10 at the CordeValle Golf Club in San Martin, California; the Ricoh Women's British Open, July 28–31 at the Woburn Golf Club in Milton Keynes, England; and the Evian Championship, scheduled for September 15–18 in Évian-les-Bains, France.
Unlike the PGA's non-sponsor-branded majors, all but one of the LPGA's current majors have title sponsors. The lone LPGA major without a sponsor is the U.S. Women's Open, the tour's oldest major, dating back to 1946. This year's Open offers the schedule's highest purse, $4.5 million, and will be contested for the first time in the Bay Area.   
Each of the women's majors falls under a separate jurisdiction. The ANA Inspiration is organized by the LPGA. The KPMG Women's PGA Championship was known as the LPGA Championship until 2015 when the event was taken over by the PGA of America. The U.S. Women's Open is operated by the U.S. Golf Association. And the Women's British Open is run by the Ladies' Golf Union, the women's golf governing body in the United Kingdom and Ireland.
The fifth and final major, the Evian Championship, wasn't introduced to the LPGA Tour as such until 2013 and is overseen by the Ladies European Tour. "Since there were already four majors, Mike (Whan) had the courage, I would say, to stand up in front of tradition," said Jacques Bungert, vice-chairman of the Evian Championship. "Common sense was four majors in men's and four majors in women's. Mike took the specificity of women's golf interest and saw that five majors could be a specific way of viewing women's golf. When we became the fifth major, it was a key moment in our history, the right moment to open up a new cycle to our sponsors, our audience, the players, everyone. To really think forward and to enter major status with golf was a big thing for us."
Although originally a summer tournament through 2012, the Evian Championship board and the LPGA agreed to move the contest to September, and now it is the final major for both the LPGA Tour and LET. "Now we are in the process of unusual teamwork to build things together, to create and innovate as well," Bungert said. "We agreed that we are in a unique window because of our geographic position between Asia and the U.S. and Europe."
Rio Retreat
While the International Crown has a global feel, the LPGA's international stars will shine especially bright at the Olympics in Rio de Janeiro this summer when golf returns as a medal sport for the first time since 1904. To accommodate the women's competition, set for August 15–21, and to give a nod to the men's competition, scheduled for August 8–14, the LPGA programmed a break in its schedule.
"I assumed that the majority playing in Rio would be LPGA players, so it didn't seem right to play events during the Olympic weeks," Whan said. "So, we have this three-week break in the middle of August, which is really unique for the LPGA. We didn't have to cut any events due to the Olympics. We actually added a couple."
Olympic team qualification is simple: Using official golf world rankings, the International Golf Federation will determine the top 15 women eligible, with a maximum of four golfers per country advancing. The remaining spots—a total of 60 athletes can compete—go to the highest-ranked players from countries that do not already have two golfers qualified. Rankings from July 11 will determine the field.
The most notable continent with LPGA representation is Asia, with more than 70 players on the active 200-player roster. Included in that bunch are more than 30 Korean players. In addition, a pair of the tournament's best young players have Asian roots: Korean-New Zealander Ko and Korean-Australian Minjee Lee.
Ko, who turned pro in 2013 at age 16 (a feat that required the LPGA to waive its minimum age requirement of 18), had totaled $5.9 million in career earnings as of May and as of early June was ranked No. 1 on the Rolex World Rankings and the LPGA money list. For the Olympics, Ko will represent New Zealand, where she moved to at age 6. "I'm proud to have the (New Zealand) flag on my bag," Ko said in February prior to the ISPS Handa New Zealand Women's Open, an Australian Ladies Professional Golf/LET tournament, which she won for the third time. "Obviously, when someone looks at me, they see a Korean face. I'm proud to be born in Korea and to represent New Zealand. To say you're an Olympian is a whole new, proud feeling, and to represent your country on such a stage is going to make it a pretty special week."
New Partnerships
The Olympics should provide increased exposure for the tour's players, but under Whan's leadership, the tour itself has devoted considerable coverage to its calendar of events. In the past four years, the amount of televised tour coverage has nearly doubled. Broadcasts have risen from about 200 hours of mostly tape-delayed telecasts annually to more than 410 hours, of which 90 percent is live coverage. Six weekends of tour action will be shown on major networks this year, including NBC broadcasts from the Ricoh Women's British Open and the UL International Crown.
"Our network TV coverage has grown from one weekend when I started—and it's a long way from where I really want to be," Whan said. "We're on a momentum curve, and my job is make sure that the slope of that line stays the same in the years to come. We are excited to again see increased hours of coverage on Golf Channel, and our goal with more network opportunities is to bring back more fans to watch us on a weekly basis."
The LPGA, meanwhile, has sought to broaden its reach in other ways. In March, the tour joined forces with the PGA Tour, forming a strategic alliance focused on growing the game. There is speculation about whether a joint LPGA-PGA event will be produced in the future; the last time that happened was 1999,  the final year of the JCPenney Classic mixed-team event. The alliance will enable the tours to better coordinate schedules for their events and will allow the PGA Tour to represent the LPGA for its domestic television rights. But the main goal is to collaborate to help grow grass-roots programs and digital media efforts.
"From our collaboration in bringing golf back as an Olympic sport as joint members of the International Golf Federation to our cooperation in helping to grow the game of golf as part of the World Golf Foundation, our two organizations have had a long history of working together for the common good of our sport," PGA Tour Commissioner Tim Finchem said in announcing the long-term deal. "Extending our relationship with the LPGA into these new areas is a natural extension of this work and collaboration."
The LPGA and PGA also recently announced a deal with the Topgolf Entertainment Group that will promote the sport and the tours to new fans and participants as well as continue to enhance fan and player experiences through event and media initiatives. A primary area of focus for both associations is linking tour events with Topgolf facilities, which are entertainment centers with driving ranges for all ages and skill levels. There are 21 Topgolf centers across the United States with six more planned by year's end.
Top Golfers
With a top-quality tournament schedule, increased prize money, a growing number of fans and a strong media presence, the LPGA would appear to have a bright future.
"I think the tour is in a great place," said Stacy Lewis, an American golfer and former World No. 1 with 11 career LPGA Tour wins, including two majors. "We've got a lot of young players like Lexi Thompson who are changing the game. And we've added tournaments. We've increased the purses. We're playing unbelievable venues. The sport is in a great place."