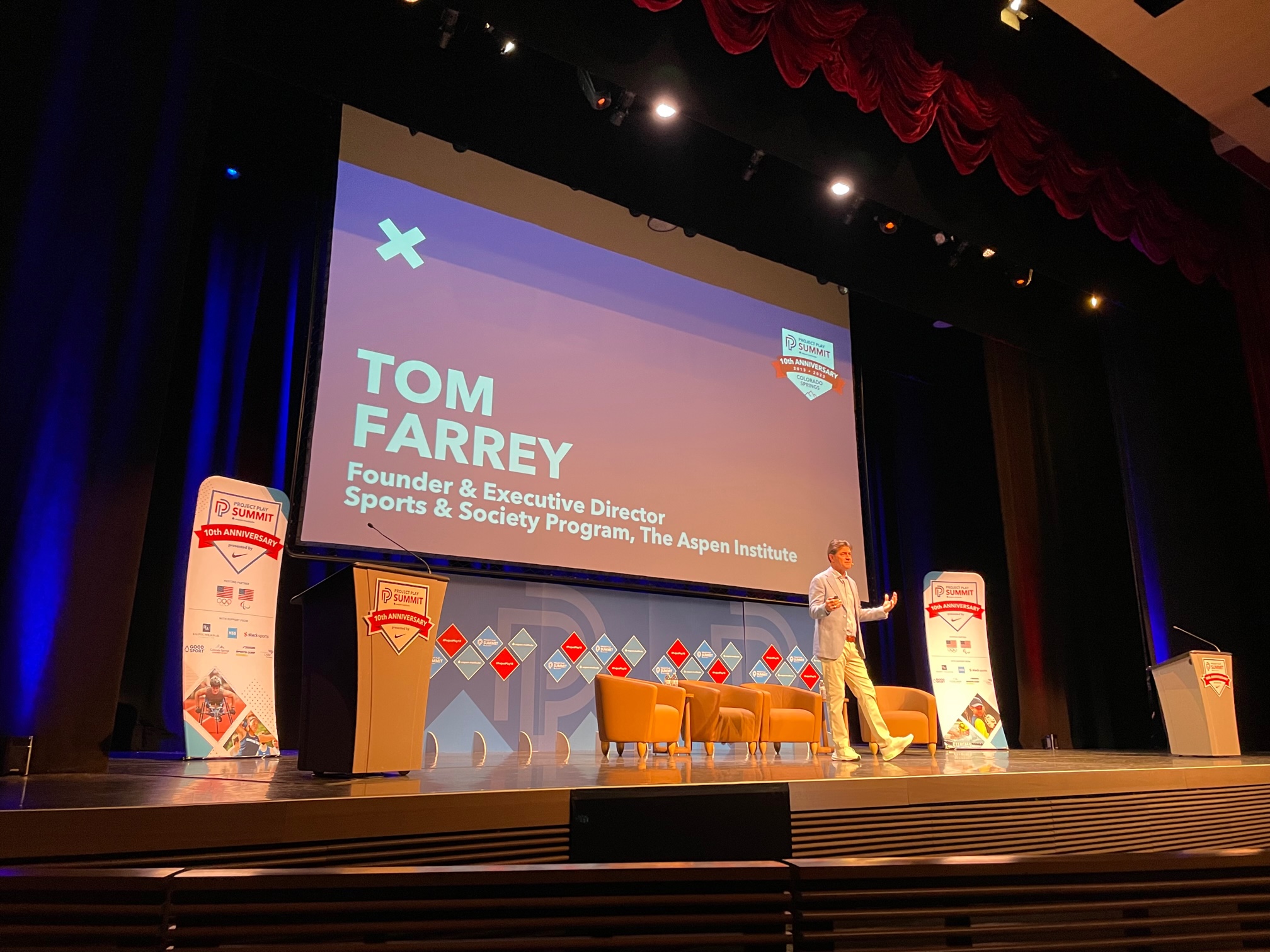 More than 600 sports industry leaders convened for the Aspen Institute's Project Play Summit in Colorado Springs On May 17–18, the 10th anniversary of the event aimed at cultivating ideas and programs that can better the youth sports experience. Sessions during the week were devoted to a range of topics including how youth themselves gauge the experience to new toolkits on curbing physical and emotion abuse to how national governing bodies can work more closely with sports organizations.
The summit launched in 2013 when participation rates among youth were in sharp decline. Funding cuts in parks and recreation programs, an emphasis on sports specialization that was leading to burnout and injuries, and no consensus on how to reverse the trends all led to the meeting's creation, said Tom Farrey, founder and executive director of the Aspen Institute's Sports & Society Program. "There was no agreement on how to tackle this problem," he said.
Since then, the group has worked on programs to combat inactivity. Those have included the creation of a Bill of Rights for youth when it comes to their involvement in youth sports, and more than $100 million in grants for new programs at encouraging sports participation. Nonetheless, Farrey challenged attendees to think more closely about how they are working to provide the best sports experience possible.
Among the areas he mentioned were recognition that there is a system of sports in the country, a simple acknowledgement he said would go a long way to improving the narrative of the benefits of sports participation. "Can we think about how all these institutions can work together more effectively at the city level, the state level and the national level?" he said.
Empowering national governing bodies, scaling community solutions, defining the purpose of school-based sports and leaning into policy and governance were other suggestions, as was a call for "deploying the power of the permit." By that, Farrey said cities should only grant access to fields when organizations can prove their coaches are trained, have gone through background checks and are meeting the needs of the entire community.
Farrey also questioned the audience to assess how to leverage the power of mega events such as the upcoming 2026 FIFA World Cup and 2028 Olympic and Paralympic Summer Games to leave true legacies that will impact funding for youth sports in the future.
Emotional and Physical Abuse Toolkit
Among the announcements that came out of the meeting was a new program launched by the U.S. Center for SafeSport to offer an "Emotional and Physical Abuse Toolkit" that coaches, parents and children can use to prevent, recognize and respond to the increasing trend of coaches and parents crossing a line that leads to allegations of abuse beyond sexual abuse.
In a panel with U.S. Center for Safesport Chief Executive Officer Ju'Riese Colon, US Youth Soccer Chief Executive Officer Skip Gilbert and Dr. Jennifer Royer, senior director of the TrueSport & Awareness program at the U.S. Anti-Doping Agency, the issue took center stage, with concrete examples of how the issue of emotional and physical abuse is getting worse.
"At our national championship alone, I was spit on, I was slapped and luckily I was quick enough to dodge a punch," Gilbert said. "Three soccer moms were involved in altercations after the game. It's systemic."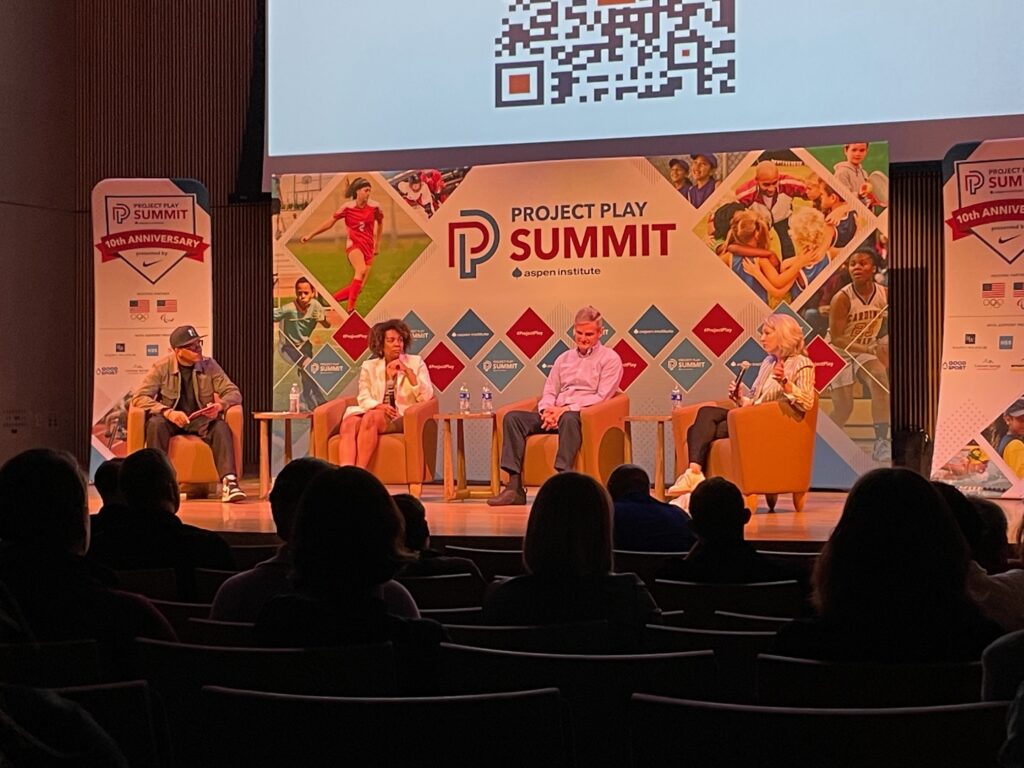 Gilbert said the cost of youth sports is also contributing to the problem. "Given the costs of playing, parents often confuse that they are the general manger, they can dress down the kids in the car, they can go after the referee, they can go after the coach, they can do whatever they want so their kid at the age of 8 can get a Division I scholarship."
Colon said the issue goes beyond overzealous parents as well. "We focus a lot on parents, she said. "But the one piece we don't focus on is the bystander. A big part of how we change systemic culture is more people need to stand up and say, 'Don't do that.'"
Host Cities and Human Rights
In another session, Mary Harvey, the chief executive officer of the Center for Sports and Human Rights, noted that her organization is working with host cities to promote children's rights around upcoming major events. One of those events is the 2026 World Cup, where the center is working on targeted programs with four host cities: New York/New Jersey, Los Angeles, Toronto and Guadalajara.
"This is built on a foundation of whenever one of these mega sports events are held, there are predictable risks to children: human trafficking, displacement, abuse," she said. "What we do at the center is develop a tool where cities can benchmark how prepared are we for these risks, what can we do to engage with stakeholders like city government and state government, as well as grassroots organizations doing work around sports and human rights."
Harvey also advocated for the Children's Bill of Rights to allow youth to have more of a voice when it comes to events. "We have an opportunity using this program in all these cities," she said. "Through collaboration and partnership with the Aspen Institute as we do this work, can facilitate to help include commitments to implementing a bill of rights and get specific on what implementation looks like."