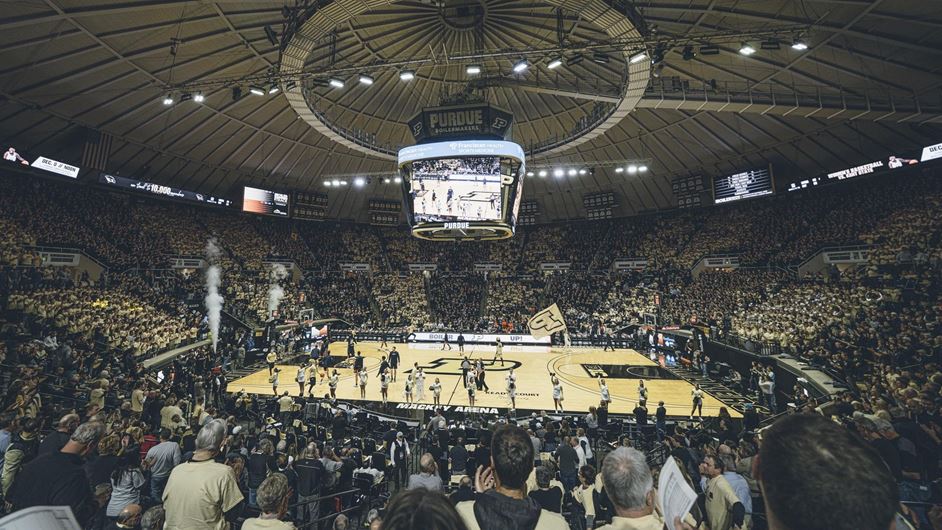 The board of trustees at Purdue University have approved a pair of projects that combine for more than $50 million in improvements to the facilities that house the Boilermakers football and men's and women's basketball teams, all funded through donor gifts.
"We are fortunate at Purdue to have the fan and donor support necessary to continue investing in our sport programs and facilities," said Vice President and Director of Intercollegiate Athletics Mike Bobinski.
For football, the approval granted for Ross-Ade Stadium's phase one includes the construction of a new team entrance/tunnel from the Kozuch Football Performance Complex to Rohrman Field, the conversion of the existing team store into a student-athlete nutrition/dining facility and the construction of a concourse connector adjoining additional seating in the south end zone. Full details regarding the remainder of phase one renovations will be shared in the coming months.
"These renovations will make a huge difference for our student-athletes and enhance the overall fan experience at Ross-Ade," said football coach Jeff Brohm. "We are grateful to our fans, donors, the Board of Trustees, Mike Bobinski and President (Mitch) Daniels for their commitment to the growth and success of Purdue Football. This project will have a positive impact on our program for years to come."
Mackey Arena renovations, scheduled to begin at the conclusion of the 2022-2023 season, will include reconfigured men's and women's basketball locker rooms, player lounges and an expansion of the John Wooden Club. Renovations will focus on modernizing layouts and updating technology while the expansion of the Wooden Club is designed to enhance the donor experience.
The estimated cost of this project is $6.7 million and will be entirely funded through donor gifts. The men's basketball team reached No. 1 in the country during the regular season and reached the Sweet 16 in the NCAA Tournament while the women's team finished with 17 wins after Katie Gearlds was named head coach less than 50 days before the season started.
"The upcoming locker room project and Wooden Club renovations will continue to elevate our program for our current and future student-athletes and our fans," said head men's basketball coach Matt Painter. "These improvements will continue to ensure that Purdue Basketball and Mackey Arena remain among the nation's elite."
"The locker room renovation project is a vital step as we bring the women's basketball program back to the national stage," said Gearlds. "The new locker room and player areas will provide additional resources to our student-athletes as we take the next step to compete at an elite level."