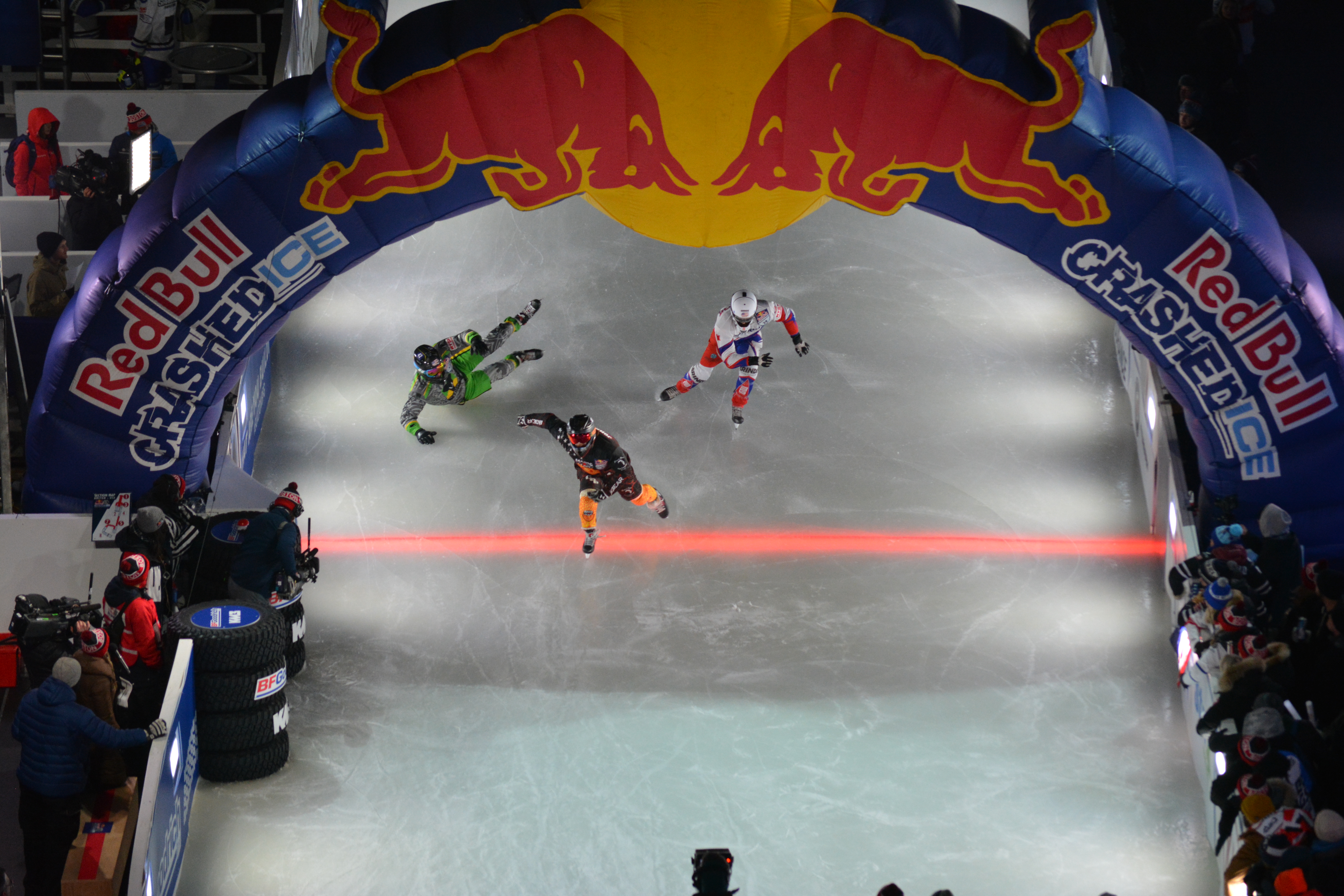 I
n the sports-event industry, one successful event can often lead to another. And that maxim held true February 7–9 when one of the country's most historic sports venues staged yet another of the most modern and unusual sports events in the world. How the spectacle of Red Bull Crashed Ice came to Fenway Park is a testimony to a sports-event organizer's willingness to push the boundaries of a live competition and a venue's willingness to take a risk with new types of events.
But more on all that in a bit.
For the uninitiated, Red Bull Crashed Ice is an event in ice cross, a sport similar in concept to the Olympic disciplines of snowboard cross or ski cross. In each of those formats, four people zip down a winding track to be the first ones across the finish line, with the top two finishers in each heat advancing to subsequent rounds. In the final heat, the first person across the finish line is the champion. But instead of competing on a snow-covered course on snowboards or skis, heavily padded ice cross athletes compete on hockey skates down a winding sheet of ice not unlike a bobsled or luge track. With cliff-like jumps, rolling bumps and hairpin turns along the way, the sport lends itself to crashes and falls in tight races, not to mention dramatic conclusions in the final stretches as skaters lunge to the finish line.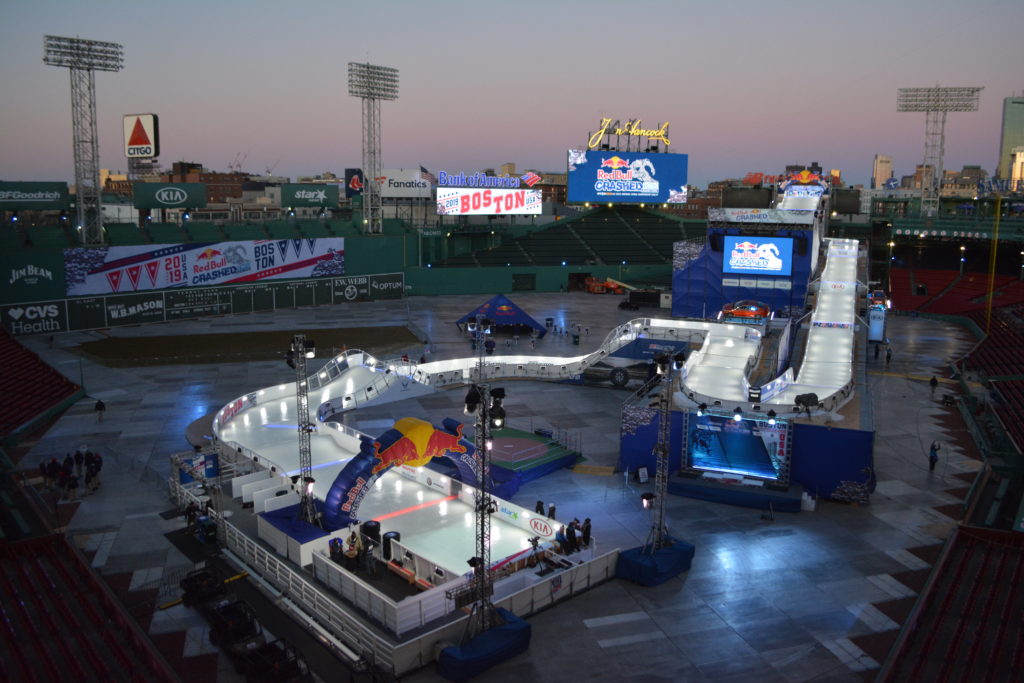 An international federation—All Terrain Skate Cross, or ATSX—oversees the sport and recognizes the Red Bull Crashed Ice events as its highest, or 1,000-level, competition. Several other smaller events are staged worldwide as well during the season at the 500- and 250-level, with athletes gaining points toward a world championship title depending on their finish and the level of event. Because of the considerable work involved in building the course for those showcase events, Red Bull is limited to staging three to four events each season.
For the past seven years, St. Paul, Minnesota, has served as the Crashed Ice tour's U.S. location, with a course built outside the Cathedral of St. Paul. Quebec City has also hosted a North American stop several times in recent years, with a dramatic course through the city's buildings and streets.
But this season has marked a shift in strategy for Red Bull. The opening event was staged in December on a course built in Yokohama, Japan, the first time Crashed Ice has visited Asia. The second stop was on natural ice in Jyvaskyla, Finland. But Fenway Park marked perhaps the biggest shift of all: The first time in the event's 18 years that it has been held in an enclosed stadium. It also marked the first time the tour had come to the East Coast.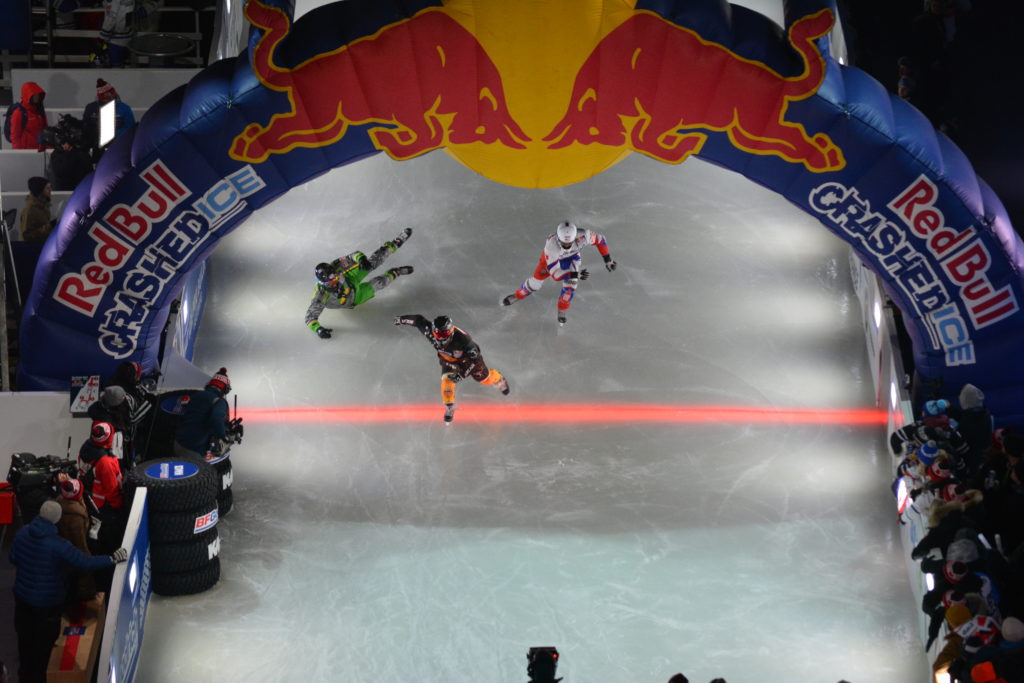 Among other things, the move to a stadium allowed Red Bull and Fenway Sports Management to sell tickets where spectators could view the entire course at once—a rarity in locations like St. Paul or Quebec City where fans could only see the portion of the track near where they were standing. Organizers hoped to sell about 20,000 tickets combined over the event's two nights.
But how did the event come to Fenway? That's where the old notion about past events paying dividends comes into play.
In 2010, Fenway Park began experimenting with winter events during the baseball offseason, staging the NHL Winter Classic. That atmosphere led to more outdoor collegiate and amateur hockey events in 2012, 2014 and 2017. But in 2016, the ballpark went one giant leap further, staging a big air snowboard event in partnership with U.S. Ski & Snowboard. And it was the spectacle and success of that event that led to Red Bull's interest in the stadium for Crashed Ice, said Fred Olsen, vice president of special events for Fenway Sports Management. "They had seen the big air event in 2016, so I think that really caught their eye," he said from his office, deep below Fenway's third-base stands. "Their vision started to come into focus as to what would be possible for Crashed Ice."
For Olsen's team, which is responsible for bringing non-baseball events to the stadium, there was a learning curve for sure about ice cross. "When we first started talking to them, we didn't have any idea what this was," he said. But a trip to see the action in St. Paul convinced them to keep talking. "We were impressed with the structures themselves. Then you get into the athleticism of the athletes, who are truly remarkable, incredibly athletic, incredibly agile, tough, fast. And the production elements: We loved the lighting, the sound. It's very much a show."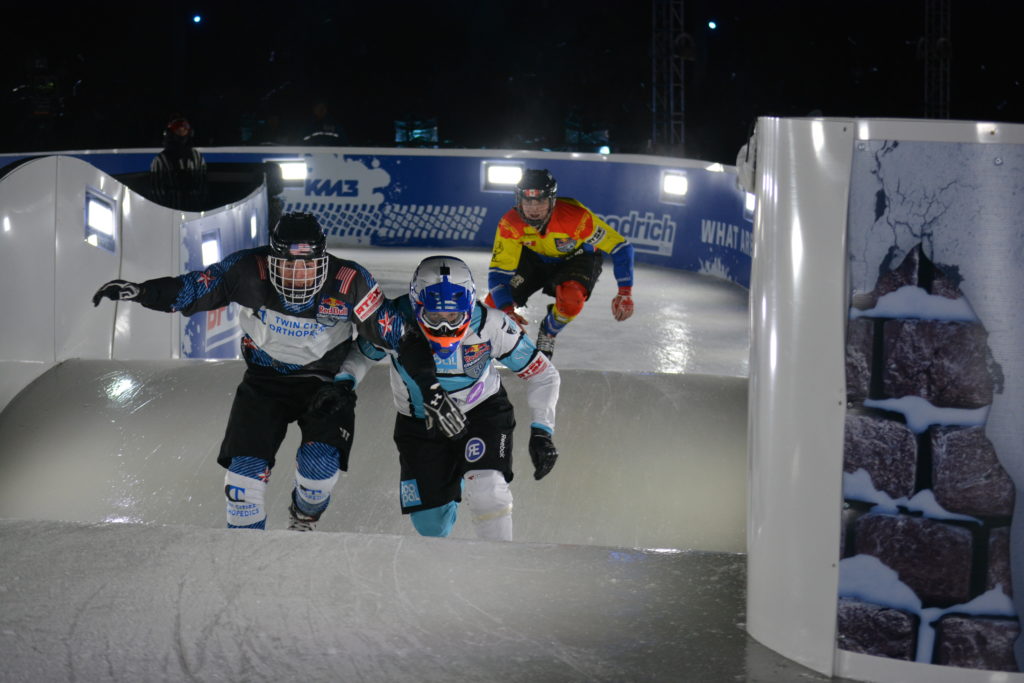 For Red Bull, Fenway filled a need as well: The ability to test whether the sport could work in a stadium environment. "As a test, I think it's a pretty good test," said Christian Papillon, sport director for Red Bull Crashed Ice, who was everywhere around the stadium, carrying a backpack and communicating with a staff of more than 150 through an earpiece. "From my point of view, it's impressive what we achieved here in such a historical environment as Fenway Park."
A quick look at the numbers:
6—The number of weeks it took to build the track
66—Feet of vertical drop along the track
1,150—Distance, in feet, of the entire track
9,000—The amount of scaffolding, in square feet, assembled for the track, which began in the upper portion of Fenway's right field bleachers and wound its way down the first-base line with turns that sent skaters to first base, second base, third base and eventually home plate
35,000—Hours that the crew spent to build the course structure, including scaffolding, track features, boards and ice
107,000—The number, in square feet, of aluminum flooring to protect Fenway Park's grass field
124,000—Gallons of water used to create the ice by misting 60,000 linear feet of cooling mats 24 hours per day for six days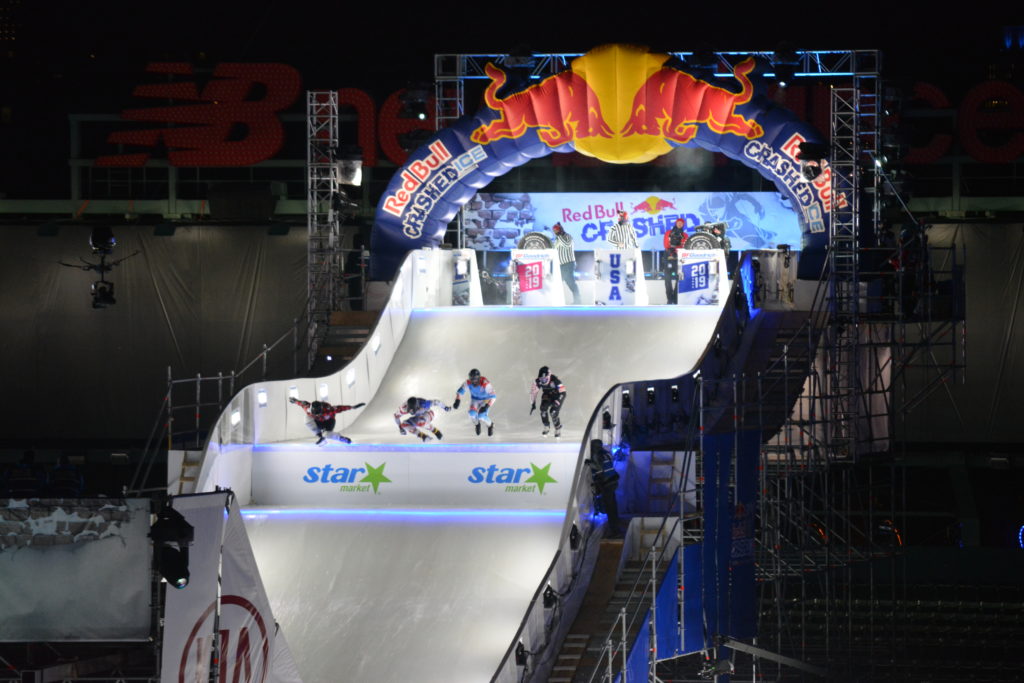 While fans could buy tickets to be on the field and near the track, the majority were in the ballpark's upper seats watching the action with a bird's eye view. That may have taken away from some of the authentic connection the sport can have with spectators banging their hands along the boards, but from a logistics end, it also eliminated a number of headaches.
"Production is a bit easier than in an urban environment because it's closed," Papillon said of the Fenway experiment. "You don't have to shut down roads. You're dealing with one team or authority that owns the park, compared to an urban environment. In Quebec City, our tracks were going over land owned by seven different land owners. You need to deal with parks departments, local, provincial and national government. So every time you change something, you can see how the snowball can grow quickly and it makes things more complicated."
Papillon said Red Bull would like to be in relatively warmer environments with Crashed Ice, although Florida, for example, would be too warm because of the logistics of outdoor ice making. Another big concern is too much sun, which can wreak havoc with the course even in colder environments. The tour has gone indoors only once, but could also conceivably stage events in an arena, he said.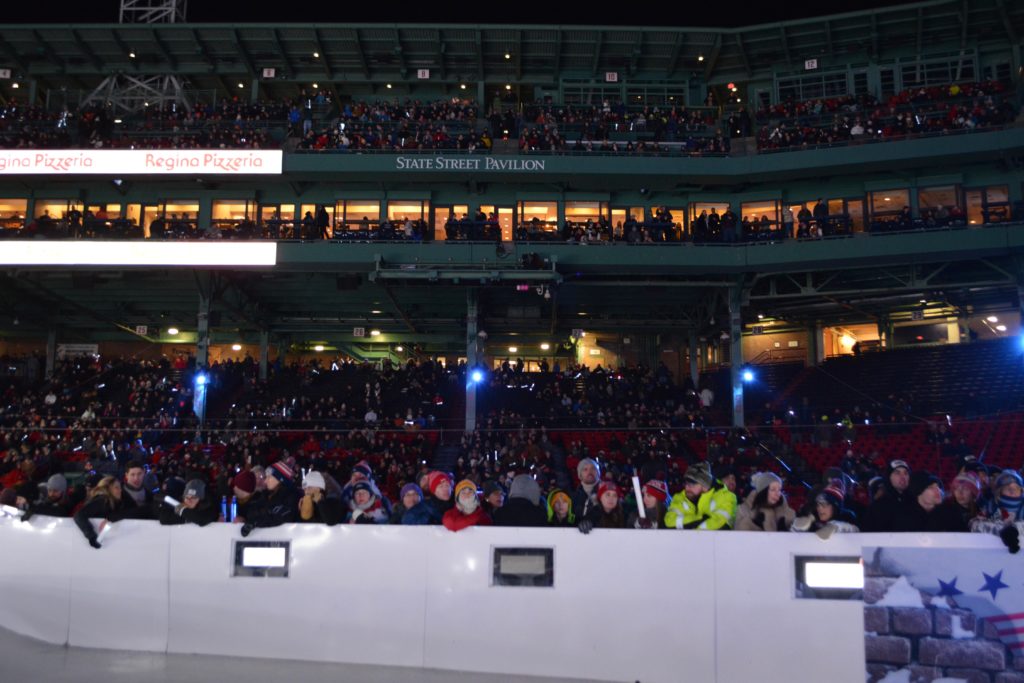 The Fenway show proved the event can go to stadiums, but it's not clear Red Bull is ready to move all its events to that format. Papillon didn't rule out a return to the cities the tour has visited in the past, but certainly suggested the future may be in pushing the boundaries, which has become something of a Red Bull hallmark. He also noted that moving the event exposes the sport to new athletes. Asian athletes have been moving up the ranks for the first time, something he attributed in part to the new exposure on the continent from the event.
"There is never any closed door for St. Paul," he said of the longest-serving U.S. host. "The spectator numbers were always huge. But the sport is developing quickly and we're going wherever they want to have the sport. And we want to go to big places. We have never been on the East Coast, so I think it's good to be here in Boston. Hopefully we can stay here a few years or maybe have two stops in the United States. That's something as well that's possible in the future."
For Olsen's team at Fenway, hosting winter events has also opened a new line of business, and a new way to think about the 107-year-old ballpark. Having staged six winter events now in the past nine years, his crew has learned more about the stadium than they had before launching into those new events. Since the park's water system is usually shut down for the winter, there has been a big learning curve in how to reopen it and when. Fans are more apt to be able to buy cans of beer from portable carts, which are easier to operate than full concession stands in winter. And certain pipes have required new and more careful insulation. "Our superintendent has heaters strategically placed that keep the seating bowl heated in case of inclement weather like ice or snow," he said. "It helps the removal process."
After having hosted an event with an enormous snowboard jump and a fantastical ice course, Olsen said his team is interested in more, but with a measured approach. "The mantra is do no harm," he said. "We want to preserve and protect Fenway Park and make sure we're bringing these new, fun, exciting events, but we don't want to saturate it too much and have it for the sake of having it. There's always going to be a long process, a long evaluation."
In the end, Crashed Ice met their needs. "This is something that will not only be exposed to everyone here in the region and nationally, but you're talking about over 25 countries that have athletes represented here. Those opportunities for us are really what we're going to go after."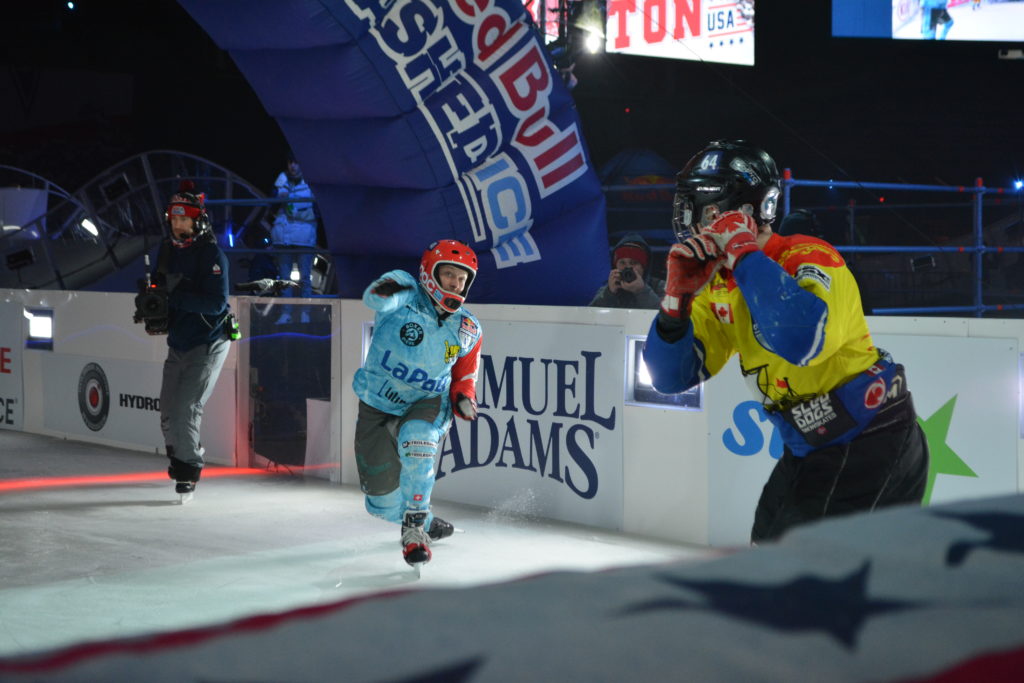 Olsen said Fenway is also seeking to do more warm-weather events around the 81 regular-season Boston Red Sox games hosted every year, identifying soccer and rugby specifically of interest.
As for the ice cross athletes, it was clear that they enjoyed the unique nature of the Fenway Park event. "I think we made some history here," said Cameron Naasz, an American and two-time world champion who took first place in the men's division at the end of a cold and blustery final night of competition. "The crowd was amping me up. I hope we do a lot more of these."
But American Amanda Trunzo, the reigning world champion who won the women's race, may have offered the best summation of what the future can hold when an event organizer and a venue agree to push the boundaries of a growing sport. "I think it was big for the sport to have it inside a stadium," she said after her victory. "Usually it's taking up a city and taking up streets and everything like that. Hey, you have a bunch of ballparks and stadiums that are sitting around, so why not use them and help us develop our sport?"