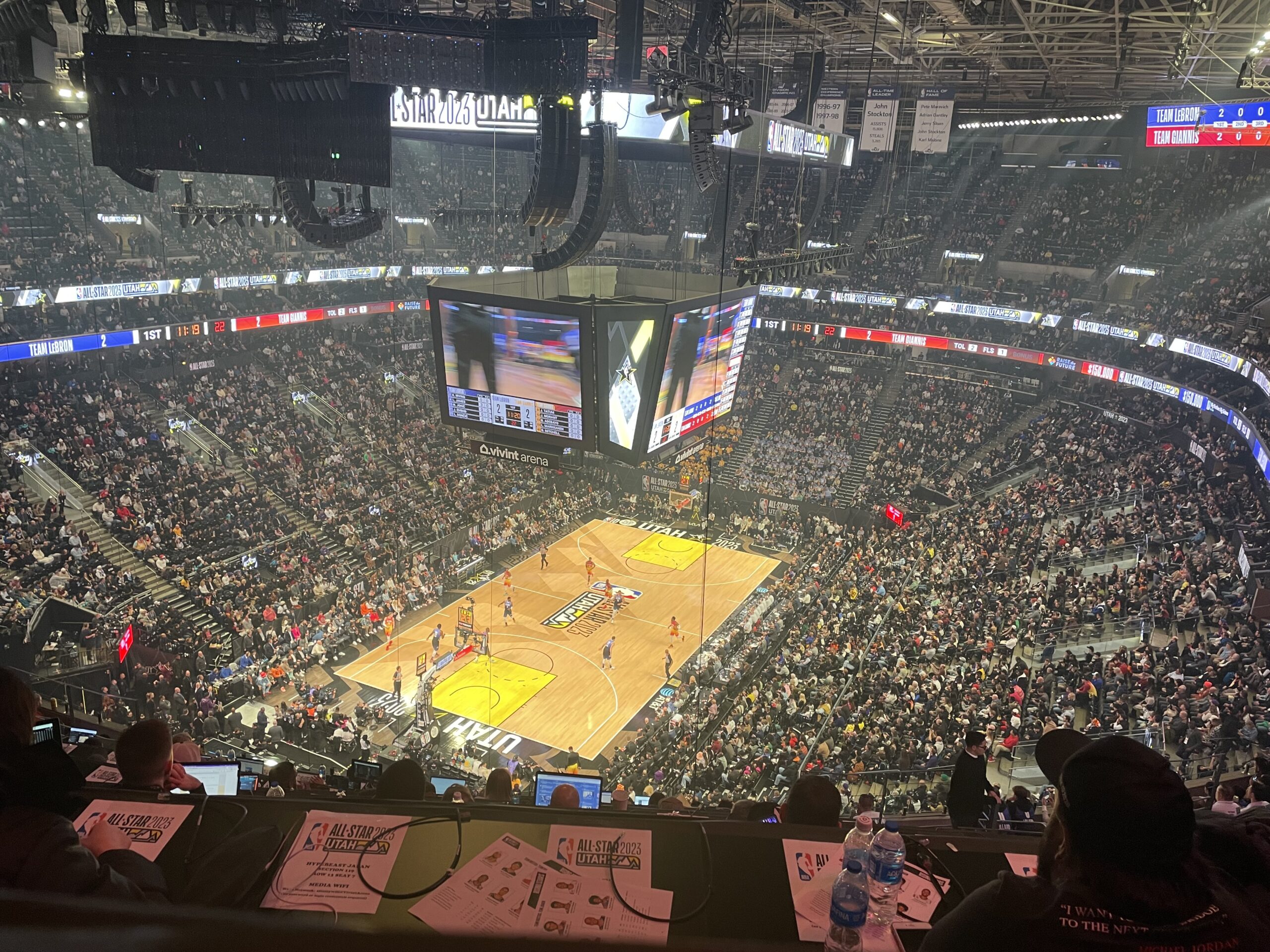 The growth of both the All-Star Weekend and Salt Lake City since 1993 is evident. NBA Commissioner Adam Silver said during the recent NBA All-Star Weekend festivities that the league occupied 33,000 hotel nights during the event, dwarfing the number from 30 years ago when the city last hosted. NBA Crossover, the fan festival at the Salt Palace Convention Center, took up 250,000 square feet — four times the size of last year's event.
"We awarded All-Star to Salt Lake City while (the Miller family) were still in place," Silver said. "They were passionate about bringing the All-Star back here to Salt Lake City. It wasn't lost on them when they were applying for 2023 that it would be the 30th anniversary and that was very significant to them," he added, while making sure to compliment new owners Ryan and Ashley Smith.
Community involvement has radically changed in the past three decades. An event that did not exist in 1993, Jr. NBA Day hosted 1,500 local youth from six school districts across Utah with participants from NBA Saturday All-Star , several members of the Utah Jazz and WNBA stars such as Dallas' Arike Ogunbowale, and Chicago's Kahleah Copper and Isabelle Harrison.
Festivities around the NBA All-Star Game also included the league's annual Tech Summit with a lineup including Jazz owner and Qualtrics founder Ryan Smith, Disney Chief Executive Officer Bob Iger and several NBA owners. Several hotels in Salt Lake hosted players, executives and sponsors — and doubled as a meeting place with business done in each property's lobby, restaurants and bars.
Google, a major sponsor of the NBA and WNBA, took over a local club and turned it into a half-court playground, a hair salon and nail studio — among other activations. Events stretched beyond marketing and sponsorship; a panel dedicated to mental health and wellness was organized by Lakers assistant coach JD DuBois, whose Everyone Has A Story organization advocates for community investment in mental health. The NBA and NBA Foundation also partnered with the Utah Black Chamber on an All-Star pitch competition to grow the next generation of Black entrepreneurs by providing the tools, resources and funding for ideas.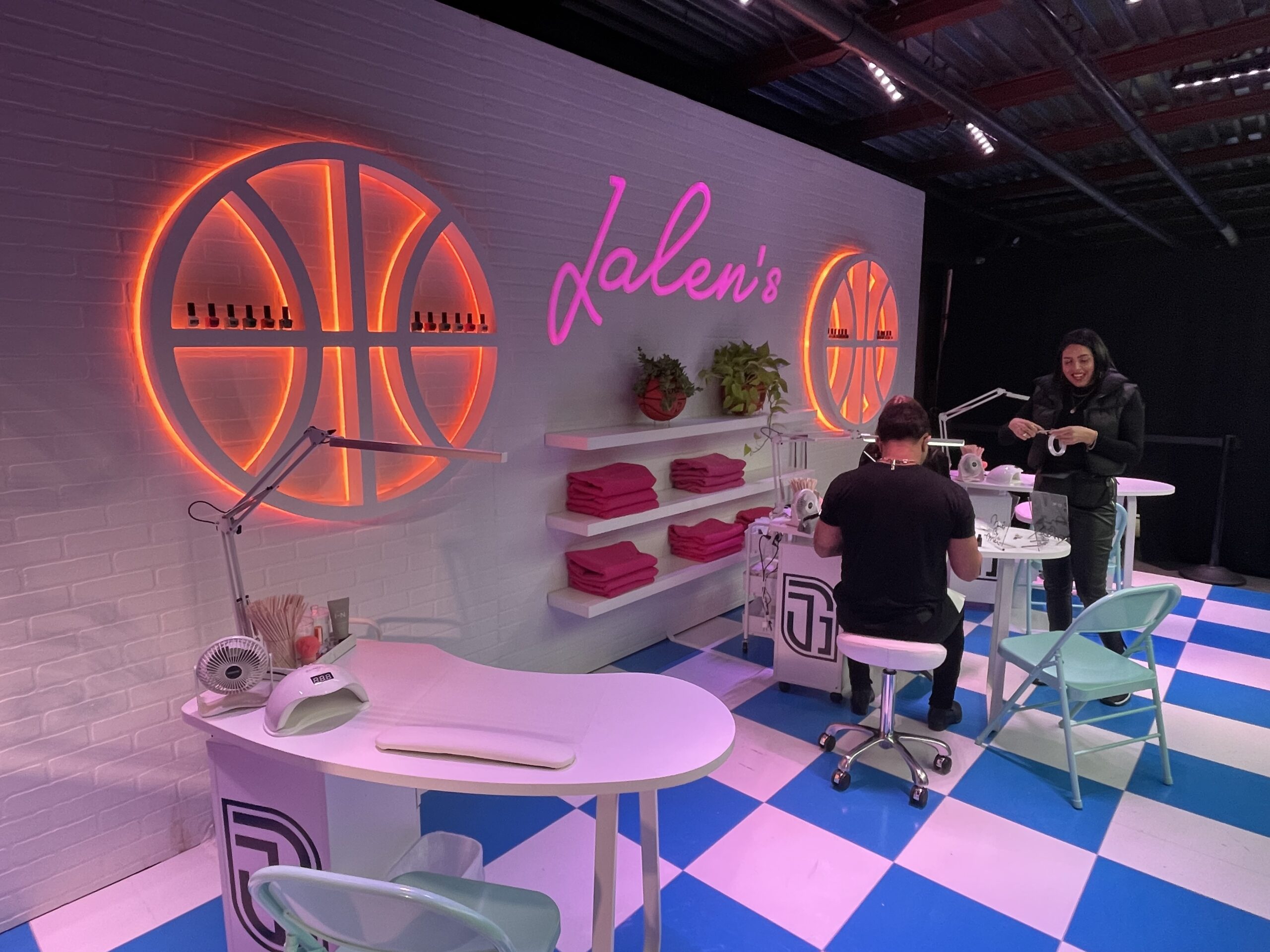 "The All-Star brought many of our community organizations together for months on end with planning meetings," said Clay Partain, executive director at Sports Salt Lake. "We now have a very close network between groups such as Sports Salt Lake, downtown Alliance, SLC Economic Development, SLC International Airport, Utah Transit Authority, and others. We are now considering the creation of a Major Events Group so that we can keep this momentum going. These are the same players that would ultimately be assisting with the next Olympics."
Partain said All-Star Weekend "was likely the most successful in history from a tourism standpoint. The event also broke several records in Salt Lake, such as creating the busiest travel day in the history of the Salt Lake City International Airport. You have to remember also that Presidents Weekend is the biggest ski weekend of the year for us. Combine this with the All-Star and every single one of them are trying to leave on a Monday!"
Partain said Sports Salt Lake opened its volunteer portal ahead of the event needing 400 volunteers and had 1,800 sign up to help in places such as the airport, hotels, street corners, light rail stations and more.
"The goal was to touch every attendee and I think we likely got close to accomplishing that," Partain said. "We owe a great deal of our success to the staff at Sports Salt Lake, in particular Caryn Bradshaw, our managing director who worked tirelessly on this project for the last year. Around two months out she dedicated almost all of her time on this project."
Throw everything together and everybody seemed pleased with how the weekend went from locals to players.
"I didn't realize how nice of a city it was," Oklahoma City's Shai Gilgeous-Alexander said. "It's really nice, the scenery around here. You can do a lot of things. And the people are friendly."
Campus Style Setup
While the All-Star Game itself had a high price tag, keeping out many regular fans, there were plenty on hand for the Saturday activities including open practices at the Huntsman Center on the University of Utah campus and the traditional Saturday night All-Star activities. That evening was highlighted not only by Mac McClung's dunk contest win but the 3-point contest going to Portland's Damian Lillard, who drew some of the biggest cheers all weekend with his ties to the region, having gone to Weber State and wearing a specially made Wildcats jersey on Saturday.
"When I touch down here in the summer, whether I'm going back for an alumni game or just going to train, or this time, I feel the love," Lillard said. "I know that I'm welcome here. It's a second home for me. … I feel like it was a good opportunity to pay homage to Weber, my old stomping ground, and just show love. Especially being back in Utah. It turned out to be perfect."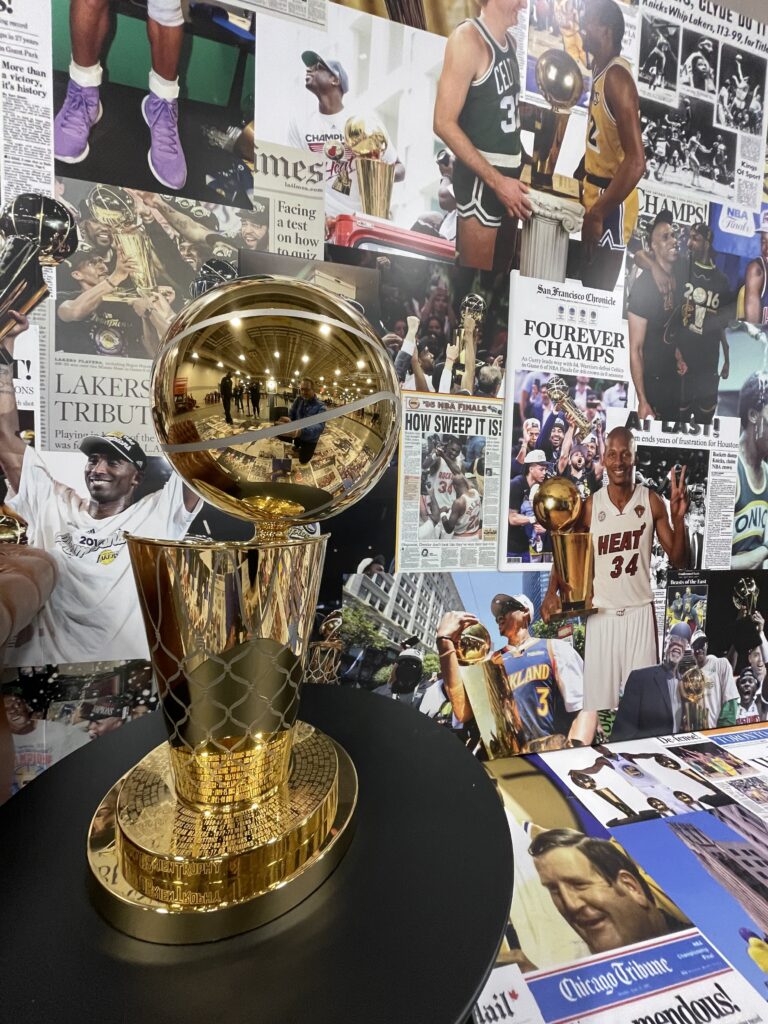 The day after his 3-point title, Lillard was one of dozens of players between the NBA and WNBA who made appearances at NBA Crossover. The entire area had plenty of spots for families and kids to enjoy shooting some hoops on one of several courts set up, get pictures and autographs with players and pose with the Larry O'Brien trophy, play NBA themed video games and arcade games plus also check out a series of sponsor activations.
All-Star Weekend had two main hubs — not only downtown around the Salt Palace and Vivint Arena, but also around the Huntsman Center. Having activities in each hub is intentional, said Joey Graziano, NBA senior vice president and head of global event strategy and development.
"You can't control as much real estate as we need without incredible city and state partners," he said. "A series of scheduled events and locations allows our fans and allows our business guests to be able to visit and see multiple things throughout the day so you don't have people getting in vehicles and going 15 or 20 minutes away to get to the next event."
The hub's evolution, Graziano said, started when the NBA organized its bubble during the height of the pandemic at the ESPN Wide World of Sports in Orlando, Florida. The league set up multiple campuses for people to have activities while adhering to the social distancing restrictions at the time.
"It just crystallized for us when you think about experiential design and you think about our event strategy, we've got to be focused on creating hubs," Graziano said. "That's what we did when we had our bubble — people couldn't leave, so we had to give them enough activities and things to do within that campus. The same thing exists here — whether you're in the downtown campus or the Huntsman campus, we've built out a big enough schedule that our expectation is that you're not going to want to leave."
Next Stop, Indianapolis
With Salt Lake's turn as All-Star host wrapped up, the countdown is on for Indianapolis. The city was scheduled to host the weekend's festivities in 2021, which was postponed because of COVID-19. Because of the three-year delay, the Pacers will be able to showcase the $400 million of upgrades made to Gainbridge Fieldhouse that have been made since the pandemic, the second-largest investment in arena upgrades in league history.
"One of the benefits of having the extended timeline was that we could finish our building," said Danny Lopez, vice president of external relations and corporate communications for the Pacers. "We've got this beautiful outdoor public outdoor space north of the building that will have public art, murals, activation space. It really creates connectivity throughout the downtown as well. And there'll be more entertainment space."
The Pacers had already started its work on a series of legacy projects ahead of the scheduled 2021 game, awarding grants totaling $1 million to 21 legacy projects around the city doing things such as refurbishing basketball courts and community centers around the city that impacted 90,000 youths around the state. With the three-year delay, three additional projects are being added to those already completed.
"We've been very intentional about framing this as the most community-centric, inclusive All-Star game," Lopez said, adding that organizers will be working to make the downtown area a celebration about basketball not only in the arena but within the region's arts and culture areas to give visitors the chance to experience the NBA even without attending the game.
The 2024 event will be heading to Indianapolis as part of a full year of major events. The destination will host the NFL Scouting Combine, the NCAA Men's Basketball Tournament first and second rounds as well as the NIT semifinals and finals, plus the NCAA men's swimming and diving championships and U.S. Olympic Swimming Trials — along with tentpole events such as the Indianapolis 500 and the Big Ten football championship game.
"We get to do that periodically with Final Fours," Lopez said of Indy's turn on the national spotlight in 2024. "What's different here is that this is really more than just about anything we do, a chance to display the city to an international audience in a different way. This really is the global game and we're a global city. It's a way to frame everything that we are and what we do differently than any other event."
Indianapolis last hosted All-Star Weekend in 1985.
"I'm already starting to plan some stuff," said Pacers guard Tyrese Haliburton, who was a first-time All-Star in Salt Lake. "I see how hectic it is out here for Donovan (Mitchell), just coming back to Utah. So in Indy, I'll make sure that everybody is taken care of."