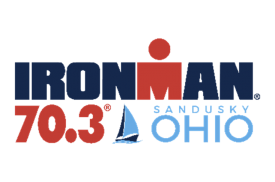 Ironman has announced that Sandusky, Ohio is the new host venue for the Ironman 70.3 Ohio triathlon in 2022. The event is scheduled to take place on July 24, 2022 with general registration opening November 10, 2021.
"We are excited to bring Ironman 70.3 racing to Sandusky and provide athletes with the exceptional experience of racing on Ohio's stunning shoreline," said Keats McGonigal, vice president of North America operations for The Ironman Group. "Sandusky offers not only a unique shoreline race destination that is sure to excite athletes, but a convenient and easy access vacation experience for athletes and families alike. We look forward to working with our new partners in Sandusky for years to come."
Located in northern Ohio along Lake Erie's shoreline, Sandusky was named the Best Coastal Small Town in America by the USA Today in 2019. Athletes will compete in a 1.2-mile swim in Sandusky Bay, a 56-mile bike through Erie county and a 13.1-mile run along the shoreline of Lake Erie capping off with a finish in downtown Sandusky.
"Our organization is honored to support this event alongside the City of Sandusky and all the athletes who train for this incredible race," said Christopher Lewis, sports tourism manager for Lake Erie Shores & Islands. "We are confident that the Shores & Islands region will deliver an unparalleled race experience while also serving as the perfect destination for both the athletes and their families."