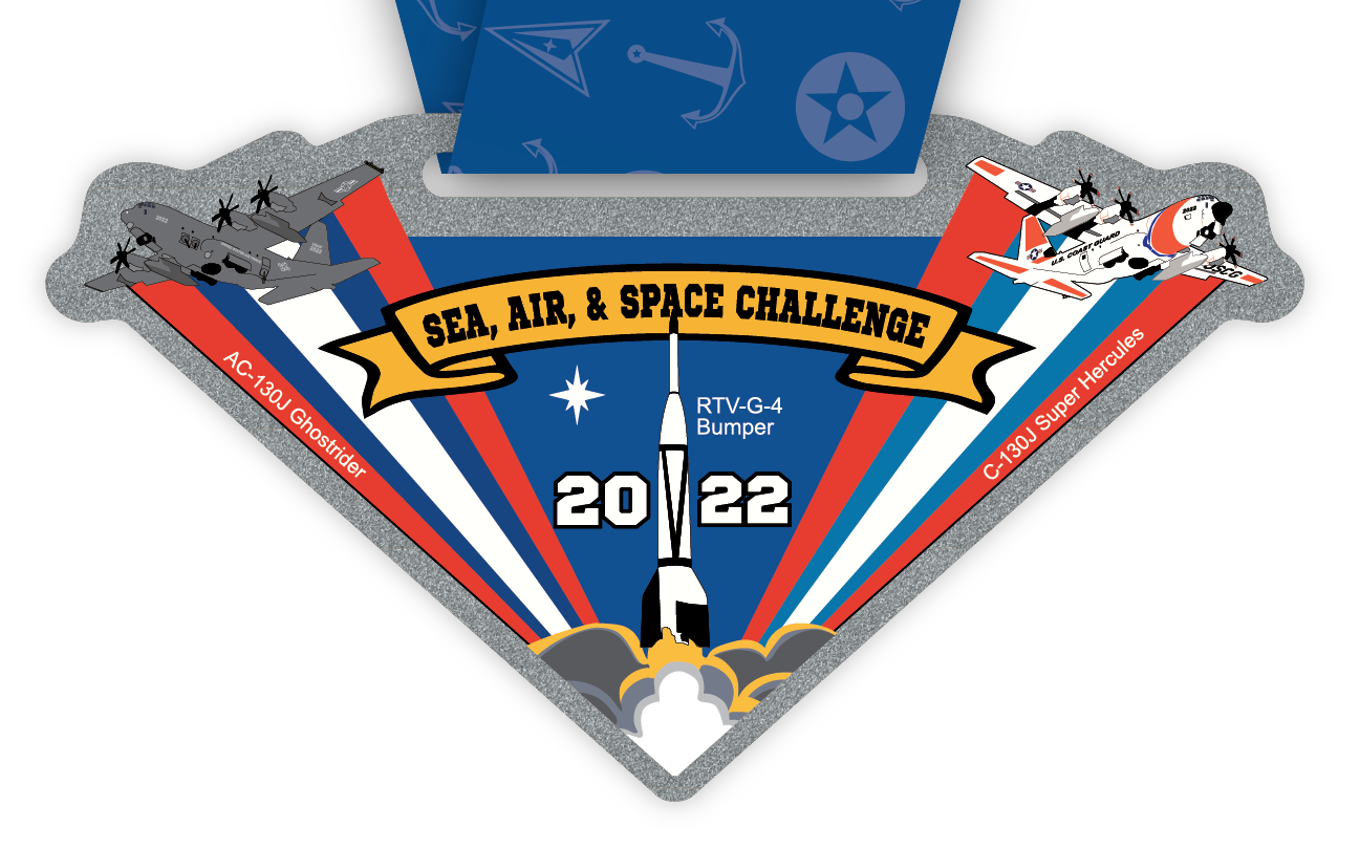 The Coast Guard Marathon, Air Force Marathon and Space Force T-Minus 10-Miler have launched a first-of-its-kind, cross-race challenge for their 2022 events giving those who compete in the three events the chance to earn a limited edition medal featuring aircraft used by each military branch.
Participants can receive this medal by completing any distance race offered in person, virtually or a combination of the two at each of the three race events.
"We are beyond thrilled to work with our friends at the Coast Guard Marathon on this new challenge event. There is strength in collaboration and the sum is always greater than its parts, and that is never truer than when it comes to our U.S. Armed Forces working together," said Brandon Hough, race director of the Air Force Marathon and Space Force T-Minus 10-Miler.
The Coast Guard Marathon will take place March 3–5, 2022 in Elizabeth City, North Carolina, and will include a race expo, marathon, half marathon, 5K race, Semper Paratus Challenge and post-race celebration. The race, a Boston Marathon qualifier, will be the military branch's first in-person race following its launch as a virtual event in 2021.
"Excitement is building in Elizabeth City for the inaugural in-person U.S. Coast Guard Marathon," Visit Elizabeth City Executive Director and Coast Guard Marathon Race Director Corrina Ruffieux said. "We look forward to welcoming runners and U.S. Coast Guard service members, veterans and supporters from around the world to the marathon, which offers the rare opportunity to run on base at U.S. Coast Guard Base Elizabeth City and past its famous air station. The addition of the Sea, Air, & Space Challenge collaboration just adds to the excitement."
The 26th annual Air Force Marathon will be held at Wright-Patterson Air Force Base in Dayton, Ohio, September 15–17. First held in 1997 to commemorate the 50th anniversary of the founding of the U.S. Air Force, the race has grown to welcome more than 13,500 participants from all fifty states and several countries. The 2022 race weekend will have five distance races including a marathon, half marathon, 10K, 5K, Tailwind Trot 1K Kids' Run, as well as a three-person marathon relay. An endurance event held at Cape Canaveral Space Force Station in Florida, the inaugural Space Force T-Minus 10-Miler will take place December 10, 2022.