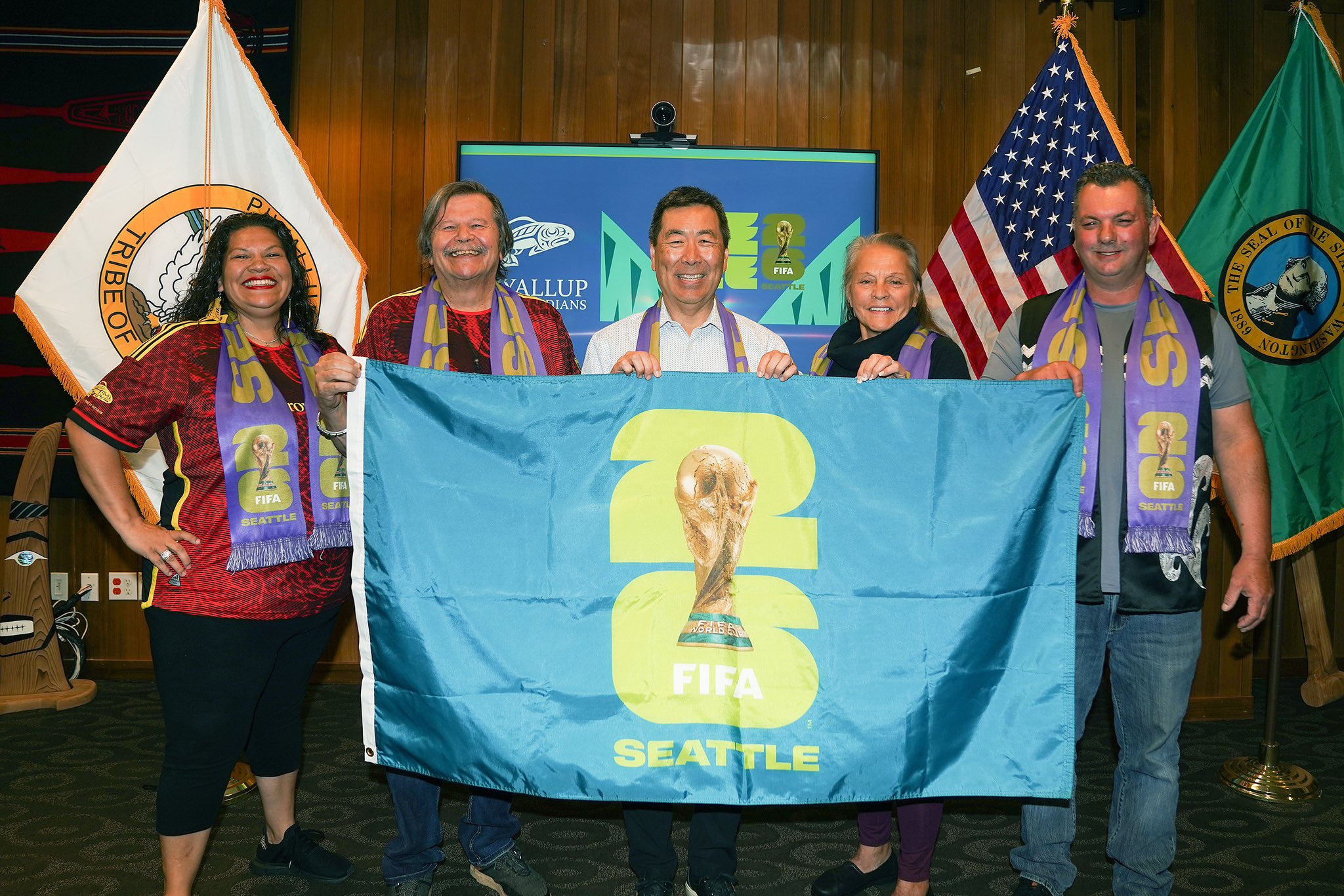 The Puyallup Tribe of Indians and Seattle 2026 local organizing committee ahead of the FIFA World Cup have signed a host city supporters agreement, marking the first time in the tournament's history that an indigenous people have entered into an agreement with any host city. The official announcement was made in front of a red and black mural depicting one of the oldest forms of competition in North America, sləhal, as the Puyallup Tribe will be an Official Legacy Supporter for all Seattle26 activities and activations.
"Selecting a legacy partner was a top priority for us," said Peter Tomozawa, SeattleFWC26 chief executive officer. "This is not just hosting a massive event that the state has never seen before, but an opportunity for us to build a better future for generations to come. In 1962 the World's Fair came to Seattle and laid the groundwork for Seattle to become the city of the future. In 2026, we want to leave behind a people-based legacy impacting our community, culture and children that will strengthen the foundation for the future of humanity and the Puyallup Tribe of Indians is the perfect cultural partner to support our efforts."
The Puyallup Tribe is a federally recognized sovereign nation of more than 5,000 members. Puyallup People have lived along the shores of what is now called Puget Sound since time immemorial. The Puyallup Tribe will work with SeattleFWC26 on a number of initiatives throughout the next several years to allow the tribe the opportunity to share their story, in their own voice, on the global stage.
"Soccer is the international instrument to bring people together in a good way and for us to have a piece of that is really an honor," said Puyallup Tribal Council Chairman Bill Sterud. "It is important that we are here, indigenous people. Whether it's in Puyallup, throughout the state, throughout the country or through North and South America, we are here, and we have a culture and it's important. We take care of our people, and we'd like to show that to the world."
Host cities for the FIFA World Cup 26 are the first to be able to engage with strategic partners to include local commercial supporters in the tournament. SeattleFWC26 has created 10 specific involvement opportunities and look to bring on nine additional supporters.
"This agreement puts our Tribe on the global map," said Matt Wadhwani, financial and economic development officer for the Puyallup Tribe of Indians. "Not only does it give us the opportunity to show the world how far we've come, but it also brings invaluable exposure to our thriving businesses and enterprises we are developing for the future."