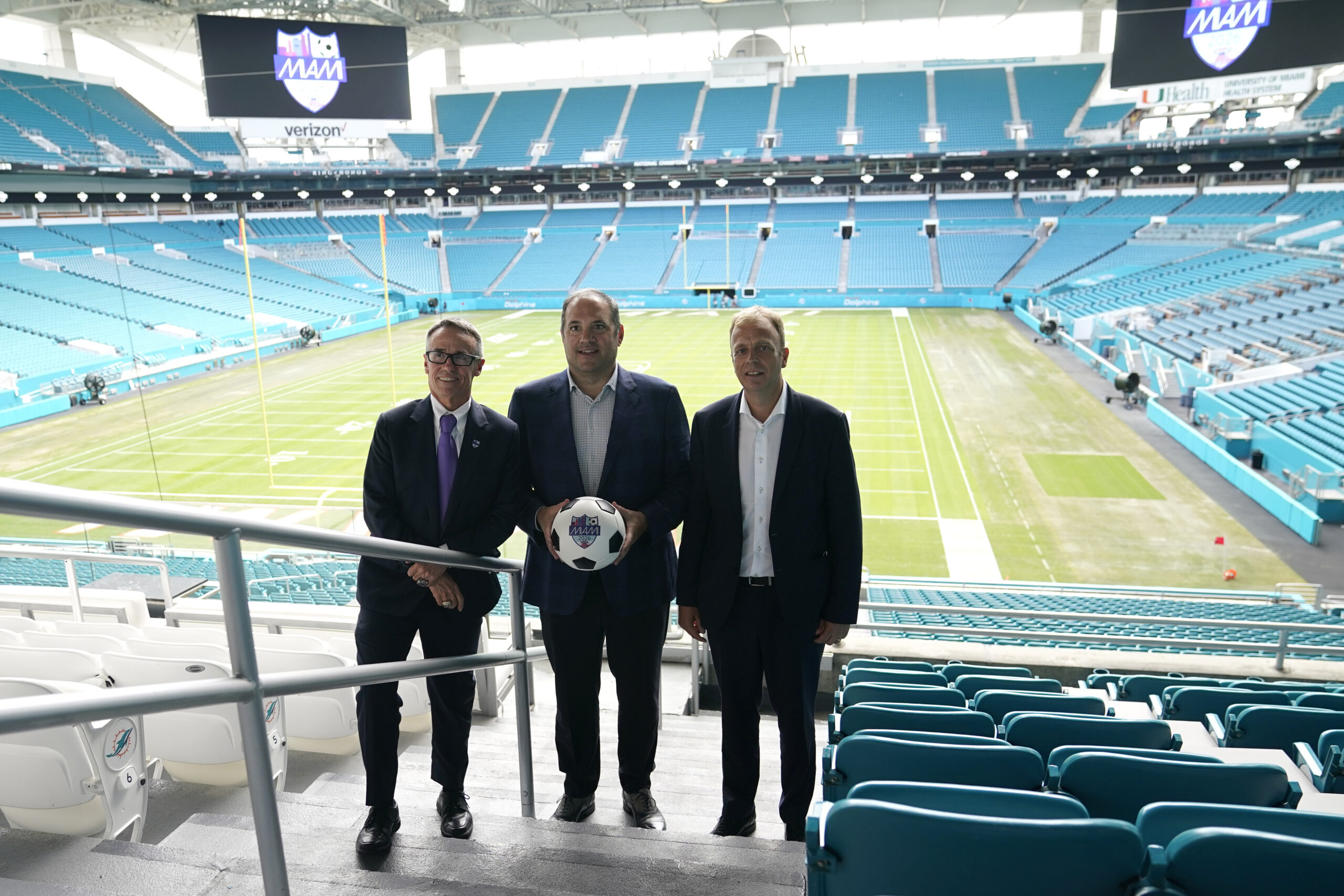 FIFA has announced the cities that will host games at the 2026 World Cup, the end of a years-long competition between dozens of cites across the United States, Mexico and Canada that were vying for the coveted spots.
The U.S. cities that will host will be Atlanta, Los Angeles, the Bay Area, Seattle, Dallas, Houston, Kansas City, New York/New Jersey, Boston, Philadelphia and Miami. In Canada, Vancouver and Toronto were selected. And in Mexico, matches will be played in Monterrey, Mexico City and Guadalajara.
"We congratulate the 16 FIFA World Cup Host Cities on their outstanding commitment and passion," said FIFA President Gianni Infantino. "Today is a historic day — for everyone in those cities and states, for FIFA, for Canada, the USA and Mexico who will put on the greatest show on Earth. We look forward to working together with them to deliver what will be an unprecedented FIFA World Cup and a game-changer as we strive to make football truly global."
[The 2026 World Cup Host Announcement: Go Inside What the Bid Process was Like]
Under FIFA's original plan, 60 of the 80 matches at the 2026 World Cup would be staged in the United States while Canada and Mexico would each host 10 matches, all in the group stage. For the first time, the event will feature a record 48 teams.
"It's a historic day for U.S. Soccer and the entire American soccer community, from every corner of our grassroots all the way to the pros and our National Teams," said U.S. Soccer President Cindy Parlow Cone. "Together with our good friends in Canada and Mexico, we couldn't be more excited to work with FIFA to host what we think will be the greatest World Cup in history. I want to congratulate all the bid cities that will host games. I know you will all do a fantastic job of sharing your world class stadiums, unique communities and culture, and amazing fans when the world comes to the North America in four years."
There was no announcement as to which U.S. cities will host marquee games such as the opener or knockout round games including the semifinals and finals, which will be the source of further lobbying in the future. Each stadium that does not have a natural grass surface will have to have natural grass overlaid its turf fields. While five of the U.S. hosts also were sites for games in the 1994 World Cup, none of the venues in those five cities were around more than two decades ago.
"There are still some discussions to go on and we will certainly choose the best cities there as well for the opening and the final, but every match will be a final in this World Cup," Infantino said when asked which cities will host marquee matches.
U.S. bid cities that missed out on matches were Cincinnati, Denver, Nashville, Orlando and a combined Baltimore/Washington, D.C., bid. In Canada, Edmonton was left off the final list.
Post-Announcement News
One of the sites picked to host the 2026 FIFA World Cup is examining the renovation process that would be needed to host matches as part of one of the world's biggest sporting events.
The Kansas City Chiefs have said that as part of preparation for that city's hosting duties, modifications to Arrowhead Stadium would start in the spring of 2025 with less than 10,000 seats removed so that the field surface would be wide enough to meet FIFA's requirements.
Chiefs president Mark Donovan said before training camp that seats would be returned for the 2025 NFL season, and the process will be repeated in 2026 with soccer games being played in the summer.
"It doesn't seem like a big project, but I would tell you that when you get into the architecture of the building and the age of the building, it's an enormous project," Donovan said.
In a tweet last month at the World Cup announcement, Kansas City Mayor Quinton Lucas said stadium renovations could cost $50 million and said the city would ask Missouri for funding in addition to private fundraising.
"There are scenarios where we would do something different for the World Cup and say, 'Wait a second, if you're renovating Arrowhead would you keep that or change this or take advantage of the construction you've already done?" Donovan said. "That's in the mix."
Arrowhead Stadium's future has been the focus of local attention. It is located nearby Kauffman Stadium, home of the Kansas City Royals, which have been looking at options for a downtown ballpark. Debate has centered around whether the stadium would be renovated, a new stadium potentially built at the complex with the Royals moving downtown or if the state of Kansas could try to entice the team to build a new stadium across state lines.
Kansas City would host an unspecified number of group stage matches and like every other U.S. host would be a potential host for knockout round matches. With the 16 host cities announced but still jockeying for games to be assigned — a process that could drag on for as much as a year with FIFA still needing to pull off the 2022 World Cup in Qatar starting in November — cities are working on the next part of the host process with making sure financial commitments are solidified.
Enterprise Florida will provide $5 million to help Miami host games with money going to the Florida Sports Foundation to help the Greater Miami Convention and Visitors Bureau prepare. The sports foundation is a division of Enterprise Florida, which earmarked $5 million for both Miami and Orlando, which was not selected as a host.
"We were disappointed, of course, that Orlando did not also receive a bid," Gordon Bailey, chairman of the Enterprise Florida Finance & Compensation Committee, told the board upon approval of the $5 million to Miami. "And that money that was set aside will remain in reserves."
Meanwhile, Toronto city council says it has authorized next steps to solidify partnership and funding agreements between the city, province of Ontario and federal government along with Canada Soccer for its hosting duties. Toronto and Vancouver will both host matches while Edmonton was dropped as a potential host on the bid announcement day.
The city said the total cost to host five matches would be approximately $300 million in 2026 dollars as it includes inflation and a 10 percent contingency. Toronto city officials said the event is expected to create 3,300 jobs, book 292,000 visitor room nights, generating an estimated economic impact of $307 million in GDP.
"We will be ready to welcome the world to Toronto for the FIFA World Cup 2026," Toronto Mayor John Tory said. "Now our staff can begin the important work engaging with our partners to prepare for this global event and secure sponsorships and partnerships to help support this event."
Who Made the Cut
Most projections (including this magazine) had seven cities ahead of Thursday's announcement as locks, so it was no surprise that Atlanta, Dallas, Los Angeles, Miami, New York/New Jersey, Philadelphia and San Francisco/Bay Area were given games.
Atlanta is the home of Coca-Cola, one of FIFA's worldwide sponsors, and its Mercedes-Benz Stadium has proven a popular spot for soccer between MLS' Atlanta United and some international friendlies. The city's big-event reputation from previous Super Bowls and extending back to the 1996 Olympic Summer Games helped as well. It is expected to be a top candidate for a marquee match such as a semifinal to be awarded ahead of 2026.
"We are thrilled to bring the world's biggest sporting event to Atlanta," said Dan Corso, Atlanta Sports Council president. "Combining the assets of the state's best public organizations and private companies has been a recipe for success here in Atlanta.  We truly believe our city is the country's premier location to hold a major sporting event and look forward to working with FIFA to create a remarkable experience for all involved."
Dallas hosted 1994 games at the Cotton Bowl and in 2026 will do so at AT&T Stadium, which backed by the financial strength of Jerry Jones and the Dallas Cowboys makes it a contender to host the championship match. The region is also home to the National Soccer Hall of Fame at the complex that hosts FC Dallas home games. The city also is hoping to be the central host for FIFA's worldwide broadcast center in 2026.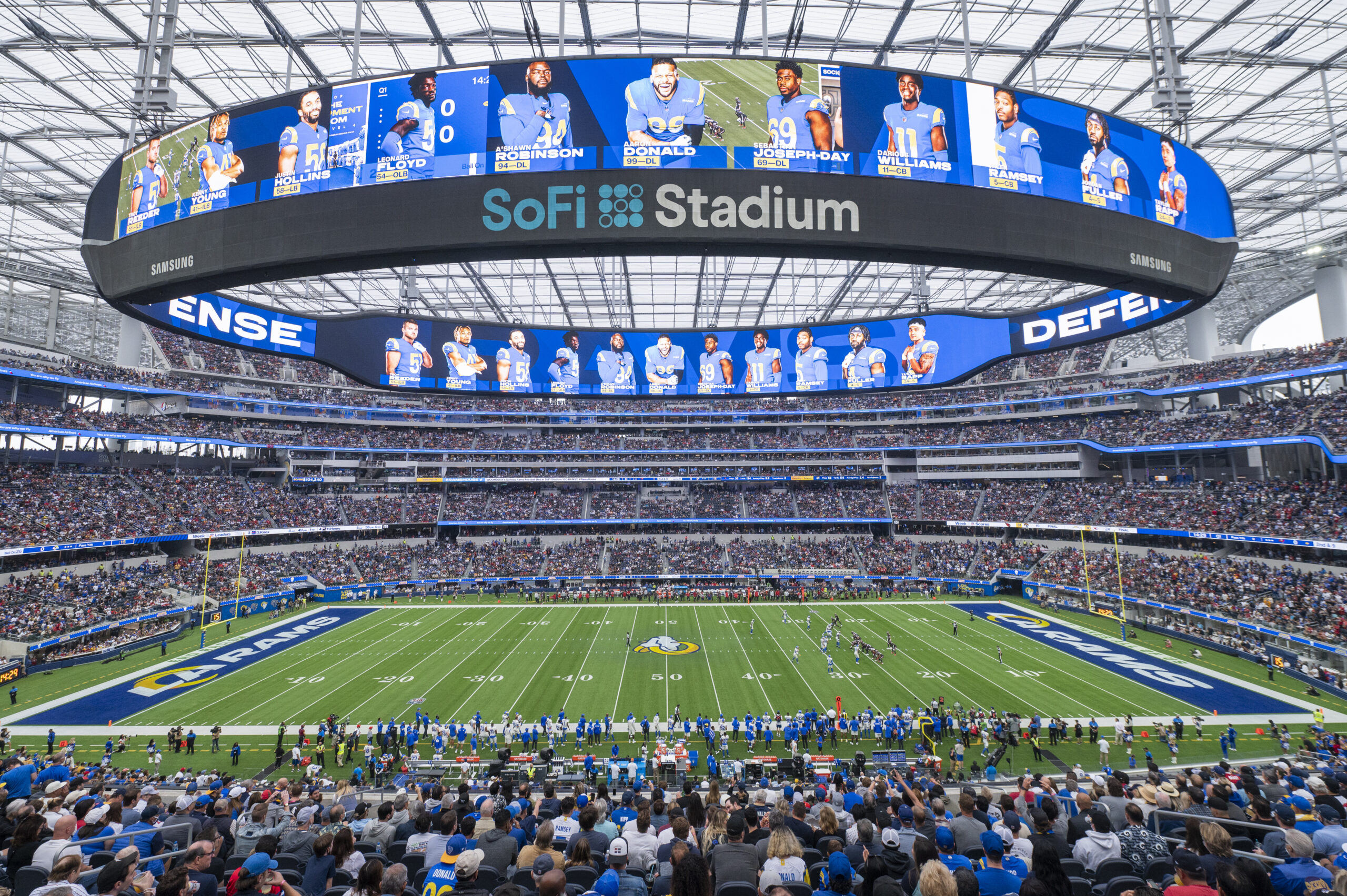 Los Angeles' candidacy was never in doubt, having hosted title games in both the 1994 men's World Cup and 1999 women's World Cup along with many major Concacaf events and international games both on the club and national team side. Seen as a primary contender to host the opening match in the U.S., the only question was whether games will be at SoFi Stadium, a technological marvel but a venue that would require extensive work to widen the field level for FIFA matches, or at the Rose Bowl, a soccer haven in the past but without the amount of digital sponsor activations that FIFA will undoubtedly want in 2026. In the end, SoFi Stadium got the nod.
Miami's Hard Rock Stadium has become a routine stop for international club soccer exhibitions and was seen as a solid pick throughout the process with the potential to enter the discussion as the final host. While the new Formula 1 race held around the stadium site caused some drama with FIFA, the city's standing as the home for Concacaf headquarters also made it hard to pass up. Being the only Florida-based venue is a reversal from 1994 when Orlando was picked as the sole Florida site over Miami.
Being nearby the media capital of the world in New York made MetLife Stadium in East Rutherford, New Jersey, an easy selection for FIFA. The stadium has repeatedly hosted big international friendlies for Argentina and Brazil and hosted the 2016 Copa America Centenario championship game won by Chile over Argentina. Like Dallas and Miami, it is considered a top contender to host the title game in 2026 and was specifically mentioned as a potential title host in the original bid book submitted to FIFA.
Philadelphia's bid gained momentum thanks to local government and business financial guarantees in recent months. Its proximity to New York and Toronto gives FIFA a strong cluster to cut down on some of the extreme travel that will come with a 48-team tournament. Lincoln Financial Field has an underrated big-event soccer history between the 2015 Concacaf Gold Cup final along with games in the 2016 Copa America Centenario. Should MetLife Stadium be the pick to host the final, Philadelphia's chances of getting a semifinal could increase.
The Bay Area's candidacy was boosted by the presence in the region of Visa, a FIFA worldwide sponsor. Levi's Stadium in Santa Clara, California, also has hosted major marquee events both in soccer as well as the Super Bowl and a College Football Playoff national title game since it opened. Its location also gives the World Cup a second California spot that can also be a relatively quick trip from San Francisco to Seattle, or from Los Angeles to the three Mexican host cities.
Rounding Out the U.S. Group

With FIFA originally planning for 10 cities in the U.S. and then announcing an 11th awardee on Thursday, the drama came down to the final few spots.
The massive local support of soccer in Seattle, especially with the hometown Sounders on their way to winning the Concacaf Champions League earlier this season, also adds to the city's attractiveness as a host. The proximity to Vancouver is ideal for FIFA as teams can cut down on long-distance travel. While Lumen Field will need a grass surface overlaid, the fan atmosphere has received raves from international club teams that played in Seattle in the past.
"Our city has been preparing for this moment for over a decade, laying the groundwork with previous FIFA bids," said Beth Knox, president and chief executive officer for the Seattle Sports Commission and SEA 2026 Bid Committee Co-Chair. "Seattle brings a passionate soccer fan base, world class facilities and a community dedicated to creating memorable experiences for fans. Just as important as welcoming the world to the Emerald City, SEA 2026 will leave a meaningful and lasting legacy by increasing access to soccer pitches for kids across the state, creating solutions that address social and environmental justice issues, and contributing to the economic vitality of our unique and diverse neighborhoods."
Kansas City could be seen as winning out as the Midwest host city ahead of Nashville that can connect other regional clusters. Arrowhead Stadium hosted games in the 1999 Women's World Cup and the region's devotion to MLS side Sporting Kansas City is among the best in the league. The Hunt family has been decades-long supporters of U.S. Soccer, adding an emotional tie to the bid, and the NWSL side Kansas City Current's recent announcement of a major investment into women's soccer could have swayed FIFA.
Houston's big-event track record helped its candidacy as well as being a routine host for Mexico men's national team exhibitions. With FIFA looking to cut down on the amount of miles that teams travel in 2026 with the expansion to 48 teams, its location with Dallas and the three Mexican host cities makes for an ideal cluster. Houston's chances of having additional knockout rounds games could increase as the lobbying continues.
"We are delighted that the most popular sporting event in the world is coming to our city in 2026," said Harris County-Houston Sports Authority Chief Executive Officer Janis Burke. "This is a city of soccer, full of passionate fans, representing every corner of the world. The 2026 FIFA World Cup in Houston will be a truly global festival of soccer on and off the field and will create sustainable benefits for the entire community way beyond the final whistle."
"The Houston community has truly backed our bid and is ready to welcome players and fans from all over the world for the World Cup," added Houston Bid Committee President Chris Canetti. "We are grateful to FIFA for recognizing the modern, sustainable and forward-thinking bid we have built and for allowing us to continue creating a lasting legacy."
Boston was seen as the biggest shock of the picks ahead of Baltimore and D.C.'s combined bid. Gillette Stadium's site in 1994, the old Foxborough Stadium, hosted games in 1994. Most of the leadup heading to Thursday's announcement did not have Boston as a contender because of Gillette Stadium's distance from downtown Boston, but New England Patriots owner Robert Kraft has been a longtime supporter of soccer and has deep connections to FIFA.
Who Missed the Cut
Infantino raised eyebrows when he told Fox Sports during the live broadcast of the announcement that some of the final cities did not get decided until Thursday and that the final calls were made "to ensure fans did not have to travel too far."
Orlando's elimination is widely seen as a case of FIFA only wanting one city from Florida in spite of its history having hosted games in 1994, having widespread local government support and also being a major tourist destination backed by the power of Walt Disney World. Having hosted numerous U.S. men's and women's national team games in the past year, the city will likely be a desirable candidate for many teams as a home base in 2026 given its location to several other selected sites.
The Baltimore/DC bid was seen as a contender because of its ability for FIFA to have events in the nation's capital, but the combined nature of the cities may have proven too much to overcome given the need to have fans go from one city to another for games.
Nashville's recent plans to build a new stadium for the Tennessee Titans that would not be ready until 2026 may have spooked FIFA officials who prefer to have venues in place and test events run repeatedly before the World Cup.
Cincinnati and Denver, despite having hosted significant international soccer events, had not received much traction and it was not much of a surprise they were not awarded bids given Infantino's comments about having regional clusters.
Outside of the U.S.
While most of the drama Thursday surrounded which cities in the U.S. would be awarded matches,  there was continued speculation ahead of the site announcement that FIFA's original plans would change from when North America first won the 2026 bid. While there was little disagreement over Guadalajara, Mexico City and Monterrey being part of 2026, there was considerable drama over Canada's host candidates.
Vancouver and Montreal pulled out of the race in 2018, leaving only Toronto and Edmonton as candidates. But Vancouver Mayor Kennedy Stewart changed course in March, saying the city would put $5 million toward rejoining the bid process. FIFA approved Vancouver's re-entry this spring leading to the reports, and FIFA's final decision, that Canada would have two host sites, not three.
How the Selection Went
FIFA's site inspection team conducted three rounds of visits to prospective hosts. The initial tour from September 15–23, 2021, was to Boston, Nashville, Atlanta, Orlando, Washington, D.C., Baltimore, New York/New Jersey, Philadelphia and Miami. The second round was October 21–November 1, 2021, with visits to Kansas City, Cincinnati, Dallas, Denver, Houston, Monterrey, San Francisco and Seattle. The final round of visits concluded with stops in Edmonton, Mexico City, Guadalajara, Toronto and Los Angeles.
FIFA says it considered each candidate host city's proposals, which are broad in nature. In addition to the specific venues outlined in the bid, prospective hosts were asked to identify locations for ancillary events and to outline their approach to sustainability, human rights, legacy, general infrastructure and financial impact.
While the venues that would hold matches was top of mind, FIFA delegates also received tours of potential training sites in each city and heard presentations about the local airport, hotel options and much more. Each city will be expected to have dozens of ancillary events, specifically Fan Fests. There are also more than 14,000 hotel rooms that cities must have reserved for the summer of 2026. Cities must also make sure FIFA World Cup 2026 tickets are exempt from sales tax in their states.