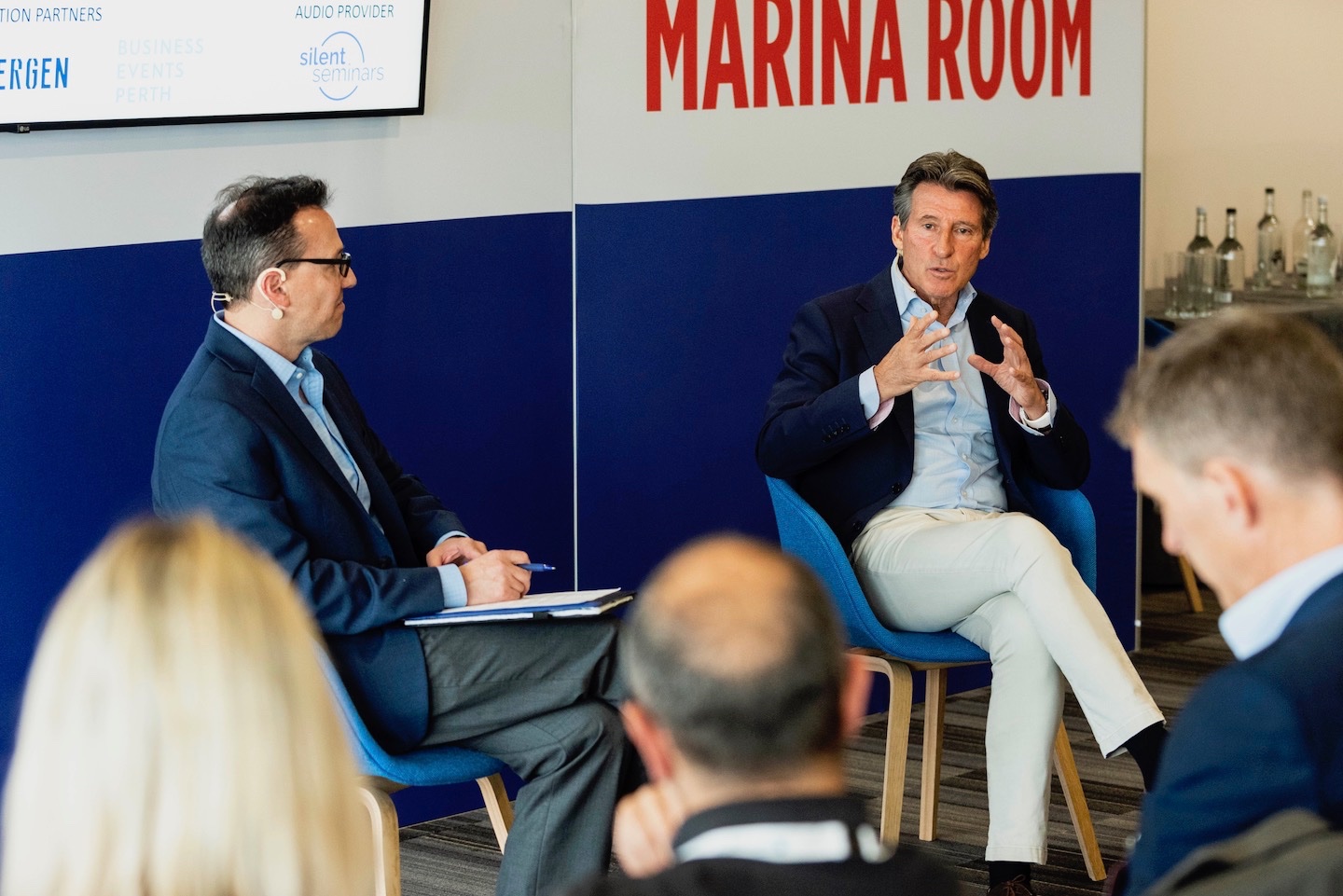 The value of sport in communities and how staging events such as the Olympic and Paralympic SummerGames can have a catalytic effect on improving them was one of the key messages delivered by Sebastian Coe, double Olympic gold medalist and president of World Athletics, during his keynote address at the inaugural TEAMS Europe held this week in co-location with The Meetings Show on the 10th anniversary of the 2012 London Games.
In the decade since, the city and the region have attracted hundreds of events based on the successful organization during the summer of 2012. Coe talked with Jason Gewirtz, vice president, Sports Division, Northstar Meetings Group and the executive editor and publisher of SportsTravel, about his time as chairman of the London Organizing Committee for the Olympic Games as well as a variety of topics around the sports and leadership world.
Building a strong team around you and focusing on successful delivery of an event to help build a legacy were tips shared by the former MP and Olympic middle-distance runner: "The role of an organizing committee is not to build a legacy, it is to deliver the best event it possibly can," Coe said. "If it does that, you have got a legacy."
Modeled after the TEAMS Conference & Expo, which is now in its 24th year and will be held this October in Oklahoma City, Oklahoma, TEAMS Europe brought together leading sports-event rights holders and organizers producing events in the UK and internationally with executives from destinations, facility management companies, hoteliers and service providers who want more sports-related business.
The organizations attending TEAMS Europe were World Athletics, World Rugby, Sail GP, IRONMAN Group, WWE, Supersize Live, Extreme E, AFL Europe, Spartan Race, Tough Mudder, Jackalope, Spikeball Inc., UK Corporate Games, TRITON World Series, XTERRA Europe, Super League Triathlon, Roxstar Group, Space Meetings and Events, BLAST Esports, OverActive Media, International Quidditch Association, Gran Fondo New York, Raccoon Events, eSkootr Championship, E-Bike Gran Prix Race Series and World Football Summit.
Suppliers included Raddison Hotels, HBC Event Services, Vienna House, Portugal NTO, Qatar Tourism, CTM Sport, Valencia CVB, West Midlands Growth Company, Greater Birmingham, Alabama, CVB, London & Partners, ExCeL London, Marketing Manchester, ASM Global, Visit Bergen and Borneo Convention Centre Kuching.
Among the programming offered at TEAMS Europe was a state of the industry roundtable featuring Charlie Dundas, the managing director of YouGov Sport, plus John Eades, managing director UK – DAIMANI and GB Snowsport Chief Executive Officer Vicky Gosling; an examination of mass participation events with Fiona Berwick, ASICS head of global marketing communications and Matthew Brooke, Spartan Race/Tough Mudder managing director – Europe; an inside look at the upcoming Commonwealth Games in Birmingham, England, with Joel Lavery of the West Midlands Growth Company, and an esports panel highlighted by Johanna Byrane, Twickenham Stadium's head of business development, and Super League Triathlon Co-Founder and Chief Executive Officer Michael D'hulst.
For more about The Meetings Show's 10th anniversary, click here.