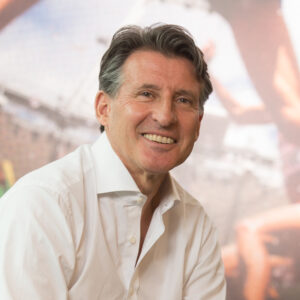 TEAMS Europe, the first international event produced by the TEAMS (Travel, Events and Management in Sports) Conference & Expo—the world's leading conference and expo for the sports-event industry—has announced Sebastian Coe, double Olympic gold medalist and president of World Athletics, as its keynote speaker. Formerly a member of the UK Parliament, Lord Coe has served in several leadership positions across the world of sports. He headed the successful London bid to host the 2012 Olympic Summer Games and became chairman of the London Organizing Committee for the Olympic Games. Lord Coe is also one of the most decorated and recognized UK athletes in international sports, having won four Olympic medals and set multiple world records in middle-distance running.
TEAMS Europe will be held June 28-29, 2022, at ExCeL London, in co-location with The Meetings Show, Business Travel Show Europe and the TravelTech Show, all owned and operated by Northstar Travel Group, the leading travel industry media and marketing services company worldwide. Among the organizations attending TEAMS Europe are: World Athletics, Sail GP, Extreme E, UK Corporate Games, AFL Europe, Spartan Race, Tough Mudder, Jackalope, Spikeball Inc., XTERRA Europe, Super League Triathlon, Space Meetings and Events and BLAST Esports.
"Sebastian Coe is a leading figure in international sports," said Jason Gewirtz, vice president, Sports Division, Northstar Meetings Group and the executive editor and publisher of SportsTravel. "His stewardship of the 2012 Olympics alone is a shining example of the value of sports, not just as a means of international goodwill, but as a driver of long-term economic development. His influence is considerable, and his keynote will help set the stage for the dynamic program we have planned for TEAMS Europe."
Lord Coe will address the attendees of TEAMS Europe and The Meetings Show on the 10th anniversary of the London Games, as well as the 10th anniversary of The Meetings Show.
"The legacy of the 2012 Olympic and Paralympic Games is a testament to the power of sport," Coe said. "I look forward to sharing the insights learned from organizing the Games and exploring how the Games themselves sparked not only a renewed interest in sport, but a lasting economic development model for the region."
Modeled after the TEAMS Conference & Expo, which is now in its 24th year, TEAMS Europe will bring together leading sports-event rights holders and organizers producing events in the UK and internationally with executives from destinations, facility management companies, hoteliers and service providers who want more sports-related business. The conference will provide insightful education from industry influencers, networking opportunities and pre-scheduled 1-to-1 meetings between vetted, hosted sports-events organizers and their potential business partners.
Among the programming offered at TEAMS Europe will be a state of the industry roundtable featuring Charlie Dundas, the managing director of YouGov Sport, plus John Eades, managing director UK – DAIMANI and GB Snowsport Chief Executive Officer Vicky Gosling; an examination of mass participation events with Fiona Berwick, ASICS head of global marketing communications and Matthew Brooke, Spartan Race/Tough Mudder managing director – Europe; an inside look at the upcoming Commonwealth Games in Birmingham, England, with Joel Lavery of the West Midlands Growth Company, and an esports panel highlighted by Johanna Byrane, Twickenham Stadium's head of business development and Super League Triathlon Co-Founder and CEO Michael D'hulst.
Lord Coe's keynote will be available to conference attendees of The Meetings Show program as well.
For information on attending TEAMS Europe as an event organizer, contact Nicole Goddeyne at ngoddeyne@ntmllc.com, or as a supplier, contact Shalise DeMott at sdemott@ntmllc.com.
About The Meetings Show
The Meetings Show is the UK's leading exhibition for the events, meetings and incentives community. The show includes an exhibition, educational sessions and networking and attracts buyers from the corporate, association, agency and public sectors. The show features destinations from over 50 countries across 6 continents, venues, hotels and key providers of meetings products and services.
About Northstar Meetings Group
Northstar Meetings Group is the leading B-to-B information and marketing solutions company serving all segments of the business meetings, events, sports and incentives market – including full- and part-time meeting planners, as well as corporate, association, sports and not-for-profit decision-makers, and incentive professionals, facilitating their professional development and achievement of business goals. The company's influential brands – The Meetings Show, M&IT, AMI, SportsTravel, TEAMS Conference & Expo, EsportsTravel Summit, Meetings & Conventions, Successful Meetings, Associations Meetings International, Meetings & Incentive Travel, Meeting News, Incentive and M&C Asia – currently serve more than 500,000 active meeting and event planners and incentive professionals, across an integrated suite of data, digital, events and print products. For more information, please visit NorthstarMeetingsGroup.com, or connect with us on LinkedIn, Facebook or Instagram.
About Northstar Travel Group
Northstar Travel Group is the leading B-to-B information and marketing solutions company serving all segments of the travel industry including leisure/retail, corporate/business travel, corporate and sports meetings, incentives, hospitality, and travel technology. Northstar is the owner of well-known brands including M&IT, AMI, SportsTravel, Meetings & Conventions, Successful Meetings, Associations Meetings International, Meetings & Incentive Travel, Meeting News, Incentive, M&C Asia, Business Travel News, Travel Procurement, The Beat, Travel Weekly US, TravelAge West, Travel Weekly China, Travel42, Axus Travel App, and Web in Travel.
The company produces more than 80 face-to-face and digital events in 13 countries in retail travel, hospitality, corporate travel, travel technology, sports travel, and the meetings & incentive industry.  Leadership events include The Business Travel Show, the largest corporate travel event in Europe; The Meetings Show, the largest meetings industry event in the UK; Web in Travel; CruiseWorld; Global Travel Marketplace; the EsportsTravel Summit; and the TEAMS Conference & Expo, the world's largest gathering of sport-event organisers. In addition, Northstar owns Phocuswright, the leading research, business intelligence, and event producer serving the travel technology industry.
Northstar Travel Group owns the Burba Hotel Network, the leading producer of hotel investment events globally, including ALIS, the largest hotel investment conference in the world produced with the American Hotel & Lodging Association in Los Angeles each year. Northstar is also the majority shareholder in Inntopia, the leading SaaS e-commerce software, CRM database marketing and predictive analytics business serving the mountain destination, golf, activities, hospitality, and specialty destination travel markets.
Based in Secaucus, NJ, Northstar Travel Group is owned by funds managed by EagleTree Capital.