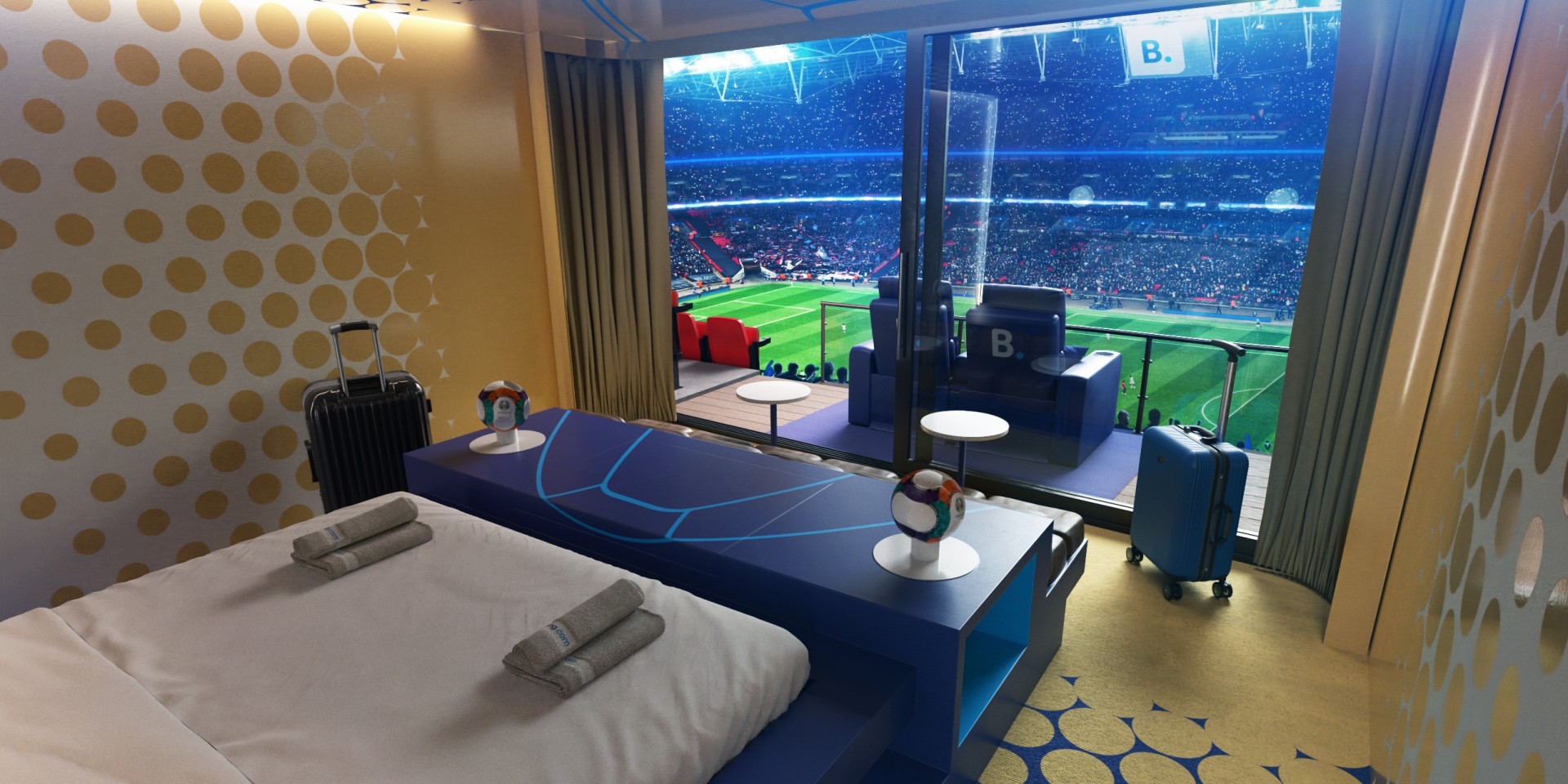 Sports fans enjoy the chance to stay near the stadium when they travel, but European soccer fans will have the chance to spend the night in the stadium at the upcoming UEFA Euro 2020, thanks to Booking.com, the official accommodation and attractions booking partner of the prestigious soccer tournament.
Fans from Great Britain, Denmark, Germany, France and Spain will have the chance to win the "Ultimate Overnight Football Experience" during the finals or semifinals at London's Wembley Stadium in July 2020. As part of the promotion, one winner will get the chance to spend the night in a stadium suite that is being renovated as a hotel room. While the suite doesn't have its own shower, the winners will have access to player changing rooms to freshen up in the morning, followed by a pitchside breakfast the next morning. They will also be joined for the final by soccer star David Villa, who serves an ambassador to the hotel booking website.
"Wembley is one of the most iconic venues in world football, for players and fans alike, so the chance to stay in the Stadium Suite the night of the final or semifinal and experience the electric atmosphere is truly a once-in-a-lifetime opportunity," Villa said.
To be eligible, fans from Great Britain, Denmark, Germany, France or Spain must book and stay with Booking.com before March 31.
"With a mission to make it easier for everyone to experience the world, and with a quarter of European football fans between the ages of 18 and 34 confirming that they only travel to watch their team play, we're excited to have partnered with UEFA to play our part in ensuring that fans have the best experience while traveling to watch this epic tournament," said Arjan Dijk, senior vice president and chief marketing officer at Booking.com.
New Sports-Related Travel Survey
The promotion comes on the heels of a survey commissioned by the hotel booking site that shows sports fans worldwide are willing to take extraordinary measures to travel to see their teams play. The survey of more than 22,000 sports fans, ages 18 or over, in 29 countries revealed that nearly one in five sports fans confess that they would cancel their honeymoon or lose their job to travel to avoid missing their team play in a major tournament. Other findings of the survey include:
Indian cricket fans (41 percent), Chinese basketball fans (41 percent) and soccer fans in Thailand (32 percent) top the rankings when admitting to being happy to cancel their romantic trip.
87 percent of global sports fans have completed between one and five trips in the last year to watch their team play live, with soccer fans being the most likely to travel to show their support.
Soccer gets the most fans traveling—69 percent of global sports fans have traveled to watch a soccer game live outside of where they live. Basketball (20 percent) and tennis (17 percent) round out the top three.
32 percent admit that they would be willing to pay more for sports-related travel than their family vacation. Cricket fans (39 percent), swimming fans (38 percent) and esports fans (38 percent) are most likely to spend more on their travel to watch their respective sports.
Affordability (77 percent) and location (73 percent) in relation to the stadium or venue are the deciding factors for global sports fans when selecting their place to stay when traveling to see their team compete.