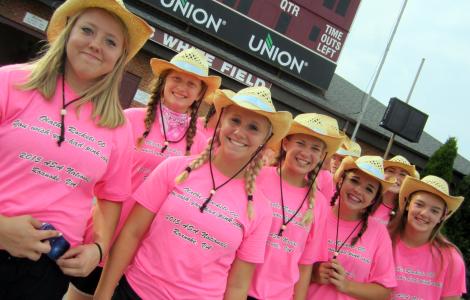 Softball is coming to Visit Virginia's Blue Ridge. The bureau and VBR Sports have announced that the region has been awarded the 2021 USA Girls 16U and 18U Gold Fastpitch National Championship (July 18–25, 2021) and the 2021 USA Men's Class D & E Eastern Slowpitch National Championship (September 3–6, 2021). The region edged out Clearwater, Florida, and Atlanta to win the bid for the USA Girls 16U and 18U Gold Fastpitch National Championship. The event is expected to bring 78 to 100 teams to the region over the course of the seven-day tournament.
"It goes without saying that over our 20-plus years of partnership with USA Softball, and the many events that we bring in each year, that 2020 is going to be a record year," said John Shaner, director of Salem Parks & Recreation. "We cherish our relationship with USA Softball and look forward to years to come of hosting additional events in Virginia's Blue Ridge."
The events are part of several significant softball events coming to the region. On June 25, 2020, Salem will become the only city in Virginia to host the U.S. Olympic softball team as part of its "Stand Beside Her" tour. The tour will hit several U.S. destinations as the team prepares to compete in the 2020 Olympic Summer Games in Tokyo.