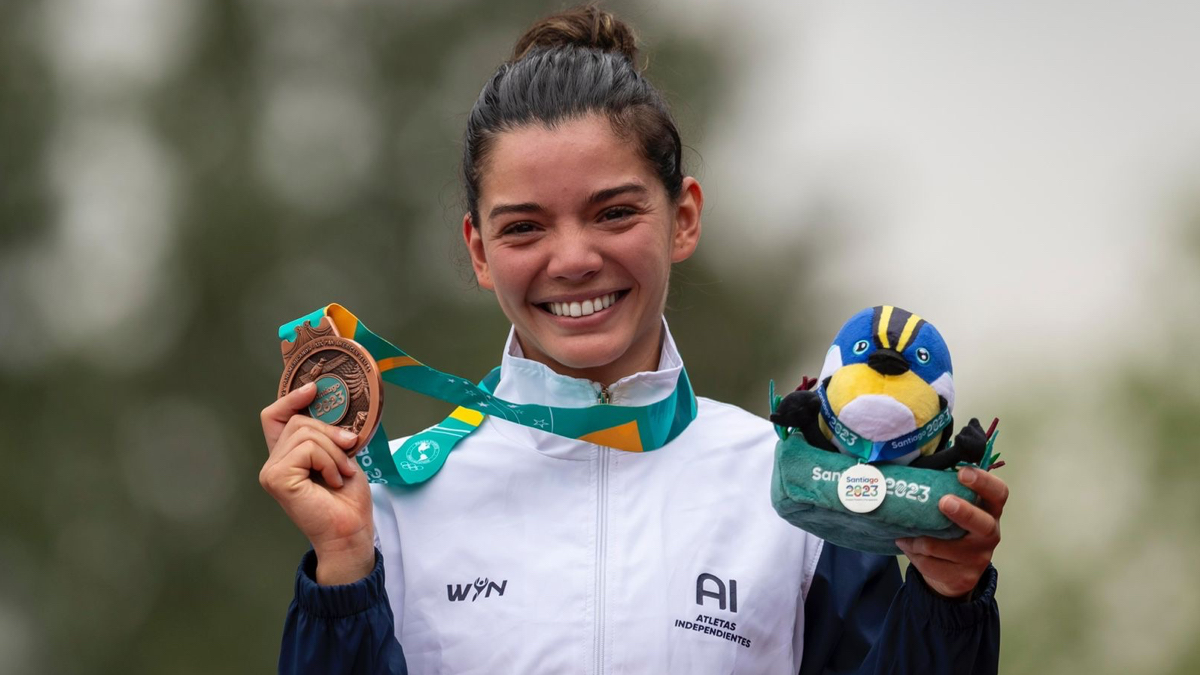 Sophia Hernandez had a lot on her plate as she prepared for the 2023 Pan American Games. The 26-year-old pentathlete from Guatemala was dealing with both physical and psychological challenges as she readied for the most important competition of her life.
There was the physical aspect — she has a chronic Achilles tendon injury that flares up from time to time, and it became inflamed in the months leading to the Pan Am Games.
Then there was the mental aspect of not being able to compete under her country's flag or name due to IOC sanctions on the Guatemalan National Olympic Committee. Lastly, the pending decision on whether pentathlon would be included in the 2028 Olympic Summer Games in Los Angeles was weighing on her.
She blocked it all out, taking third place at the Pan Am Games in Chile and qualifying for her first Olympics in Paris next summer.
"It's hard to describe the feeling because it's something I've been fighting for and dreaming about for a really long time," Hernandez said. "I had mixed feelings because I was really happy, but I was not sure it was really happening. I cried for like 45 minutes straight when I finished the race. It's definitely exciting and a dream come true for me. Every young athlete dreams of going to the Olympics."
She couldn't train at all during July and August as she rested the achy Achilles. Hernandez started the pentathlon competition strong in Santiago, placing first in the fencing portion and positioning herself for a run at Olympic qualification. She was then fifth in swimming and 16th in equestrian, before a third-place finish in the laser run clinched the overall bronze.
"I was not running as hard as I should have been because of the injury," she said. "So for me, the fencing was a very important thing and we took it day by day. After fencing, I knew I had a real chance not only to qualify, but also to medal."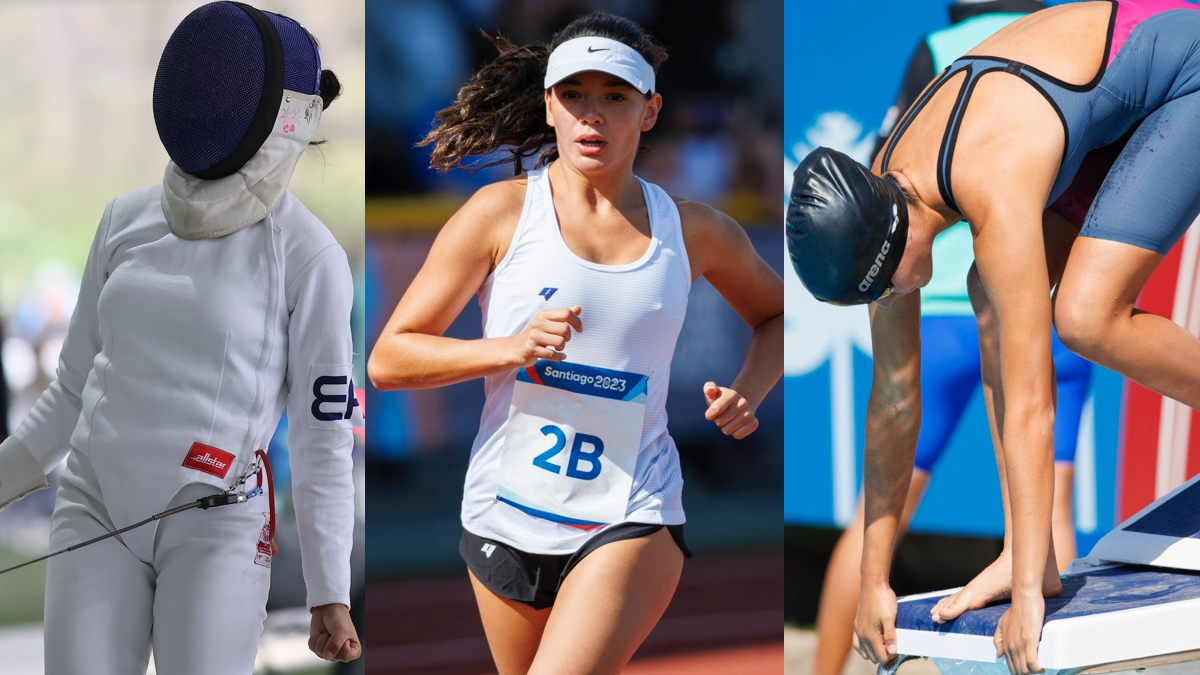 Pentathlon's Olympic Future
It's been a long two years for modern pentathlon since the Olympic Summer Games in Tokyo. Controversy over the physical abuse of a horse during the riding competition in 2021 sparked international outrage and sent pentathlon on a course that would change its future — the obstacle course.
After the IOC had all but given the sport an ultimatum of losing riding or losing its Olympic status, riding was officially replaced with obstacle racing, starting with the 2028 Games in Los Angeles. Hernandez will compete in riding one last time at her first Olympics in Paris and has mixed emotions.
"A part of me is obviously very sad because I grew up doing pentathlon as it is now," she said. "So it's not going to ever be the same again. But on the other hand, I think the dream of being at the Olympics and still being able to compete in my sport, makes it worth it.
"I didn't know if I was going to be able to do obstacle because if you look at a picture of me, I'm not very strong or very tall, so I didn't know if I'd be any good at it. But then I tried it and it's really not as hard as it looks."
Hernandez competed in World Pentathlon's fifth discipline test in Turkey in June 2022. Not only did she hold her own on the obstacle course, she placed first in her group. Although surprised by her rapid aptitude in the event, she says it showed that any pentathlete can do it.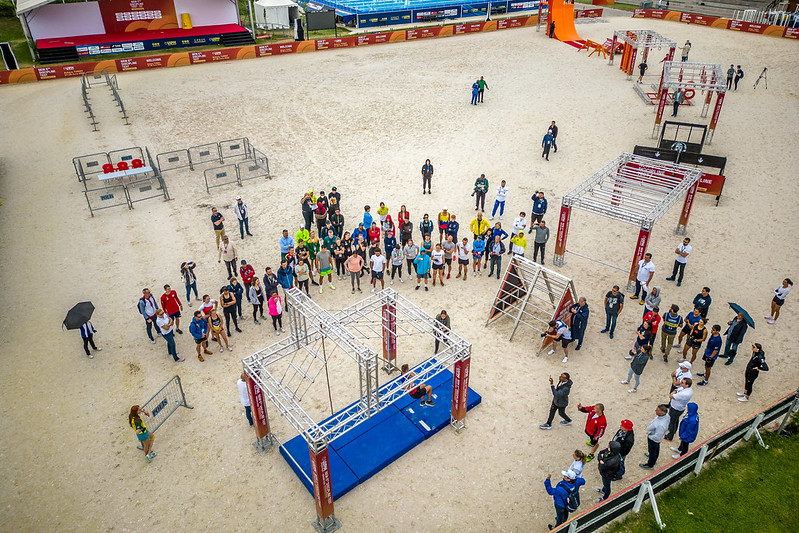 "Our sport is so complete that it forces you to have coordination and strength all over your body," she said. "So once I tried it and learned a few techniques of how to move on the obstacles, I was able to do it pretty well."
While it'll be bittersweet for Hernandez and others to no longer participate in equestrian after Paris 2024, she says riding was the only event in the pentathlon that allowed for the luck of the draw and she's on board with obstacle being the same for everybody.
"Taking riding out of pentathlon takes away the luck factor from the sport — which horse you get," she said. "You don't have the same horse for every single athlete. I've had really good horses, but I've also had really bad horses; and I've had friends who are very good riders get terrible horses and not score many points because their horse didn't want to jump or couldn't jump that high. So now you take away the luck factor and then it's really just what you can do."
As Hernandez prepared for the 2023 Pan Am Games, she wasn't sure if this would be her only chance to qualify for the Olympics. But days before the start of the Pan Am Games, it was announced that the new version of modern pentathlon would be on the program in 2028. It was a relief to all pentathletes.
"For me, it was very important because I had a dream for a really long time and I didn't know for sure if I would make it this time, in this format," Hernandez said of Paris 2024. "So it was important to know what would happen because you have this dream and you fight for it.
"And then there's the chance that the pentathlon was not going be in the Olympics anymore. I think not only me, but a lot of us that were fighting for this, were thinking, 'What do we do now? Do we keep going? What's the plan?' But now that it's for sure going to be at the Olympics in 2028, we can still work for it."
"Independent" Athletes
Hernandez was one of 82 Guatemalan athletes at the Pan Am Games but when she took the podium to receive her bronze medal, she didn't see her country's flag anywhere. The Guatemala National Olympic Committee was suspended by the IOC in October 2022 after a disputed election for president of the NOC. Because of the IOC suspension, those 82 athletes were competing under a neutral flag, which dampened the experience.
"It was tough," Hernandez said. "In the locker rooms, everyone had a flag except for us. Then, when you manage to perform well and make it onto the podium, you aren't announced as from your country. You're used to having your name associated with your country and now being introduced as an independent athlete just doesn't feel right."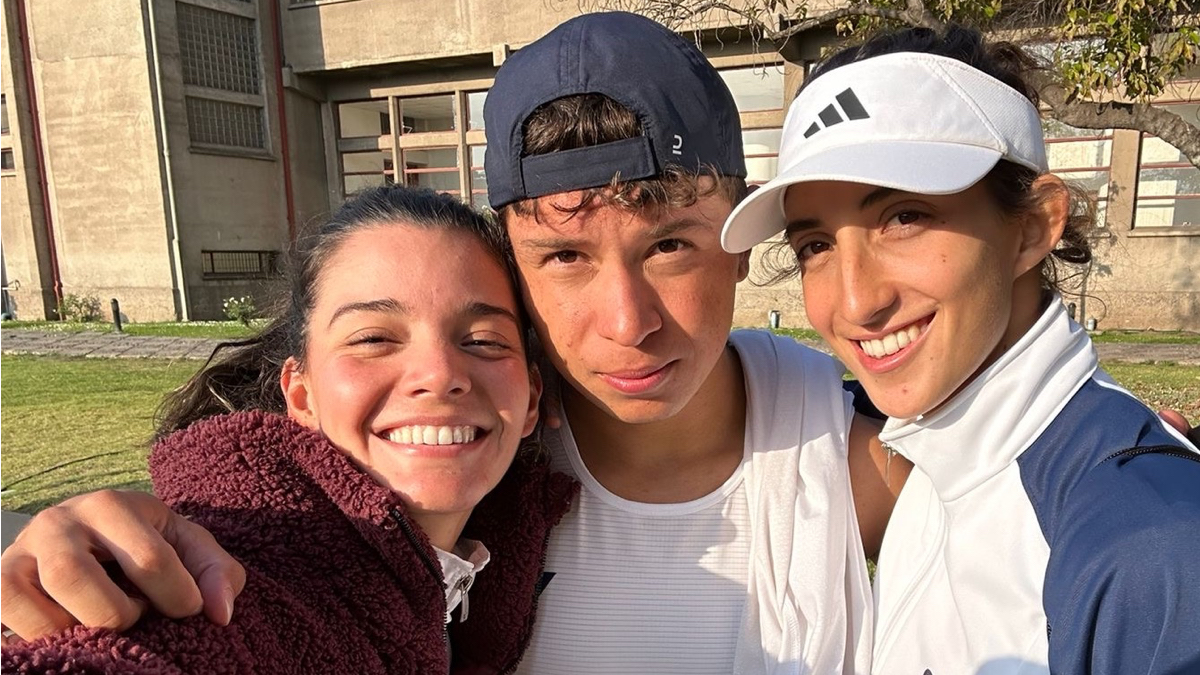 Hernandez and her peers had to spend a lot of time in Chile explaining the situation to those who weren't familiar with the reason she was being called an independent athlete.
While Hernandez took third place, she says her teammates who took first place missed out on the experience of hearing their country's national anthem played. It's something every Guatemalan who's heading to Paris next year hopes is rectified.
"We've had a few meetings with our Olympic committee in which we are told they're trying to work on it and they're trying to solve the problem," she said. "We really hope to be able to represent our country at the Olympics. It's going to be my first Olympics, and I really want to be able to carry my flag."