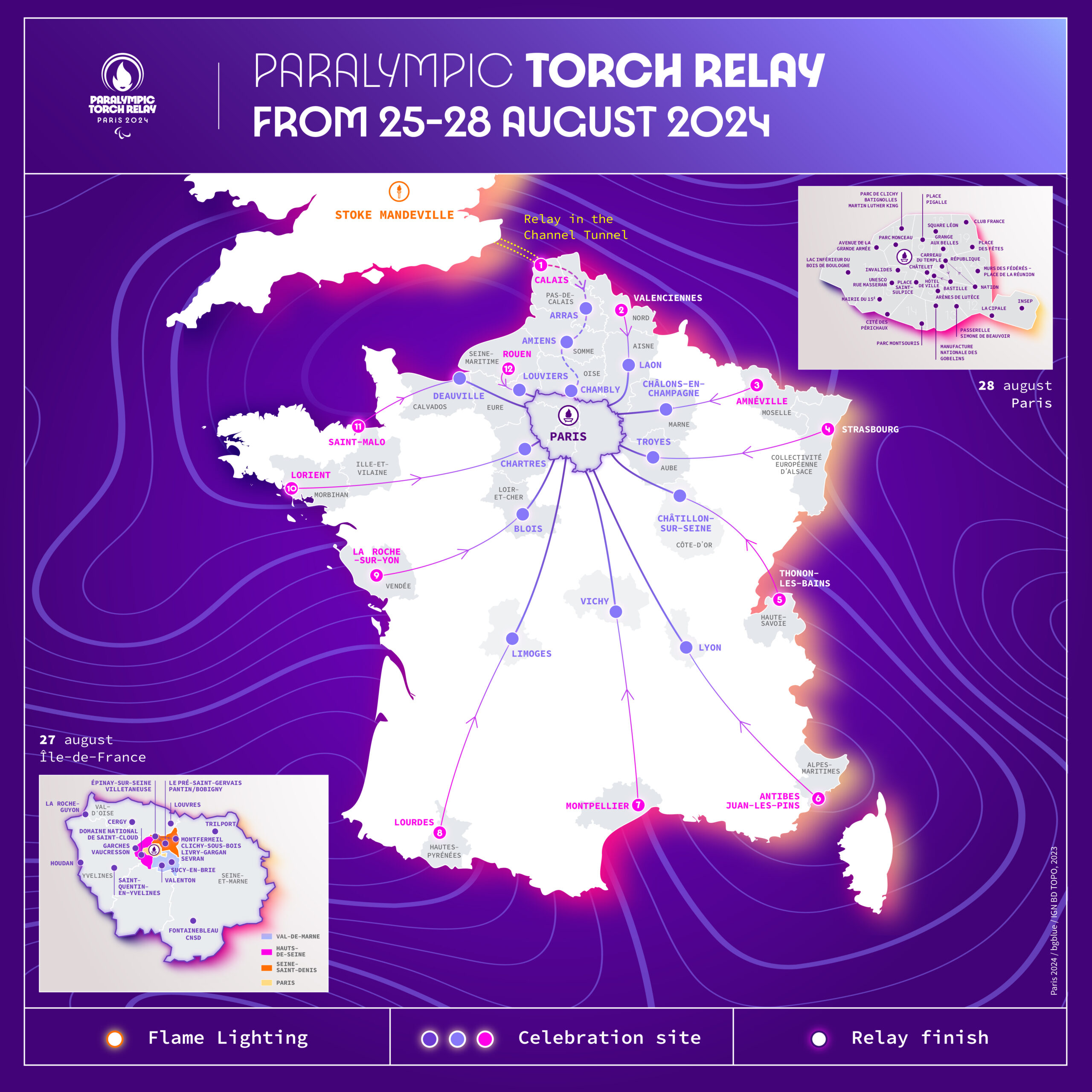 The route for the 2024 Summer Paralympic Games torch relay was unveiled on Friday, with the flame being passed between 24 English and 24 French athletes in the middle of the Channel Tunnel after being lit in Stoke Mandeville, England, the historic birthplace of Paralympic sport.
Arriving on the French coast at Calais, the Paralympic flame will multiply into twelve flames spread around the outskirts of France. It will be carried by more than 1,000 forerunners in around 50 towns in 12 simultaneous relays converging on Paris.
The Paralympic Torch Relay route was designed in collaboration with the French Paralympic and Sports Committee,with the aim of highlighting areas that are committed to greater inclusion in sport. It has also been designed to also highlight the sporting and committed cities closest to the Games, as well as cities that are symbolic of France's history and heritage.
During the Relay, a Festival of the Flame will be organized in the heart of the city, with music, activities and introductory courses in Para sports.  The torchbearers will take to the roads of France in a uniform designed by Decathlon, an official partner of Paris 2024. It will be white to symbolize peace, unity and fraternity. With the exception of the emblem, the uniforms of the bearers of the Olympic Flame and the Paralympic Flame will be identical.
There will be 22 Para sports on the program (23 disciplines) for a total of 549 events, spread over 267 sessions over 11 days of action between August 28 through September 8. For the first time, the Paralympic Opening Ceremony will not take place in a traditional stadium setting and instead be held in the open on Champs-Elysées boulevard and in the city's biggest square, Place de la Concorde.
During the Games, fans will be able to roam from venue to venue with day passes. Paris organizers said that prices for competition tickets will range from 15 euros to 100 euros ($15.80 to $105). Tickets for the Aug. 28 opening ceremony start at 150 euros ($158), up to 700 euros ($736). Passes granting access to multiple venues and sports for one day will cost 24 euros ($25). A total of 20,000 tickets are reserved for people who use wheelchairs.