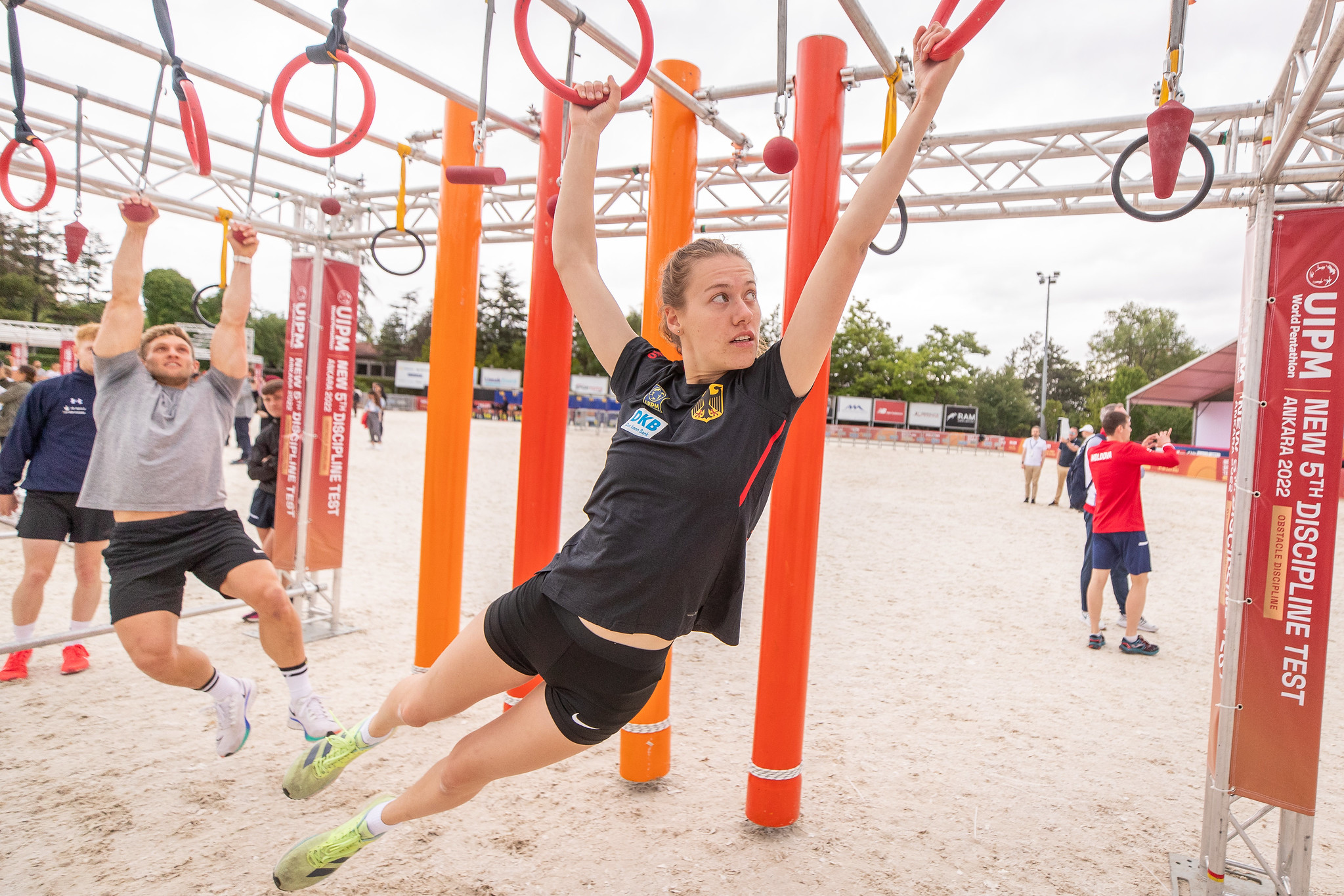 The International Modern Pentathlon Union has added obstacle racing to the disciplines available for competition, clearing one of the pathways to place it in the spot of equestrian going forward in the UIPM's attempt to gain entry into the 2028 Olympic Summer Games program.
The saga of modern pentathlon has gone on since the 2020 Games in Tokyo, where equestrian was spotlighted after German team coach Kim Raisner was shown punching a horse. UIPM executive board members were told in November 2021 in documents that were later leaked that the sport would lose its spot in the LA28 Games if equestrian was not dropped for a different discipline.
[Go Deeper: Why the UIPM Adopted Obstacle Racing]
"This is a very emotional issue," UIPM President Klaus Schormann said at the organization's weekend meeting where the vote took place. "But over the past 30 years three IOC Presidents — Juan Antonio Samaranch, Jacques Rogge and Thomas Bach — have said that our sport is not accessible or universal. What they have told us is what you call a hard truth and that means hard choices. … There is only one answer."
Modern pentathlon is part of the 2024 Olympic Summer Games program in Paris. But the International Olympic Committee told pentathlon leadership that it had to conform to six markers of progress to potentially return to the program at LA28, making clear that equestrian was one of its main roadblocks to entry.
UIPM delegates voted 69-11 with three abstentions to include the obstacle discipline into its competition menu as a potential discipline.
"I cannot read the minds of the IOC Executive Board, other than to say this and say it for certain: if we do not approve the proposed new format going forward, we have zero chance of remaining in the Olympic Games," added UIPM First Vice President and IOC Vice President Juan Antonio Samaranch.
While the UIPM started to change and drop equestrian from the sport, dozens of athletes claiming they had had no input into the shift resisted and made clear their disapproval of any modifications. When the UIPM in its November 2021 meeting exercised a force majeure clause to enact the removal of equestrian and start the process toward obstacle racing becoming its replacement, the Danish Modern Pentathlon Association appealed to the Court of Arbitration for Sport, arguing the use of force majeure was unjust. The case was dismissed by the court.
Those against the change were led by Alex Watson, an Olympian from Australia, who said "we are getting this ultimatum to what amounts to scare tactics and being told there is no alternative, but there has been no proper discussion about how the sport could work in the future with a proper management process."