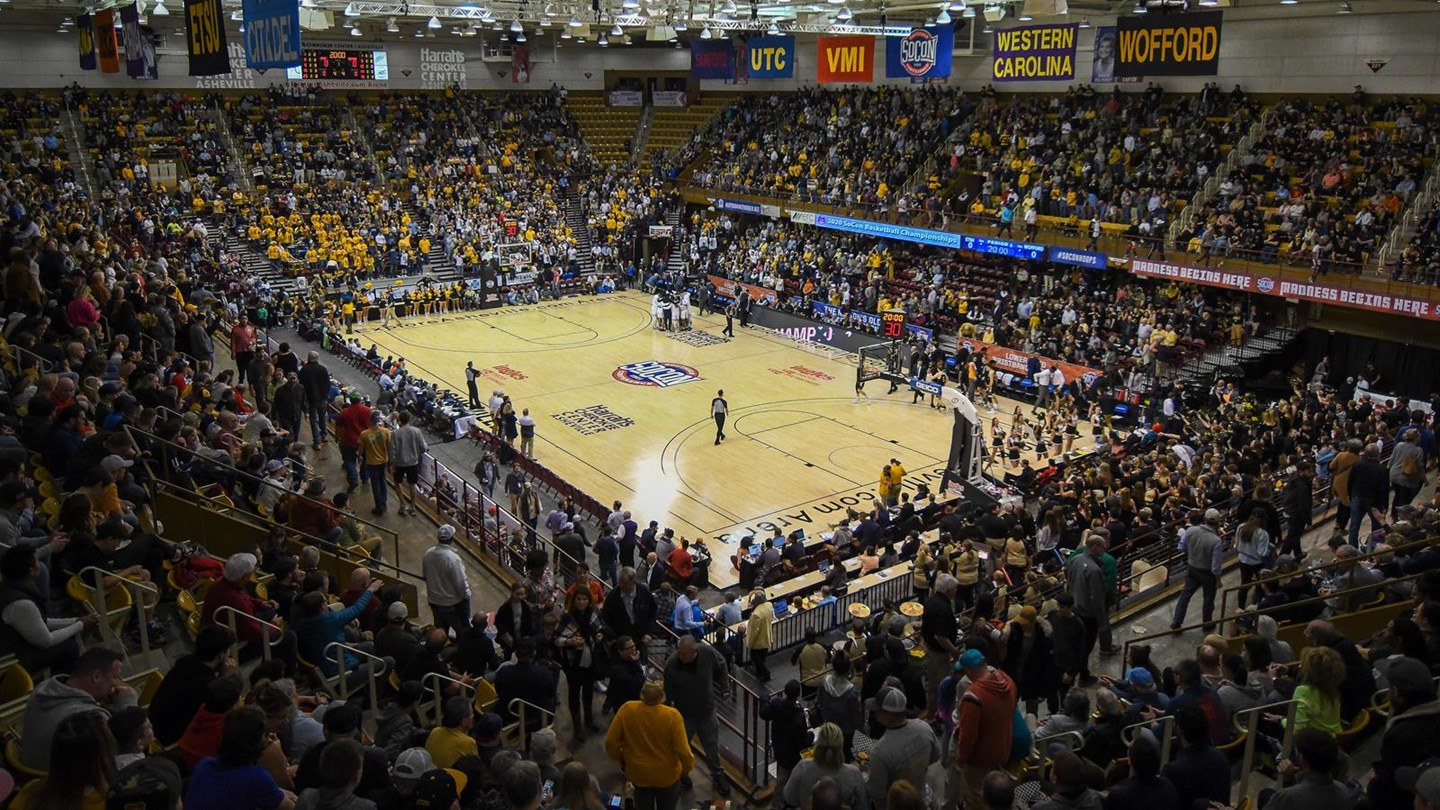 The Southern Conference will continue to have its men's and women's basketball tournaments in Asheville, North Carolina, through 2026, extending a longtime stay in the destination.
The league worked with the Asheville Buncombe Regional Sports Commission, Harrah's Cherokee Center, Buncombe County and the city of Asheville. First held in 1921, the SoCon men's tournament is the nation's oldest collegiate conference tournament. Asheville has hosted the event from 1984—1995 and then its current stretch that started in 2012. The women's basketball tournament has been contested in Asheville 11 times, with the semifinals and final played there in 1995 before the current 10-year stretch.
"This is a historic day to extend the Southern Conference's long-standing and successful partnership with Asheville to host our basketball championships," SoCon Commissioner Jim Schaus said. "Over the 101 SoCon basketball championships, Asheville has hosted the most of any city. What makes this tournament special is how the city and area community embrace it, having an ideal venue and how much our schools and fans enjoy coming here."
The 2022 SoCon Basketball Championships are scheduled for March 3–7.
"The Southern Conference Basketball Championships have a rich tradition in Asheville and we are excited that the tournaments will remain in Asheville through 2026," Asheville Buncombe Regional Sports Commission President Demp Bradford said. "This is more than basketball for our community — it's the Downtown Dribble, Education Days and Hometown Heroes. All of these special events surround some of the best basketball in the country and Asheville is excited to continue to be the home of this tournament."
Four of the past five tournament title games have sold out in Asheville and the 2020 tournament averaged just under 5,000 fans per session, the best average attendance since 2012. While COVID protocols limited attendance in 2021, all 18 SoCon teams were able to participate. The entirety of the men's tournament run in Asheville has been contested at Harrah's Cherokee Center, which can hold up to 7,674.
"Explore Asheville and the Buncombe County Tourism Development Authority is thrilled that the Southern Conference Basketball Championships will tip off in Asheville once again," said Vic Isley, president and chief executive officer of Explore Asheville. "The longstanding Southern Conference partnership results in positive economic value and meaningful community engagement, generating nearly $4 million direct spending for local businesses in past years just before we swing into spring season."