The Spikeball Roundnet Association has released its 2021 tournament schedule with 10 national events scheduled throughout the country.
The national events will be held in a two-day format in the advanced and premier divisions with smaller pools of teams and best-of-3 matches, with the best teams in each pool earning spots in the divisional brackets. Each event will have a Nationals pro division bid awarded to the winner with up to $50,000 in prizes up for grabs. The two-day structure keeps a low barrier of entry for beginner, youth, intermediate and women's divisions.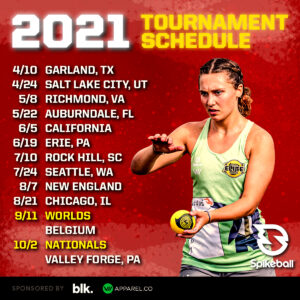 Spikeball is a net sport inspired primarily by volleyball with most games consisting of four players. The materials used in roundnet include a small trampoline-like object with string netting and a ball with players lining up across from one another. The game starts with a serve from one team to another, continues as long as the ball is being hit by players back to the net, and ends when an infraction occurs between either the players or the ball.