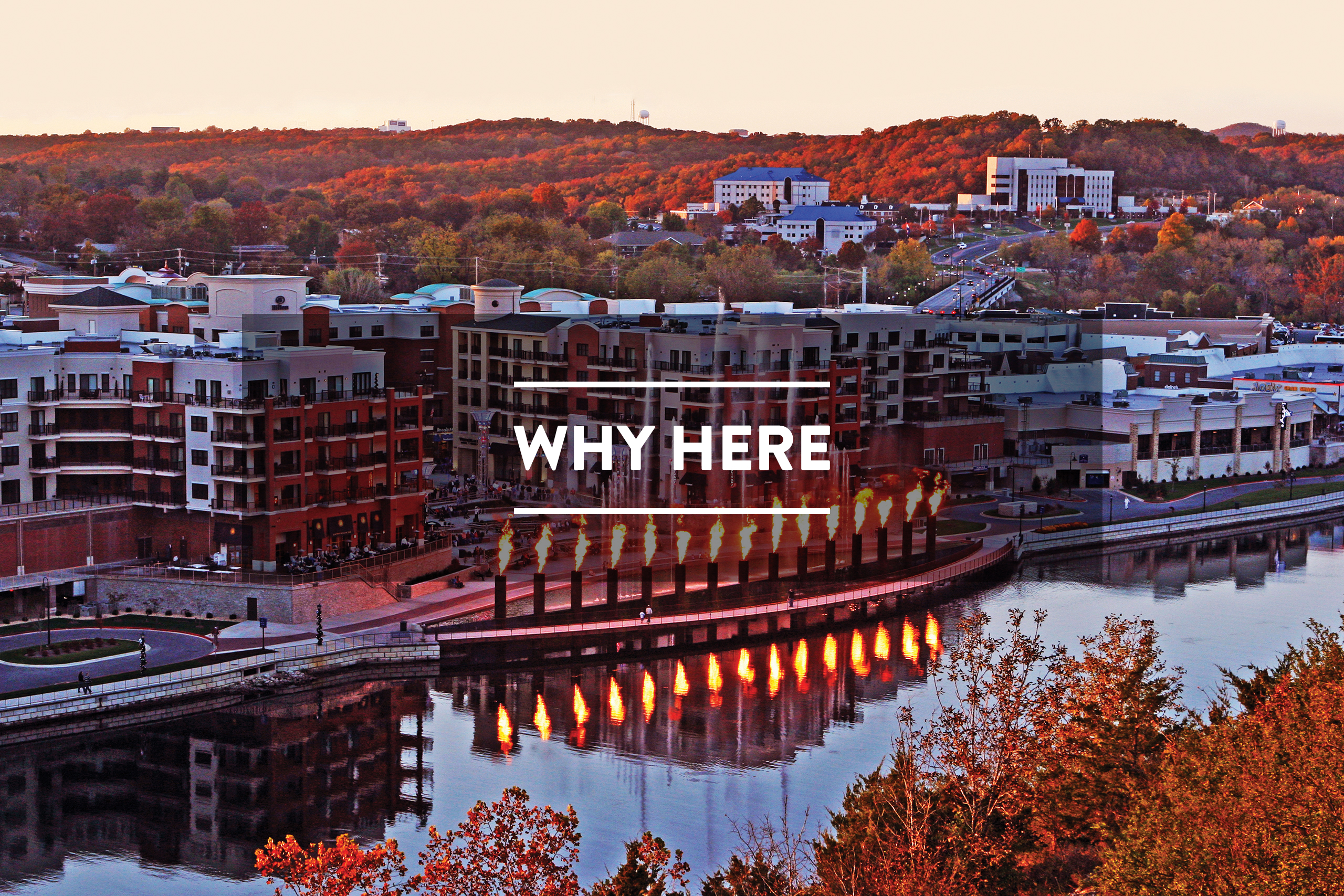 Branson's title as "The Live Music show Capital" is well-earned but that's not the only draw for a destination with world-class golf courses and sports venues, engaging museums, incredible dining and the natural setting of the Ozark Mountains, which participants in sports events can explore before, during and after events. In this guide, sports-event organizers can learn everything they need to know about why Branson is an ideal destination for sports, where in Branson to host your events, options on where your guests can stay and activities for them to do when the event is done. You'll also learn what makes Branson unique for events of all kinds.
LOCAL TRAVEL INFORMATION
Sales tax: 8.6 percent; Lodging tax: 13.1 percent
CVB: Explore Branson
Convention Center: The Branson Convention Center is managed by ASM Global and is a world-class meetings and events venue. The site rests at the heart of the $420 million Branson Landing development and offers 220,000 square feet of usable space. That space includes a 47,125-square-foot exhibit hall attached to a 22,703-square-foot ballroom. For meeting space, there are 14 flexible breakout rooms near the ballroom and exhibit hall.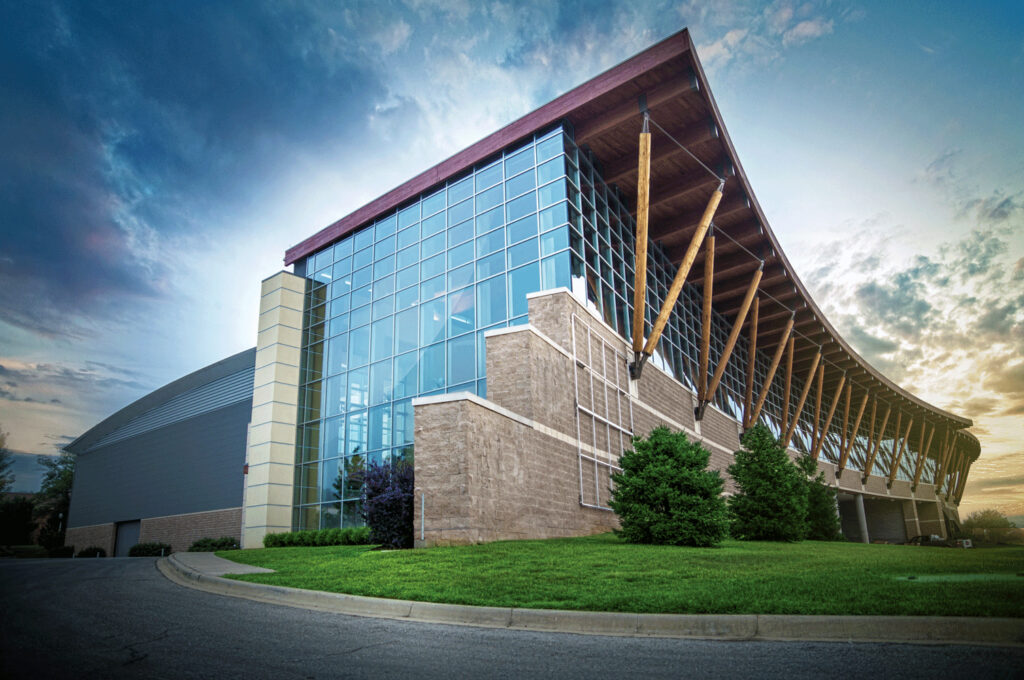 As part of ASM Global's network, the Branson Convention Center features the company's VenueShield program, a set of precautionary guidelines that event organizers can expect the venue to practice. Those guidelines include:
Increased signage outlining advisable precautions, such as frequent handwashing and safety recommendations.
Regular cleaning with CDC-recommended products of high touch point areas such as escalator handrails, stair railings, door handles, purchase devices and elevator buttons.
Regular cleaning and sanitizing of facility public spaces and rest rooms.
Adding additional hand sanitizer stations in various locations throughout the facility.
Within Walking Distance: Branson Landing is an open-air, waterfront development that is home to over 100 shops and restaurants, as well as the Hilton Promenade Hotel and a $7.5 million water and fire spectacular. In recent years, the area has added Landshark Bar & Grill, Paula Deen's Family Kitchen, Andy B's Tiki Bar and Guy Fieri's Branson Kitchen + Bar to its dining options.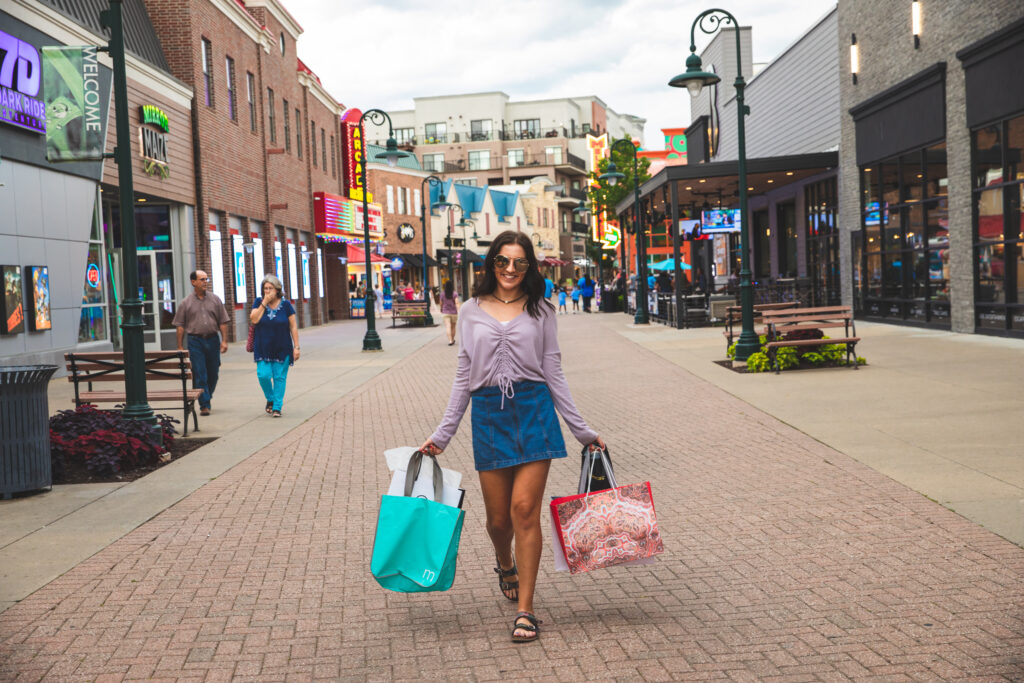 Transportation Information: Branson is less than a day's drive for one-third of Americans. Branson Airport is about 8 miles from the city's central business district. Transfer cost by taxi is about $28. Frontier Airlines services the airport. Springfield–Branson National Airport is another option, about 50 miles from Branson. Transfer cost by taxi is $93, although the airport is also served by Uber, Lyft and Branson hotel shuttles.

The Branson area has a number of world-class venues for sports-event organizers to consider, whether indoors or outdoors, on a field or on a lake. Here are a few of the many options available.
One of the jewels of Branson is Ballparks of America, which features two-thirds scale replicas of five of the most iconic baseball stadiums in the world — Wrigley Field, Busch Stadium, Ebbets Field, Fenway Park and Royals Stadium. The complex, managed by Sports Facilities Management, has synthetic turf fields and MLB-style, air-conditioned team suites that include big-screen televisions, individual lockers and access to private showers. The replica of Busch Stadium features 600 red and blue tiered stadium seats between sunken dugouts and a lighted playing field with distinctive mow lines.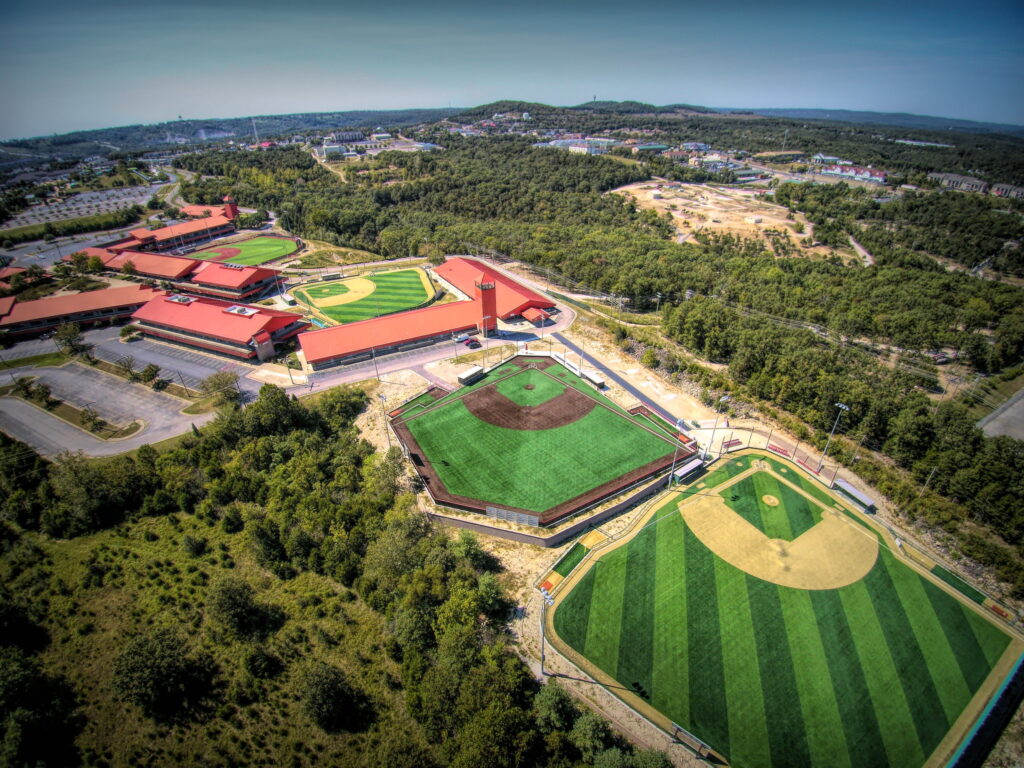 The Branson RecPlex is a 44,000-square-foot sports complex that features two gymnasiums for basketball and volleyball and a three-lane indoor track, plus outdoor facilities that can accommodate soccer, baseball and softball. The venue also houses Branson's AquaPlex, which includes six lanes for lap swimming and competition. The complex opened in 2005 and has hosted 14 national tournaments, including national championships for USSSA and AAU and more than 100 state and regional events in baseball, basketball, volleyball, swimming, tennis and martial arts.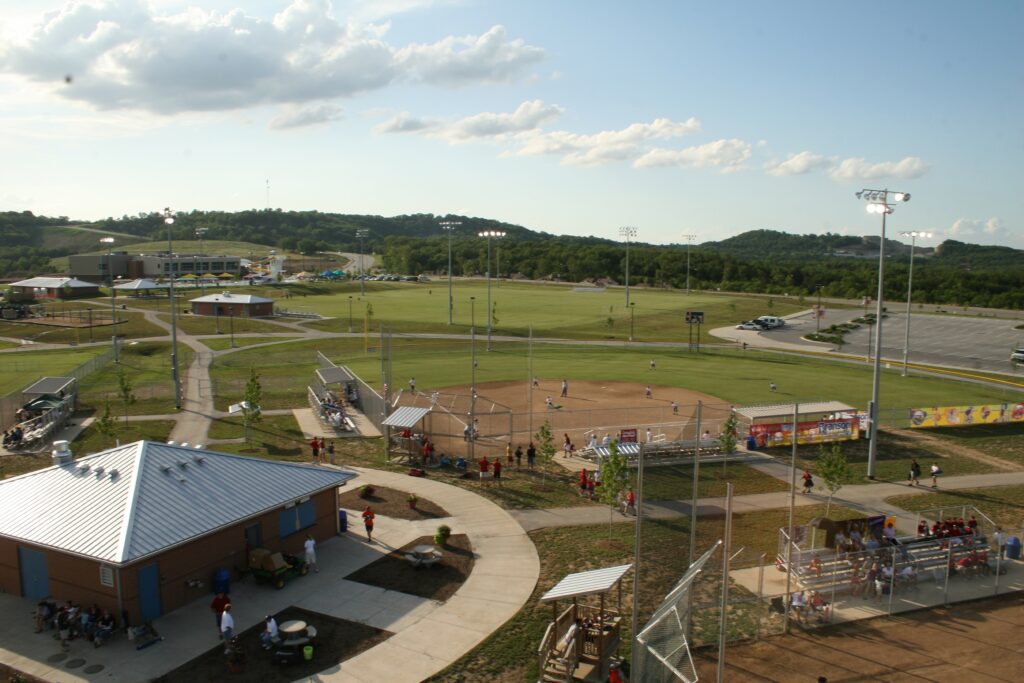 The Bass Pro Shops Shooting Academy, with its stunning backdrop of Table Rock Lake, is an outdoor playground for sportsmen and outdoor enthusiasts. Designed for all skill levels, this world-class facility offers training and experience in shooting sports.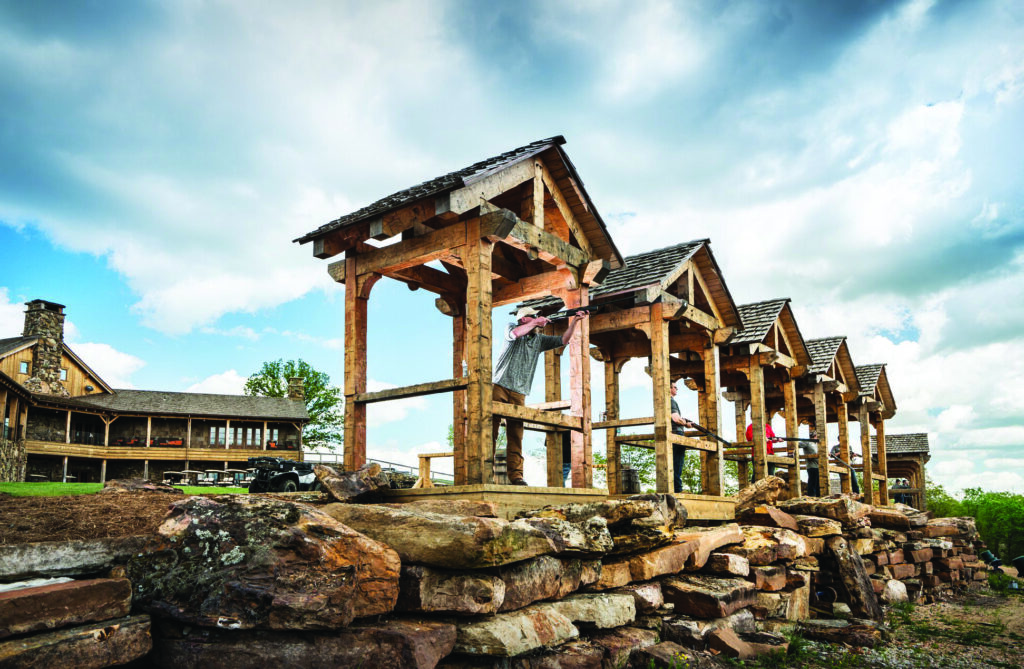 You may not think of theaters as your first choice of sports venue, but with the city's large offering of musical acts, there are many venues that can accommodate sports events as well. At the city's theaters, your athletes can shine in venues that are ideal for dance, martial arts, weightlifting, cheer and dance competitions. The city offers a significant range of theaters from a few hundred seats to the ability to accommodate up to 3,000 spectators.
While the city's attractions are legendary, Branson really shines on the water. Three nearby lakes offer a range of options for bass fishing or water recreation.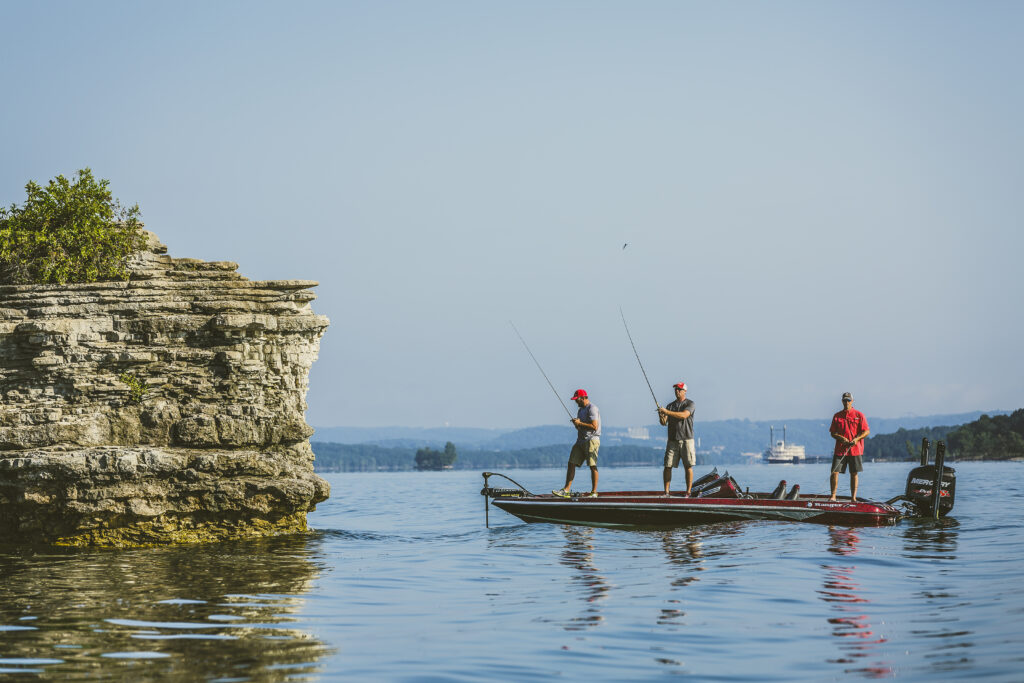 Lake Taneycomo, home to the Branson Landing boardwalk, is renown for trout-fishing and is perfect for kayaking.
Bull Shoals Lake is also known for fishing and can also host scuba diving. Both have been recognized by Bassmaster Magazine as Top 50 lakes in the United States.
Table Rock Lake is a top destination with more than 100 adjacent resorts. Ironman has hosted 70.3 races on the area's lakes and King of the Wake is an elite pro wakeboarding tournament that uses the natural resources as well. In November, the lake will host the U.S. Open National Bass Fishing Amateur Team Championship.
Branson's golf courses are regularly recognized by national golf publications and offer challenges for all level of player.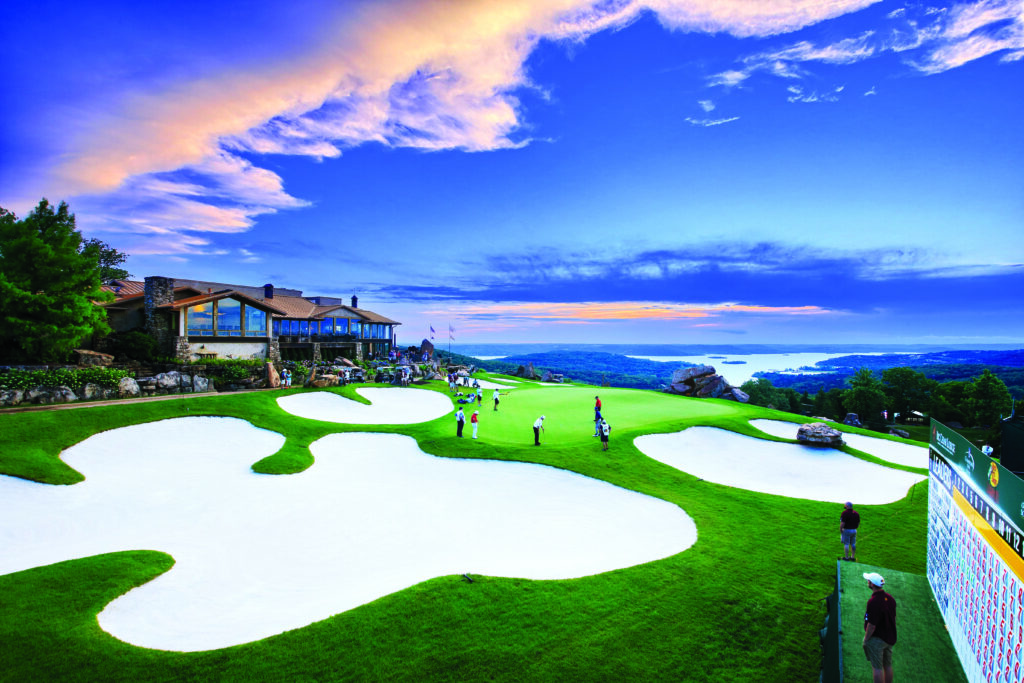 Big Cedar Golf offers the following world-class courses:
Other golf venues include LedgeStone Country Club at StoneBridge Village, a par-71 design that boasts plush zoysia fairways and immaculate bent grass greens, and the Pointe Golf Course, a championship 18-hole course along the banks of Lake Taneycomo, with water on nine holes.
If disc golf is more your game, Branson offers several opportunities to play as well.
Sunset Park, which features a par-54 disc golf course, is located between Lake Taneycomo and a wooded bluff. It features a .6-mile walking trail along its perimeter with a disc golf course in the center. Established in 2004, the disc course features nine overlaid baskets nestled among a moderately wooded — yet mostly flat — terrain. The venue is fun for families with children and more experienced disc-golf players will find challenges among the park's trees.

Branson Cedars Resort Trehouz Course is 19-hole disc golf course on the grounds of Branson Cedars Resort and is considered one of the best courses in the Midwest. The course is more than 7,400 feet and offers challenging terrain including the big bomb, water obstacles, tunnels and heavy woods. The course features DISCatcher Pro 28 chain baskets, concrete tee pads and multiple tees and basket placements. The championship-level par-59 course is on a property that previously was a nine-hole golf course.
Elsewhere in Branson, the Tiger Springs nine-hole disc-golf course is located at the area's high school, while Marriott Willow Ridge Lodge guests can play a nine-hole course designed for families, with all holes less than 200 feet long. In addition a private nine-hole course in Branson is open only to Coast to Coast campers and Treasure Lake Resort.
The Branson Parks & Recreation Department oversees 16 parks, covering more than 300 acres. Each park has its own features to offer, including picnic pavilions, playgrounds, basketball and tennis courts, walking paths and trails. The department's staff also coordinates recreation programs and sports leagues for all ages throughout the city at various locations and venues. Here are some of the significant park venues across Branson:
Alexander Park
Alexander Park is a 6.9-acre park located near Lake Taneycomo and features two youth ball fields, a tennis court, a playground and a pavilion with picnic tables. The park frequently hosts youth baseball, softball and soccer games.
Eiserman Park / Don Gardner Golf Course
Eiserman Park is a 1-acre park home to the Don Gardner Par 3 Golf Course and the Branson Community Center. It features a lighted basketball court with a pavilion and picnic tables.
Lakeside Forest Wilderness Area
Lakeside Forest Wilderness Area includes 140 acres of wooded and rugged hill country. Two woodland trails wind through forest, along bluffs and across glades. A set of 315 stone steps lead down toward Lake Taneycomo along a path that features a waterfall and cave. The area also includes the Lyle Owen homestead, originally built in 1911, and nearly 2,000 feet of hand-built stone walls.
North Beach Park
North Beach Park is also located on the banks of Lake Taneycomo, next to the Branson Landing. The 4.2-acre park includes a paved walking path along the lake that connects to the Branson Landing boardwalk. The park also includes two fishing docks, picnic tables, barbecue grills and horseshoe pits.
Stockstill Park
Stockstill Park sits along Roark creek and hosts softball and tennis leagues for all ages on its two fields and six courts. The 62-acre park features two large children's playgrounds and four covered pavilions and includes a half-mile paved walking trail.
Sunset Park
Sunset Park along Lake Taneycomo sits near Alexander Park and features a lighted .6-mile paved walking path and a disc golf course.

Branson has a hotel inventory that rivals the quantity and quality of its many attractions. Event organizers will find the full range of lodging options, from luxurious resorts to family-friendly hotels, charming bed-and-breakfasts and even spacious vacation homes. The region boasts more than 16,500 units in four-star resorts, national-brand hotels, independent inns, nightly rental cabins and condos, vacation homes and more. For a deeper look at the range of options by lodging type, click here.
Here are just some of the city's most popular properties:
Hilton Branson Convention Center Hotel
The AAA Three Diamond Hilton Branson Convention Center features 12 stories and 293 guest rooms and suites. The hotel offers views of Branson Landing and the Ozarks and is located in the heart of downtown Branson. The property is within walking distance of Branson Landing waterfront entertainment district with more than 100 shops and restaurants.
The Hilton Promenade at Branson Landing
The Hilton Promenade is located within the vibrant Branson Landing entertainment district. The hotel offers 236 contemporary rooms, suites and condos with views of the historic area. Guests can enjoy a front-row seat to Branson Landing's dazzling interplay of fire and water with 120-foot geysers choreographed to music against the backdrop of sparkling Lake Taneycomo.
Condominium Properties
Many groups traveling for sports events prefer a condo environment complete with laundry capabilities, which are excellent options for families traveling to tournaments. A wide range of these options is available across the Branson area.
Branson King Resort and Suites
At Branson King Resort, rooms are styled in honor of music and movie stars. Only in Branson can you choose between rooms themed for Conway Twitty and Loretta Lynn, John Wayne, Ronald Reagan and more. There's even an Elvis suite, an Elvis Penthouse and the Elvis King Condo.
Barrington Hotel & Suites
Barrington Hotel & Suites sits off the Shepherd of the Hills Expressway, next to The Mansion Theatre, the Sight & Sound Theatre and The Shoppes at Branson Meadow. The site is minutes from Branson Landing but nestled within the serenity of the Ozark Hills.
Grand Country Resort & Waterpark
Grand Country Resort is a 319-room complex that features the Splash Country Indoor & Outdoor Waterpark. The large, indoor waterpark includes a three-story treehouse with tube slides and a 1,000-gallon tipping bucket, a basketball pool, lazy river, toddler play area, hot tubs and more. The outdoor park features zero-depth entry, slides and play features for kids of all ages. Guests also have access to Grand Country's Fun Spot, an entertainment center with indoor go-karts, a two-story laser tag arena, arcade, bumper cars and multiple indoor and outdoor mini-golf courses.
Radisson Hotel Branson
The Radisson Hotel Branson is perfectly located in the heart of Branson's entertainment district next to theaters, attractions, shopping complexes, restaurants and golf courses. The hotel features 472 rooms including 27 suites, as well as 13 meeting rooms totaling over 16,000 square feet.
Chateau On The Lake Resort, Spa & Convention Center
The Chateau on the Lake is Branson's only AAA Four-Diamond resort. The site, which includes a world-class spa, offers luxurious guestrooms, award-winning dining and breathtaking views.
And Many More…
For more hotel options in and around Branson, click here.

ONLY IN BRANSON
With dozens of theaters for live music, there is a genre for any music lover with more than 100 live shows throughout the year. Branson and the Lakes Area also offer more than 10 world-class golf courses (including Payne's Valley, which was the nation's first Tiger Woods/TGR Design public-access course). Participants and their families also have a wealth of attractions at their disposal before, during or after their event. The area has more than 15 interactive attractions and theme parks and a wide range of outdoor activities such as Branson Jet Boats, Bass Pro Shops Shooting Academy, private fishing tournaments, Spirit of America Catamaran cruises and Shepherd's Adventure Park — voted the top aerial adventure park in the United States for two consecutive years — where you can zip through the Ozark Mountains.
NEW AREA ATTRACTIONS
The Aquarium at the Boardwalk has opened. The new $55 million venue is located on Highway 76 in the heart of the entertainment district and offers up-close views of amazing sea creatures ranging from colorful fish, seahorses and jellyfish, to octopi, eels and sharks.
WonderWorks, an amusement park for the mind, opened in June 2020 with 48,000 square feet of "edu-tainment." The attraction combines education and entertainment with more than 100 hands-on exhibits that challenge the mind and spark the imagination. The site also has two cafes.
Silver Dollar City Attractions has made a historic splash for the park's 60th anniversary by investing $30 million into new offerings at the 1880s-style theme park. New features include a raft ride, Mystic River Falls. The new attraction is touted as the "tallest raft ride drop in the western hemisphere."
ATTRACTIONS AND MUSEUMS
Participants and spectators at sports events will find an incredible variety of attractions in Branson range from thrilling theme parks to romantic dinner cruises on Table Rock Lake. The region also has museums, including the Titanic Museum Attraction, which houses a collection of historical artifacts related to the ship's ill-fated attempt to cross the Atlantic.
The Ancient Ozarks Natural History Museum features an impressive collection of artifacts, interactive exhibits and historical memorabilia showcasing the history of the region.
LIVE ENTERTAINMENT
Live entertainment has been a staple of the Branson community for more than 50 years. At all times of day, you can find shows including comedy shows, dinner shows, shows for kids and even shows on boats.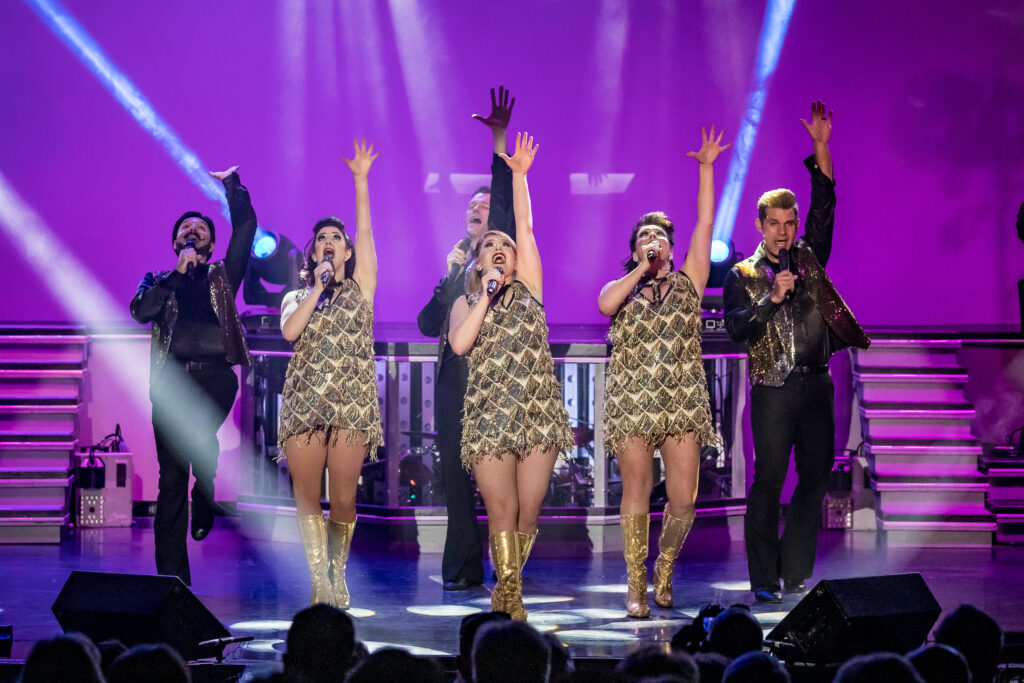 ENTERTAINMENT DISTRICT
The city's entertainment district offers visitors lots to do. The district includes the heart of the city's theater scene, attractions such as the Branson Ferris Wheel and dining options that can suit any group. It also features specialty and retail shopping, including a Tanger Outlet. Many of the city's hotels are located within the district as well.
BRANSON LANDING
Branson Landing, a lively shopping and entertainment district, is a complex of 450,000 feet of retail shops, restaurants, marinas and a boardwalk along Lake Taneycomo. Visitors can experience the unique 95-acre retail and entertainment destination, all animated with live entertainment and a $7.5 million fountain spectacular that synchronizes light, sound, music and fire.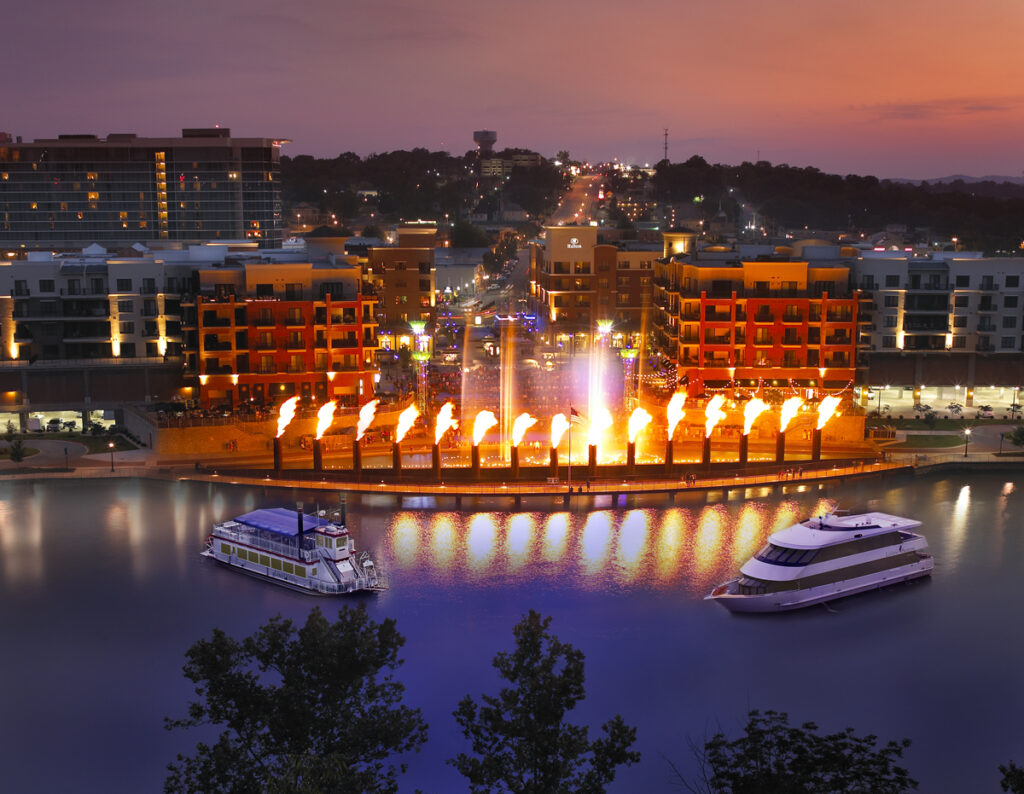 ANDY B'S
Andy B's, the entertainment destination at Branson Landing, is more than a bowling alley: The venue has a full-service restaurant and bar, private karaoke rooms, virtual reality lounges, express escape rooms and a stage featuring live music.
ADVENTURE PARKS
Shepherd's Adventure Park, voted the Best Aerial Adventure Park by USA Today Readers' Choice awards, offers a multilevel ropes course, scenic canopy zipline tour, a ziprider and more.
Groups looking for adventure and spectacular views should try Parakeet Pete's Waterfront Zipline. The Sky Deck is perfect for cocktail parties and events for up to 100 people.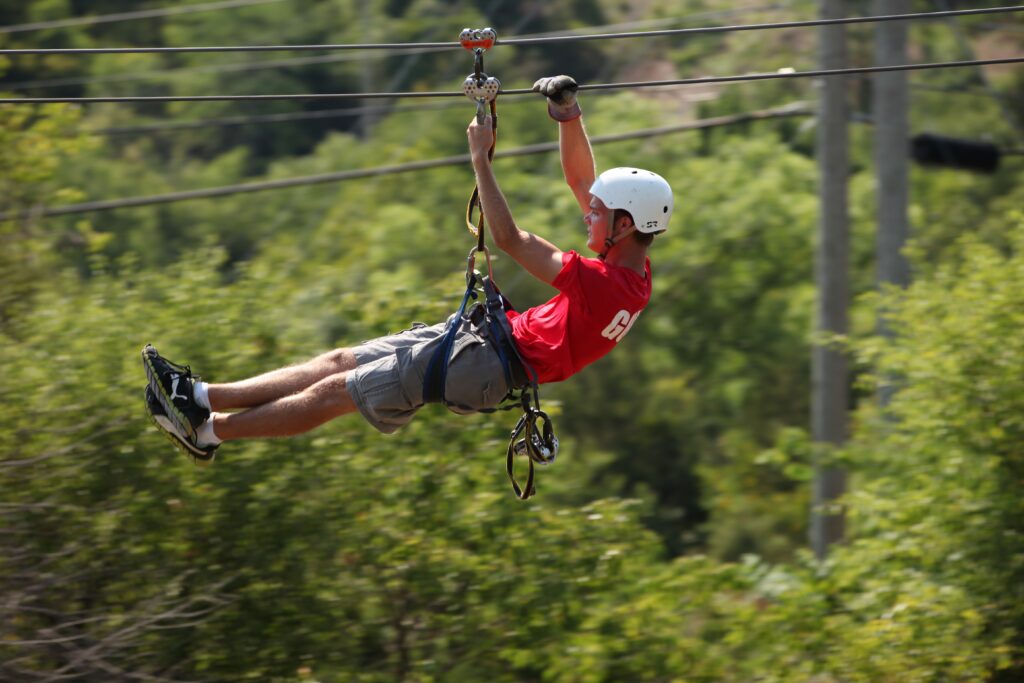 Visitors can take a stroll around Historic Downtown Branson; the neighborhood is home to several hundred businesses, including a variety of restaurants, retail shops, entertainment, outdoor activities and unique attractions. It's easy to get around by walking or riding the free downtown trolley.
EXTENDING YOUR STAY IN BRANSON
Dogwood Canyon Nature Park is a perfect setting for a retreat or an event. The park covers 10,000 acres of pristine Ozark Mountain landscape that features miles of trout streams, waterfalls, ancient burial caves, unique hand-built bridges and bottomless, blue green pools. There are meeting facilities in the park and multiple sites where it is possible to set up a stream-side meal.