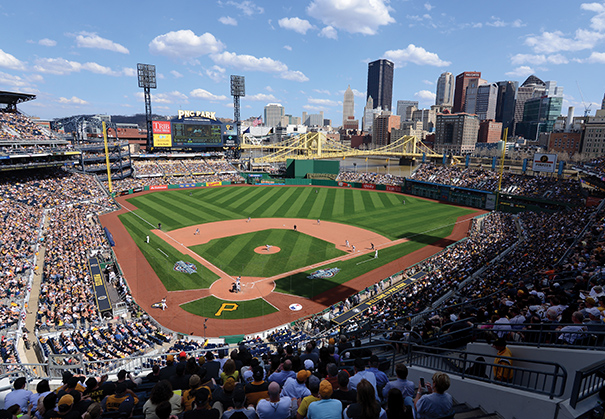 The Pittsburgh Sports & Exhibition Authority, which owns and operates venues for three professional sports teams, has established a new sports commission with the goal of bringing more sporting events to the city.
The SEA Sports Commission will be formed with up to $1.7 million per year from the state thanks to an expanded gambling bill passed by the State Senate. State Senator Wayne Fontana, the SEA's board chairman, told the Pittsburgh Post-Gazette the goal is to attract events and tournaments on all levels but also to try to secure high-profile collegiate and professional events.
Pittsburgh was the home of the 2019 NCAA Division I wrestling and volleyball championships and is scheduled to host the NCAA Men's Basketball Tournament early rounds in 2022 for the sixth time since 1997. A traditional hockey town, it hosted the NCAA Frozen Four in 2013, the 1990 NHL All-Star Game, NHL drafts in 2012 and 1997, and the 2006 MLB All-Star Game.
"The team at SportsPITTSBURGH looks forward to working with the SEA to expand Pittsburgh's reach within the sports travel and events industry," SportsPITTSBURGH Executive Director Jennifer Hawkins said. "SportsPITTSBURGH's mission is to continue to establish Pittsburgh as a key sports destination by booking and hosting major sports events. We work hand-in-hand with our partners to drive economic growth through hosting a wide variety of sports events, from the National Senior Games and NCAA Championships, to the recently announced 2021 EsportsTravel Summit. Many of these events are booked in Pittsburgh because of the strong community collaboration that resides within our region; we look forward to increasing the positive impact already being generated through sports events in our legendary sports city."
The SEA owns and leases PPG Paints Arena, home of the Pittsburgh Penguins; Heinz Field, home of the Pittsburgh Steelers; and PNC Park, home of the Pittsburgh Pirates. It owns and is responsible for the operation of the David L. Lawrence Convention Center among other properties. Along with setting up the commission, the SEA is applying for a $6.2 million U.S. Economic Development Administration grant and up to $8 million in a state redevelopment assistance capital grant to make COVID-19-related improvements to each of the listed venues.