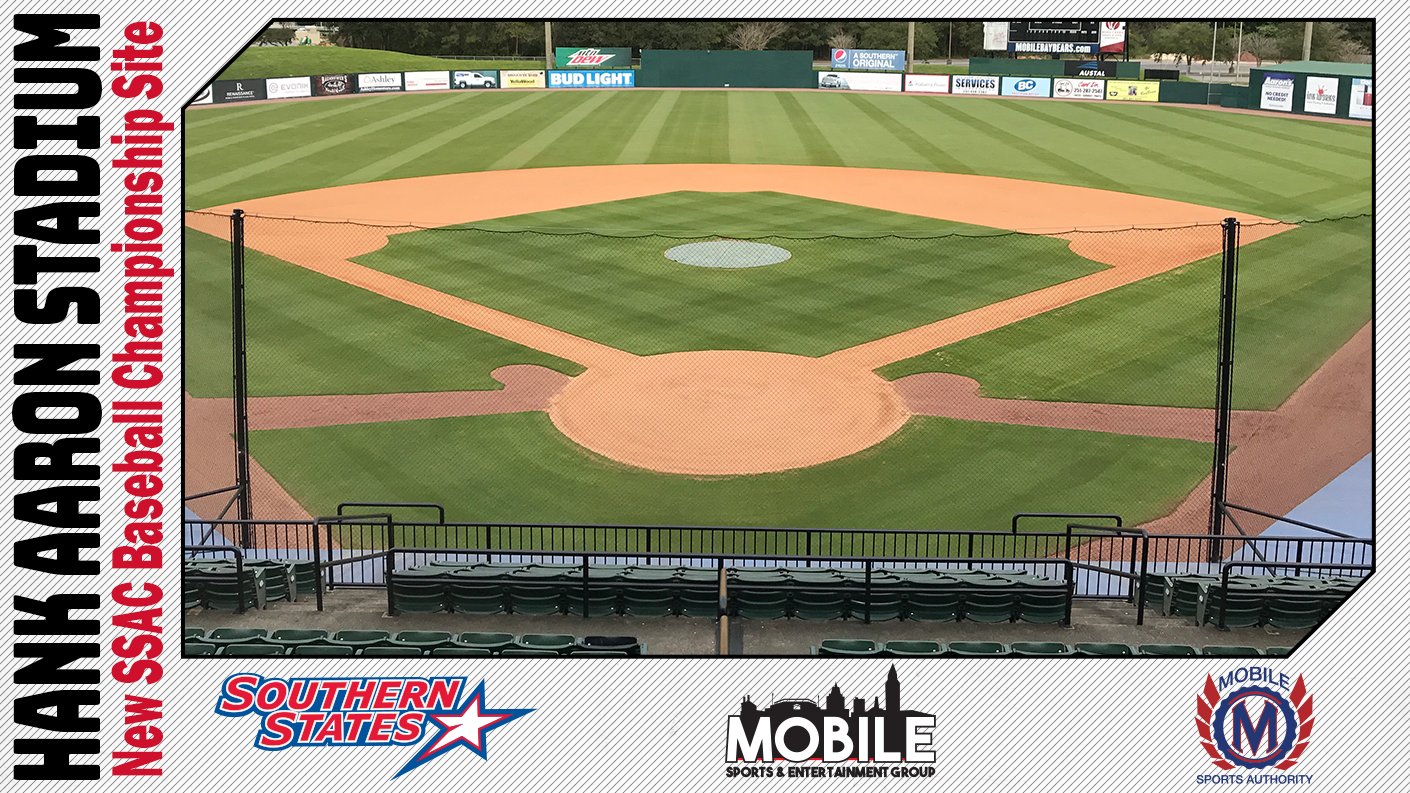 The Southern States Athletic Conference will hold its annual conference baseball tournament through 2024 at Hank Aaron Stadium in Mobile, Alabama, as part of a partnership with the Mobile Sports Authority and Mobile Sports and Entertainment Group.
"We are excited to partner with the Mobile Sports Authority and Mobile Sports and Entertainment Group to bring our Baseball Championship to Mobile," SSAC Commissioner Mike Hall said. "Hank Aaron Stadium will provide a first-class venue for our fans and student-athletes and the city of Mobile has a long-tenured history hosting successful events."
Hank Aaron Stadium, which opened in 1997, seats 6,000 and hosted the Mobile BayBears of the Double-A Southern League from 1997 through 2019. The stadium features luxury suites at the field level and a plaque outside to honor each Mobile native who is enshrined in the Hall of Fame.
"As we slowly work through returning to some manner of normalcy in our lives, we believe that going forward sporting events will lead the way in helping to return the overall tourism industry to a healthy level," said Mobile Sports Authority Executive Director Danny Corte. "We want to thank Commissioner Mike Hall and the SSAC member schools for the confidence they've shown in our team and we look forward to seeing the teams, alumni, fans, and friends at the Hank in the future."
The Mobile Sports Authority is a non-profit sports commission formed in 2008 by the Mobile County Commission. The Mobile Sports & Entertainment Group is a new sports management company which manages and operates Hank Aaron Stadium and the Hank Aaron Childhood Home and Museum, which is located outside the front gates of the stadium.
"We are excited to once again partner with the Mobile Sports Authority to bring the Southern States Athletic Conference to Mobile," said Kevin Grimes, vice president of baseball operations for the MSEG. "The SSAC Baseball Championship is exactly the type of event that we had in mind when we started this company and we look forward to hosting such a great baseball conference at historic Hank Aaron Stadium."