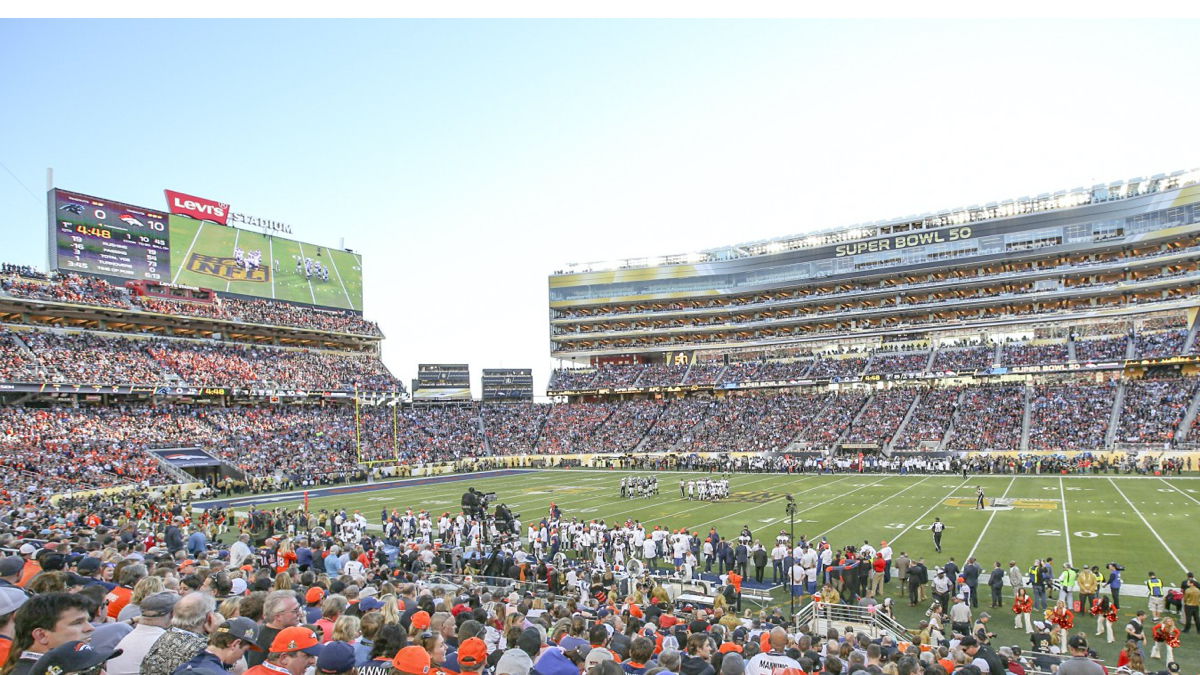 The NFL awarded Super Bowl LX in 2026 to Levi's Stadium in Santa Clara, California, at its league meetings this week, the second time that the venue has hosted the league's marquee game.
The 2026 Super Bowl will take place 10 years after the venue hosted Super Bowl 50 in 2016, which saw the Denver Broncos defeat the Carolina Panthers 24–10. It would be the third Super Bowl played in the Bay Area; the first was in 1985 at Stanford Stadium, a game the 49ers won over the Miami Dolphins.
"The Bay Area was an incredible host for Super Bowl 50, and we are thrilled to bring the Super Bowl back," said NFL Commissioner Roger Goodell. "We look forward to working with the 49ers and the Bay Area Host Committee to create an impactful Super Bowl LX in 2026 that showcases all the great things the region has to offer."
Levi's Stadium will also serve as a host site for the 2026 World Cup later that summer. The stadium is one of 11 NFL venues in the United States that will hold matches for the World Cup, which is being hosted jointly with Canada and Mexico.
"The Bay Area is an exciting region for sports and is the perfect host for Super Bowl LX," said Zaileen Janmohamed, president and chief executive officer of the Bay Area Host Committee. "2026 will be a blockbuster year for the Bay Area on the world stage as it hosts both the Super Bowl and World Cup – and it's fitting timing as San Francisco celebrates its 250th birthday. We are thrilled to bring another large-scale event to the area, and to showcase the Bay Area's unique spirit and diversity."
The announcement comes as a bit of surprise, considering FIFA reportedly prefers its World Cup markets not host major sporting events in the months leading to kickoff. Although, 49ers Chief Executive Officer Jed York did hint at it being a possibility earlier this year.
This is the second 2026 World Cup site to book another major event earlier in the calendar year, as Hard Rock Stadium in Miami will host the 2026 College Football Playoff title game on January 5, 2026. Philadelphia is slated to host the 2026 MLB All-Star Game and Home Run Derby at the same time as the World Cup. The MLB event is July 13–14 at Citizens Bank Park, while the World Cup does not finish until July 19.
This could present an issue, as the FIFA contracts reportedly contain verbiage that "no other major sporting event, other than the Competitions, is staged in the Host City for a period starting seven (7) days prior to the commencement of the relevant Competition and ending seven (7) days after the end of the relevant Competition."