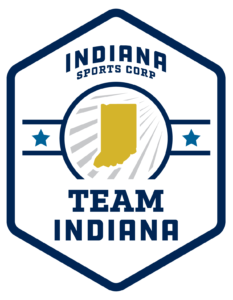 Indiana Sports Corp has assumed leadership of Sports Indiana, the nonprofit state association for sports tourism representatives throughout the state, and renamed the effort Team Indiana. Indiana Sports Corp will take over operational and financial management of Team Indiana, which will represent more than 20 destinations in the state as well as rights holders who host events in their communities.
"Indiana Sports Corp is proud to lead the strategic direction of Team Indiana with help from all of our statewide partners," said Ryan Vaughn, president of Indiana Sports Corp. "The formation of Team Indiana increases sustainability for statewide sports tourism while providing best practices, collaborative opportunities and funding for statewide events and initiatives."
Team Indiana's mission will be to promote sports tourism and positive economic development statewide through a variety of actions, programs, and efforts to attract and encourage the hosting of sporting events in the state. The organization will have representation on a new standing committee of the Indiana Sports Corp Board of Directors. Members will continue to serve on the Team Indiana Grant Committee, which awards money to attract, support and enhance sports events in Indiana.
"This transition will allow Team Indiana to grow and strengthen its role as a leader in the sports tourism industry," said William Knox, director of the Grand Park Sports Campus in Westfield, Indiana. "Under the leadership of Indiana Sports Corp, we will be able to leverage the knowledge and experience of this impactful organization to further develop the state of Indiana as a premier destination for sports tourism."
Among the services Team Indiana will offer are professional development and educational opportunities, activation at industry trade shows, collection and sharing of best practices and news within the sports-tourism industry, calculation of the economic impact of sporting events, and the promotion of member news and events.
"Team Indiana provides important leadership and guidance for the sports tourism industry across the state," said Eric Marvin, president of the Evansville Sports Corporation. "Now more than ever, Team Indiana is playing a key role in supporting DMOs, facilities and rights holders with all aspects of planning and preparation for events and activities. As we continue to work together to overcome challenges and explore future opportunities, sports across Indiana are strengthened as a result."
Indiana Sports Corp was formed in 1979 as the nation's first sports commission. The Indianapolis-based nonprofit works to attract sports events to the state and provides for sports-related opportunities for youth in the community.