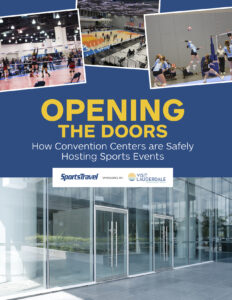 As the tourism industry begins to recover from the effects of the COVID-19 pandemic, one of the brightest spots has been the number of sports events being safely held in convention centers. From volleyball and basketball tournaments to dance and cheerleading competitions, these events have been the first to open doors that have been closed for the better part of a year. So why are convention centers proving to be ideal — and safe — hosts for these events?
This exclusive guide examines the reasons event organizers are turning to convention centers and the measures that centers are taking to keep their participants and attendees safe.
Download this handbook to learn all you need to know about how to host safe events in convention centers, brought to you by the editors of SportsTravel and Visit Lauderdale. 
In this expert guide, you'll learn everything you need to know about how convention centers are safely hosting events, including:
Cleaning and hygiene protocols
A heightened emphasis on cleaning and hygiene was one of the first things that convention centers focused on in response to the pandemic. Learn some of the methods that have been undertaken to keep venues safe.
Logistics of timing and attendance
Gone are the days when all teams could show up at once and hang out all day to view competition. Learn how event organizers are staggering schedules to accommodate any gathering restrictions.
PPE and air flow
Rules around masks and investments in ventilation systems have put some convention centers on a clear path to recovery. Learn what venues are doing on both fronts to keep the doors open.
Best practices in communication
As venues reopen, communicating with participants is paramount. Different venues and different event organizers have different requirements, all of which must be communicated.
What safety measures will stick long-term
The amount of change that the pandemic has forced convention centers to undertake is considerable. Not all the measures taken today will need to stick around for good. But some of them will. Find out what measures are likely to stick.
Case studies of recent successful events
A look at recent events that helped reopen the Wisconsin Center in Milwaukee as well as how the National Senior Games Association plans to use the renovated Greater Fort Lauderdale Broward County Convention Center for its upcoming event.
Sponsored by

Fill out the form below for instant access to your free guide.
By clicking submit, you agree to Privacy Policy