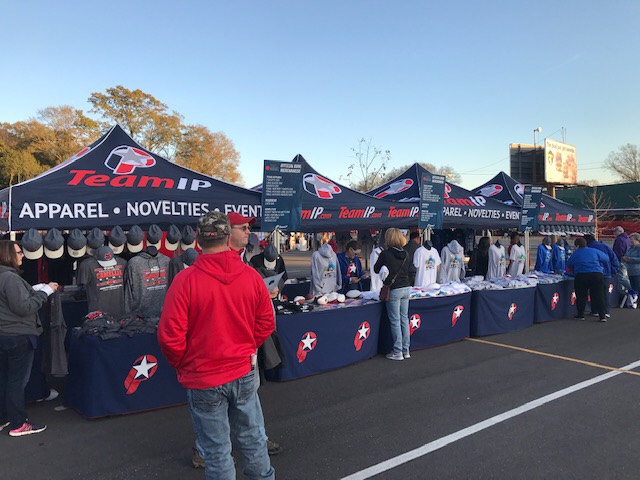 College bowl season can stretch the limits of event organizers. Few sports events of that size and scope have such little time to know which teams and fan bases will even be playing and attending. From ticket sales to marketing to travel, the logistical challenges can be significant.
But another area with its own challenges is the sale of merchandise and apparel. As a result, perhaps few companies are as interested in seeing the final bowl pairings as Stuart, Florida-based Team IP, which this year will provide apparel and merchandise—and oversee their on-site and online sales—at 11 of college football's 40 bowl games, including nine owned by ESPN Events.
Getting access to team logos and marks, receiving signoff on apparel designs from two schools and the bowls, printing and shipping the items to the venues and the team hotels—where much of the business can be had—all take coordination that has the staff of Team IP doing as much of a dance as anyone come bowl season. After the final bowl slate is announced, "we've got seven days to be in our first hotel," said Randy Sparks, Team IP's president and CEO.
Team IP, which provides merchandise for more than 1,700 events annually, began in the bowl business in 2014 at the Boca Raton Bowl in Florida. At the time, the bowl was making its debut and was thus an unknown. "We had Marshall and Northern Illinois that first year," Sparks said. "We didn't know if it would be successful or not, and it was. It proved if we had 10,000 or 12,000 true fans show up at a bowl, we could make money as a company."
That's because fans, alumni, band members, family members, players and attendees retain a high level of interest in merchandise surrounding the game. And that business, especially apparel, has evolved over time from white, cotton T-shirts featuring images of two helmets and the bowl logo to a more sophisticated offering of material and looks.
From that start in Boca Raton, Team IP has expanded, recently announcing its 11th bowl game, the Walk-On Independence Bowl in Shreveport, Louisiana. Earlier this year it also picked up the top-tier Outback Bowl in Tampa, Florida.
For some events, the merchandise proposition even extends beyond the game itself. Outback, for instance, scan sell merchandise for its bowl game at its more than 700 steakhouse restaurants. But the most activity is at the stadium and, increasingly, at pop-up retail locations in area hotels. The Outback Bowl, for instance, will see sales at five area hotels around Tampa, Sparks said, up from three the previous year. Sales at hotels will typically start two days before the game to capture the highest number of travelers. "There's a market there," Sparks said. "The day before are the biggest sales because fans are going to buy it and wear it to the game. Or they're going to buy it so they don't have to stand in line at the game."
That interest has had bowl directors turning to merchandise as a way to market the game itself, just as they would traditional advertising or other methods. Brett Dulaney, executive director of the Bad Boy Mowers Gasparilla Bowl in Tampa, said he came to the realization a few years ago that apparel was a good marketing tool as well. "For the first time, three or four years ago, I started seeing our T-shirts in our community being worn by different volunteers," he said. "That was the first time I thought merchandise is also a great branding opportunity."
Apparel Logistics
Obtaining the logos to be put on bowl merchandise can be trickier than a fan might think. Sparks has lobbied for logos of all bowl-eligible teams to be provided to him before the game matchups are even announced so he has them available the moment pairings are determined, something which occurred this season. But even that doesn't guarantee success. Pre-approval of logos has become crucial, he said. Team IP has been involved in at least one game where all the printed apparel was deemed unsellable by one team because a team booster didn't like the particular team logo that was provided by the school. "It was thousands of dollars of product I couldn't sell," he said.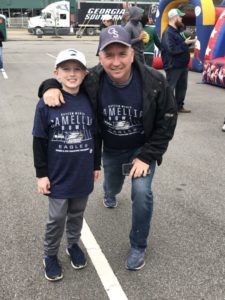 As for trends in clothing, teams and their fans have gotten more sophisticated as the apparel has gotten more sophisticated. "There's been a big shift that teams want team merchandise in their team colors," Sparks said. In addition, tonal heather fabrics have outpaced traditional white T-shirts as big sellers.
Finding the right balance and variety of apparel without offering too much is important since there is such a limited time that products can be on sale on site. "You're in business for three days, and in many respects we're in business for one day, so it's the one day we have to capitalize or we're in trouble," Sparks said. Nonetheless, Team IP has tried to push the boundaries in what has traditionally been offered at the game. "We want something that makes statements," he said. "So, all the hats we build and choose are different than what you'd see in any college bookstore."
Sometimes the branding of the bowl can play a role in sales as well. Dulaney notes that the new title sponsor from Bad Boy Mowers last year helped spark some new life into the Gasparilla Bowl, which on December 20 moves from the MLB Tampa Rays' Tropicana Field to a larger footprint in Raymond James Stadium, home of the NFL's Buccaneers. "Anytime you have a new title sponsor you rebrand and you have an opportunity from a merchandise standpoint to rebrand so people purchase new product," Dulaney said.
The 2018 Gasparilla Bowl will feature Marshall and Tampa-based University of South Florida. Having a local team may lead to a boost in sales, Dulaney said, as the presence of USF is expected to increase attendance as well. "There should be more students because USF is playing in the game and the students are the ones who will buy the T-shirts, pennants and hats. It's part of the fan experience and something they can look back on."
Creating a memorable fan experience is essential for bowl game organizers—and merchandise can play a role in that, said Mike Schulze, director of communications and sponsorships with the Outback Bowl. "We really talk a lot about the bowl experience for fans," he said. "It's not just a football game. Certainly the game is important, but it's a unique experience and so we tout the Outback Bowl experience and the chance to make memories. The fans that make the trip to a destination—in our case Tampa Bay—want a keepsake, an item to remember that time. I think merchandise goes a long way toward that."
Richard Giannini, executive director of the Makers Wanted Bahamas Bowl (December 21, Toledo versus Florida International University), agreed with that assessment. "Bowl and team-specific apparel and merchandising are essential to any NCAA bowl game," he said. "It is imperative that the alumni and fans of the two teams playing in your bowl games have the opportunity to purchase these items as a memento of the bowl event. The fan experience at any event is a priority to the organizers and the ability to purchase apparel is a top priority."
This season's Outback Bowl on January 1 will feature Iowa, which has played in the game several times over the last few years, and Mississippi State, which will make its first Outback Bowl trip. Schulze said the new experience for Mississippi State fans should help spark sales. "This is a new experience for them and I would expect they would be wanting to get something," he said.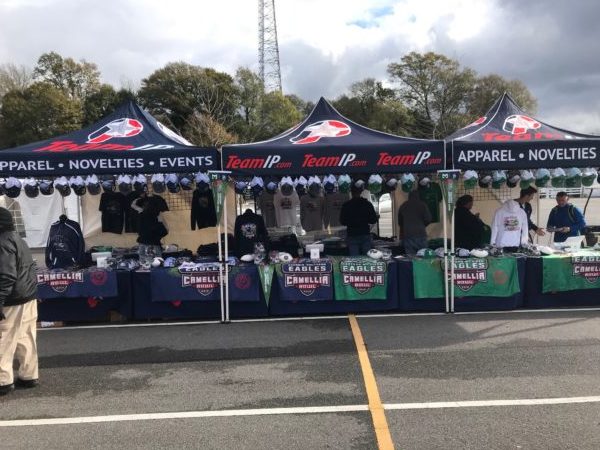 Making a Switch
The Outback Bowl turned to Team IP this year after a long-time merchandise and apparel supplier retired from business. Schulze said the chance to bring something new to the table for fans was appealing in making a switch as well. "When you use the same company for a number of different years and they are designing artwork, it's hard to come up with fresh ideas," he said. "Sometimes you need a new perspective. We're looking forward to seeing how it goes and seeing how the numbers go and the revenue goes. That's always a variable based on the teams that are playing, but you can still get a good sense based on operations and design and materials."
That's where Sparks believes his products will help create something memorable. "I do believe we're changing the quality," he said of the merchandise being offered. "We're changing the look of the bowls."