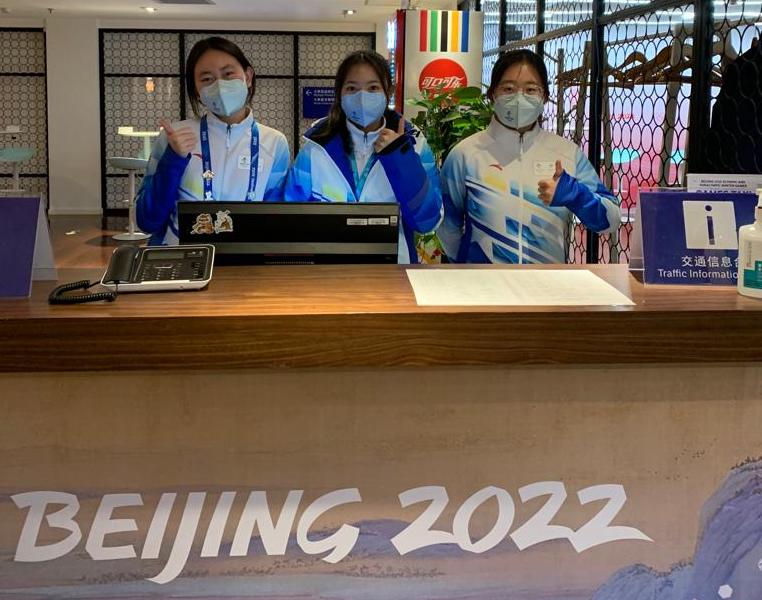 Although the Beijing 2022 Olympic Winter Games are unlike any other, the one familiarity is the friendly and hard-working volunteers always greeting you with a smile (or at least smiling eyes). These volunteers not only signed up to support the Games but to move into the closed loop for two months or more, leaving family and friends behind.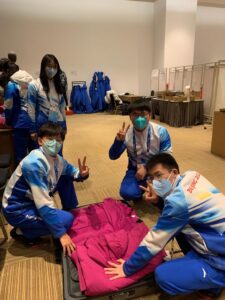 Most of the 19,000 volunteers are students studying in Beijing-based universities but I have also met students from around the country. Their volunteer schedule allows time to complete studies online or to work on final thesis papers. They are housed in hotels close to their assigned venue. Similar to interviews I've had with volunteers over my 21 Olympic Games, the response to "why volunteer" is consistent — "It's an honor to be part of the Games" and "It's a once in a lifetime opportunity" are two of the most common answers mentioned. Many also shared that they are making lots of friends.
In addition to those in the loop, there are another 20,000 volunteers supporting the Games on the outside. Over 1 million people applied to be volunteers so the selection process was competitive with two rounds of interviews.
Those selected had to go through a comprehensive online training program that included all the common topics of Olympic history, guest services and risk management, but unique to the 2022 Games were topics on epidemic prevention and personal mental health to support their long stay in the closed loop. In total there were 23 online courses featuring several 15–20 minute videos with a test at the end of each course.
In-person training over 10 days was also offered at the 95 universities where the majority of volunteers were recruited. On-the-job venue training was conducted once in the loop. The volunteers are serving both the Olympic and Paralympic Games and then have a 21-day quarantine before returning to their normal life.
As with all major events, volunteers are the true, but unrecognized, stars of the Games.
---
Editor's Note: George Washington University sports management professor Lisa Delpy Neirotti is on the ground in Beijing for SportsTravel. A veteran of the Olympic Games, this will be her 21st consecutive Games in various capacities. She will be filing stories for SportsTravel throughout the Games.