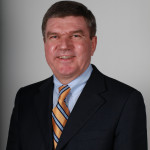 Thomas Bach of Germany has been appointed president of the International Olympic Committee. He replaces Jacques Rogge, who held the position since 2001.
"I know about the great responsibility of an IOC president," said Bach, who becomes the ninth president in the  IOC's 119-year history. "This makes me humble. I want to lead the IOC according to my motto: unity in diversity."
Bach has been a member of the IOC since 1991 and vice-president since 2006. He also served as vice-president from 2000–2004. He was a member of the IOC Executive Board from 1996–2000. He also participated in the Olympic Games as a fencer, winning a gold medal at the 1976 Olympic Summer Games in Montreal. Bach will serve an eight-year term, with a possible re-election to an additional four-year term.
In addition, Bach was a Supervisory Board member of the FIFA 2006 World Cup Organizing Committee; Chairman of the board of trustees of the FIFA Women's World Cup Germany 2011 Organizing Committee; and founding president of the German Olympic Sports Confederation.
Bach was running against five other candidates for the position: Sergei Bubka (Ukraine), Richard Carrión (Puerto Rico), Ser Miang Ng (Singapore), Denis Oswald (Switzerland) and Ching-Kuo Wu (Taiwan).
In addition to Bach's appointment, the 103-member IOC appointed nine new members, including U.S. Olympic Committee Chairman Larry Probst. He becomes the fourth U.S. member of the IOC, joining Anita DeFrantz, Jim Easton and Angela Ruggiero.
"I'm honored by today's election and proud to serve as a member of the International Olympic Committee," said Probst. "It has been a great privilege to serve as chairman of the United States Olympic Committee and I look forward to continuing our collective efforts to advance the Olympic Movement and its important values of respect, friendship and excellence."
And DeFrantz earned a significant vote herself during the IOC session, being appointed to the IOC Executive Board with a 41-40 victory over Richard Pound of Canada. For Derantz, it marks a return to the board, which she served on from 1992–2001, with a term as vice-president from 1997–2001.