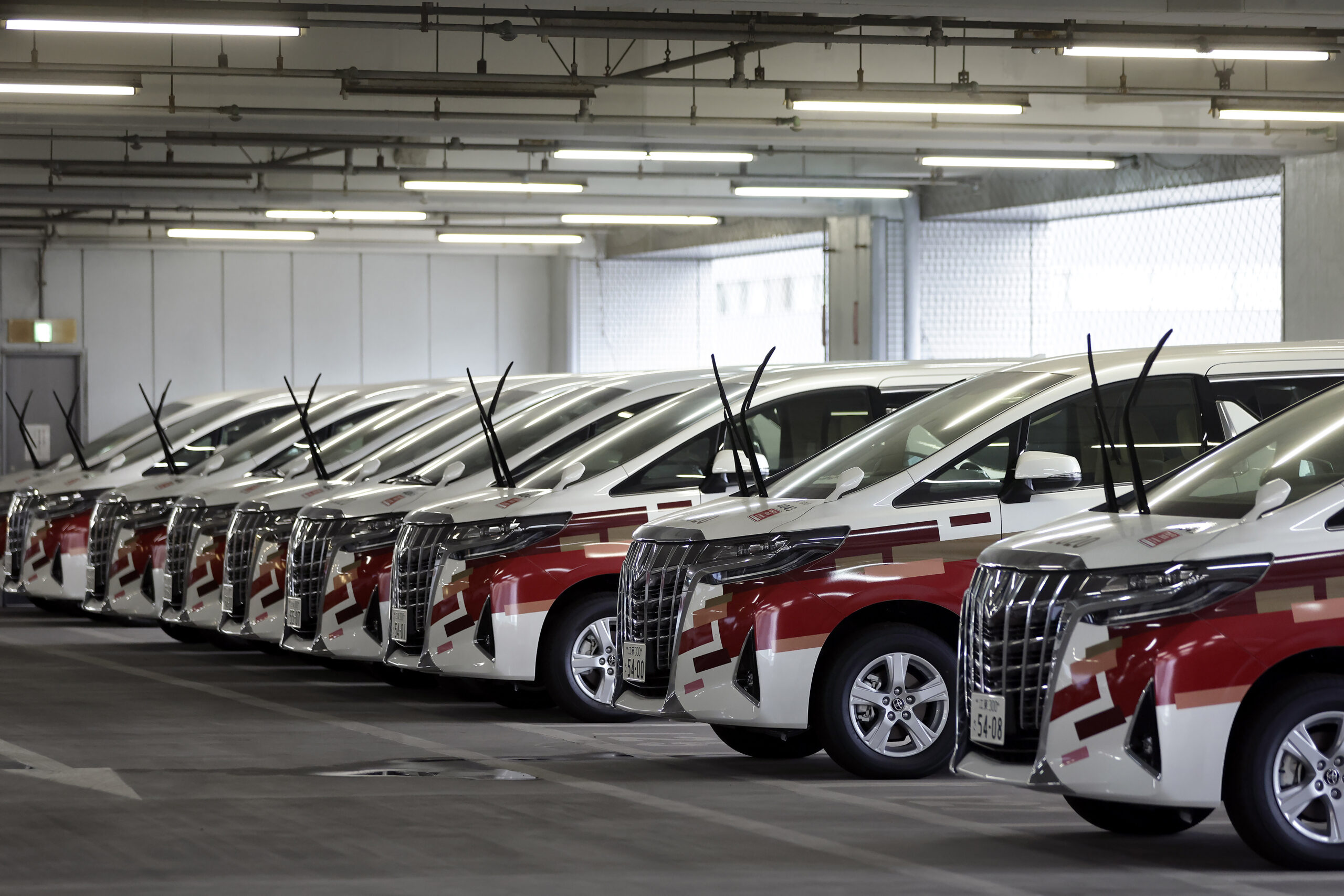 As stakeholders begin their travel to Tokyo for the Olympic and Paralympic Games, an elaborate transportation system is beginning to take shape to make sure athletes, coaches, officials, media and Olympic dignitaries can get where they need to go.
Officials at Tokyo 2020's transportation department on Thursday outlined some of the staggering logistics involved, especially since COVID-19 has upended plans that were in place for years to have most stakeholders use the city's widely available public transportation. Use of that public transportation is by and large off the table now for visitors unless they plan to be in the city more than 14 days, meaning a more robust system of buses and fleet cars has had to be assembled on relatively short notice.
"Prior to COVID coming to the front door, we were mainly focused on heat countermeasures as the unique challenge to the Tokyo Games," said Masayuki Kanda, executive director of the Tokyo 2020 Transport Bureau.
Now, the organizing committee's attention has turned to transportation.
For the vast majority of those coming to Tokyo — an estimated 50,000 to 60,000 people — a system of 2,200 coach buses and 2,700 fleet cars will shuttle them around the city on dedicated Olympic traffic lanes. The buses will be sourced from 600 different bus companies across the country, and training has already begun to let those drivers know how to get around the city.
The main bus depot that will be used in Tokyo will have 600 buses ready to load each morning, creating a logistical challenge just to get the drivers to the correct bus they need to board, said Katsunori Hori, deputy senior director of transport operation for buses.
"This is a major operation and it is a massive effort," Hori said. "On a daily basis, if you come here to work as driver, you will be able to learn where your bus is parked. But these are drivers who will come from all over Japan just for the delivery of the Games. We don't want the drivers getting lost in the parking lot."
"These are drivers who will come from all over Japan just for the delivery of the Games. We don't want the drivers getting lost in the parking lot."
—Katsunori Hori, Tokyo 2020
Once on the roads, those buses will have access to designated Olympic lanes. Tokyo 2020 said it will monitor the locations of buses as well as traffic patterns on Tokyo roads, which officials said are now seeing 95 percent of their pre-pandemic traffic, or more than 1 million vehicles per day. Entrance gates to highways will be closed if necessary to allow Olympic-related travel to continue across the city.
While athletes and members of the media will use those buses to move between the Olympic Village, official hotels, the media center and competition venues, other athletes and members of the "Olympic Family" (which includes IOC staff, officials from international federations and national Olympic committees) will also have access to an Uber-like system of fleet cars provided by IOC partner Toyota. Those cars will work similar to a ride-share program where they can be ordered, destinations can be entered and GPS will be used to track their progress and ensure they are sent to the right location — a detail that has been a pain point at previous Games.
While athletes and others involved with the Games begin packing for Tokyo, one of the next steps in the road to the Opening Ceremony will be the arrival of IOC President Thomas Bach on July 8, before he spends three days in isolation ahead of meetings leading up to the July 23 event.
Bach is also expected to visit Hiroshima on July 16, at the same time as his vice president and colleague John Coates is to visit Nagasaki. Coates is best-known in Tokyo for comments made a month ago when he was asked if the Olympics would be held during a state of emergency, replying "absolutely yes."
On Wednesday, Tokyo reported 714 new COVID-19 cases — the highest in five weeks and the 11th straight day in Tokyo that cases are higher than they were seven days previously. A quasi-state of emergency ends July 12 with the possibility that government officials may have to reinstate another state of emergency that could be in force when the Olympics open. Officials have already decided to take the Olympic torch relay off streets in Tokyo from July 9 through July 16.
The International Olympic Committee has also made an allowance that nursing mothers will be allowed to bring their babies to Tokyo. Numerous Olympic athletes who are mothers, most prominently Canada's Kim Gaucher and the United States' Alex Morgan, had been calling attention to the issue recently.
"We very much welcome the fact that so many mothers are able to continue to compete at the highest level, including at the Olympic Games," the IOC said Wednesday in a statement. "We are very pleased to hear that the Tokyo 2020 Organizing Committee has found a special solution regarding the entry to Japan for mothers who are breastfeeding and their young children."
The IOC had stipulated that no family could travel to Tokyo due to COVID-19 restrictions, but Gaucher pointed out that international media and sponsors may travel to Tokyo and a capped number of Japanese spectators will be allowed in venues.
"Japanese fans are going to be in attendance, the arenas are going to be half full, but I will not have access to my daughter?" Gaucher asked. "We've tried appeals. Everyone says they're on board, but nobody can do anything. Let's see if we can make a difference. It's 2021. Let's make working moms normal."
One final Olympic note — Andrew Butchart, a British 5,000-meter runner, could miss the Games after claims that he faked a negative COVID test after a competition abroad to get back into England faster.
A UK Athletics investigation was launched Tuesday after Butchart on a podcast said "You have to get a COVID test to get into the UK, so you went to a place to get a PCR test before 48 hours – and I'm with check-in and I don't have my PCR test back. So you have to quickly, like, get an old PCR test, go on to Instagram … scribble out the time and the date, change the time and the date, and change it so you can get into the country. Obviously COVID is huge but it's quite annoying. Everybody has faked PCR tests, I'm sure, to try and go somewhere, because it's just so hard."
Butchart later said in a statement: "I have never falsified a PCR test and have always complied with the guidelines of the countries I have been travelling in. I perhaps glorified the situation for the podcast but I apologize if it came across the wrong way or caused any offence to anyone, in particular Team GB and the Japanese Organizing Committee, who I know are working so hard to make the Games safe for everyone."