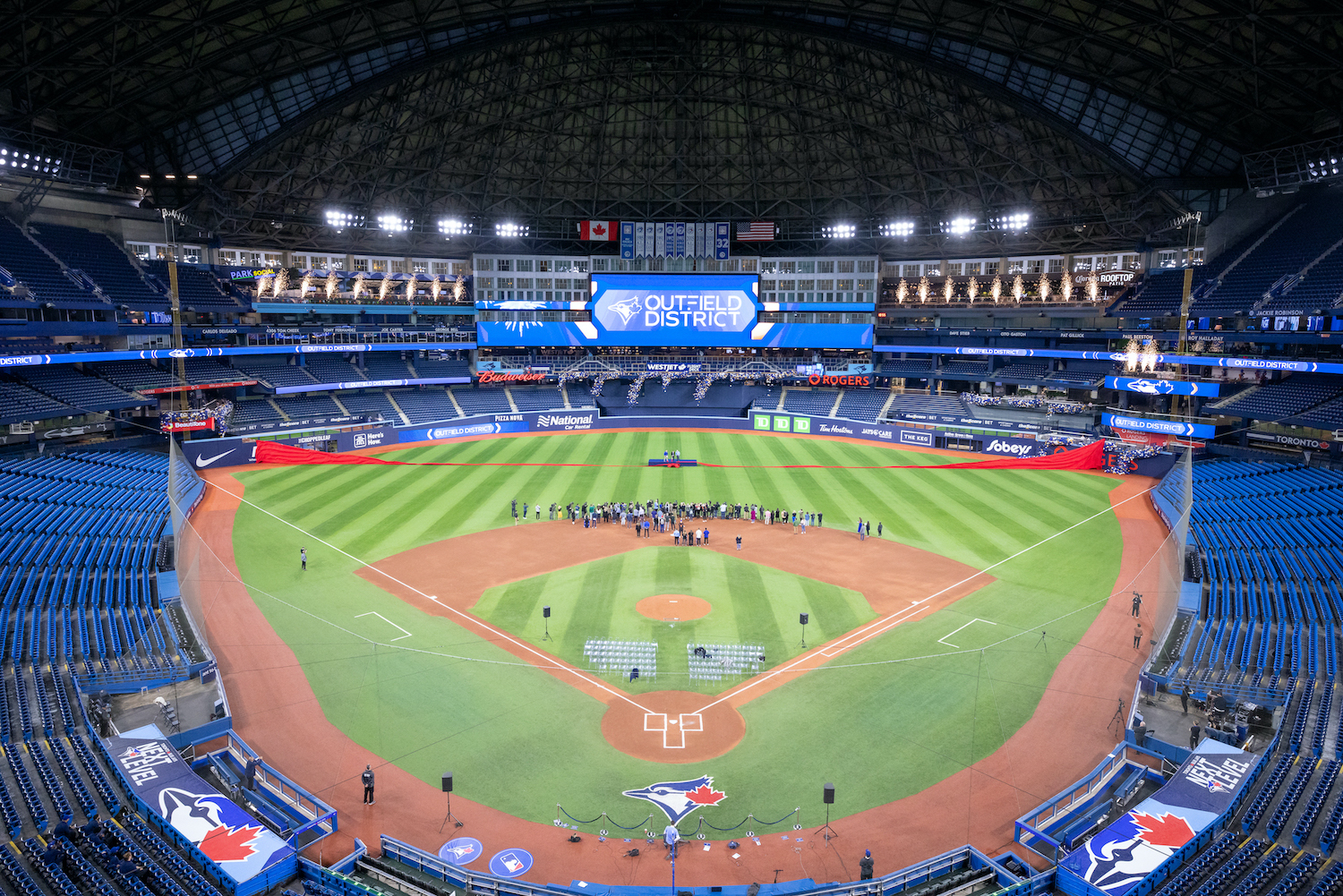 The Toronto Blue Jays officially unveiled the completed first phase of Rogers Centre renovations, featuring a new Outfield District that will be ready for the 2023 home opener on April 11 which will feature five distinct neighborhoods and many additional new social spaces, available to everyone with a game ticket.
Designed with Populous, the Outfield District features social spaces to gather with friends and get closer to the action; live entertainment off the field; and food and beverage menus that reflect the city.
"We have the unique privilege of representing a dynamic city and have reflected that energy in the reimagined ballpark," said Mark Shapiro, president and chief executive officer of the Toronto Blue Jays. "We are extremely excited to debut these spaces to both lifelong and new Blue Jays fans."
Shapiro was joined by Edward Rogers, chair of the Toronto Blue Jays and chair of Rogers, and Tony Staffieri, president and chief executive officer of Rogers, for a ribbon-cutting ceremony to reveal the largest-scale infrastructure project since Rogers Centre opened in 1989. The Outfield District is part of a multi-year $300 million privately funded renovation that will be completed between 2024 and 2025.
"Rogers Centre is home to Canada's baseball team and I'm delighted to see the first phase of this renovation project come to life for Blue Jays fans," said Rogers. "We're proud of the team and we're proud to invest in the ballpark, a landmark in the heart of downtown Toronto."
The Blue Jays began the first phase of renovation construction on October 14, 2022. The structural demolition took 35 days and approximately 21,000 worker hours, with the new build beginning on November 14, 2022.
"We're deeply committed to supporting the team and to delivering the best fan experience both on and off the field," said Staffieri. "These renovations will bring the heart of the city into the ballpark and create a sense of community for fans attending the game."