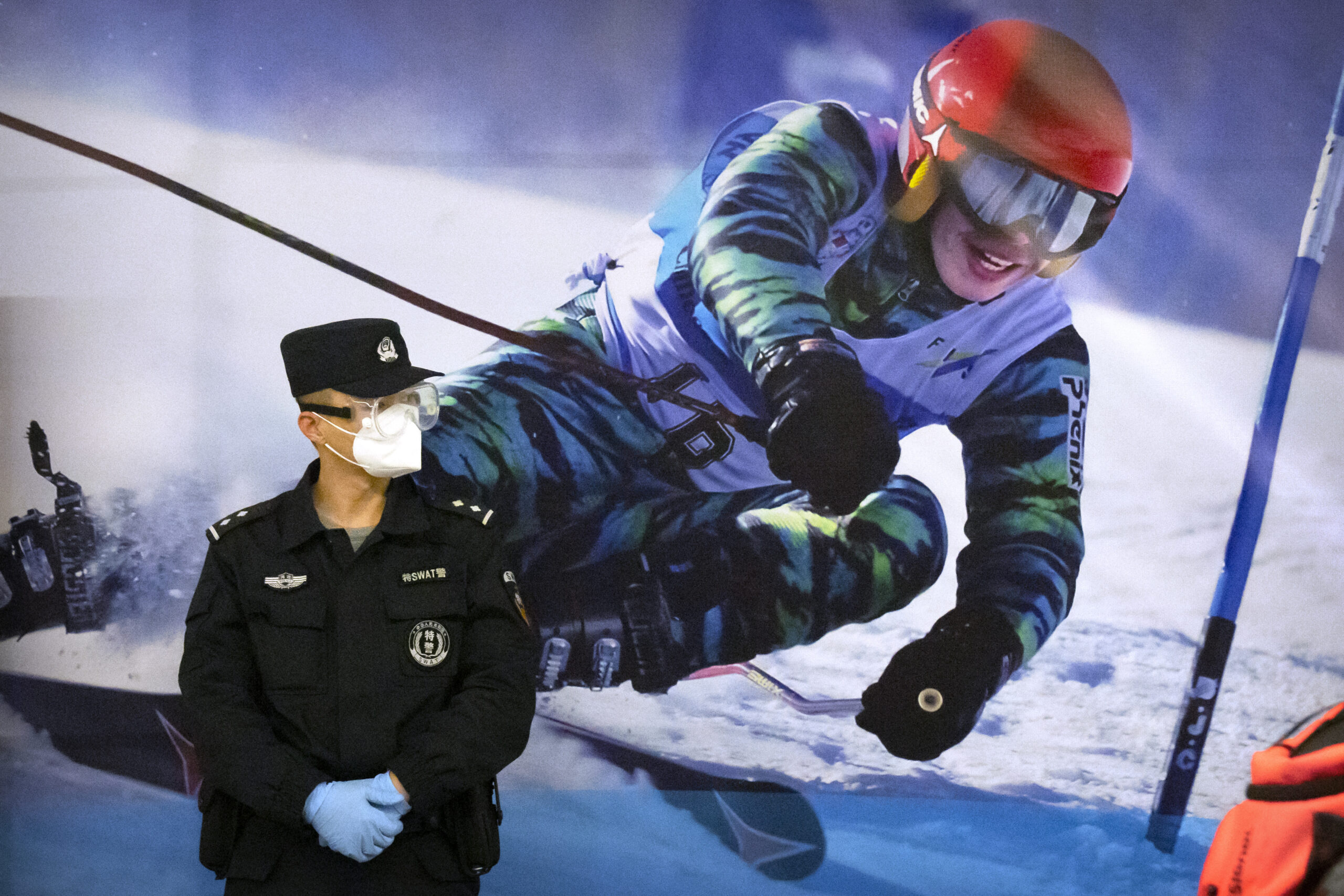 The U.S. government has officially announced it will enact a diplomatic boycott of the Olympic Winter and Paralympic Games in response to China's human rights record, a move that will prevent government officials from attending in an official capacity but that will allow Team USA athletes to compete.
The announcement from the White House, a decision made by President Joe Biden, had been expected for weeks after calls from within the U.S. government to take a stand on China's record.
"This is just an indication that it cannot be business as usual," White House Press Secretary Jen Psaki said. "That does not mean that is the end of the concerns we will raise about human rights abuses. … We feel this sends a clear message."
In a statement, USOPC CEO Sarah Hirshland said the government will still support the U.S. athletic delegation, a move that differs from the last U.S. boycott in 1980 that kept U.S. athletes from competing at the Summer Olympic Games when they were held in Moscow.
"We greatly appreciate the unwavering support of the President and his administration and we know they will be cheering us on from home this winter," Hirshland said in a statement. "Competing on behalf of the United States is an honor and a privilege, and Team USA is excited and ready to make the nation proud."
The expected move, however, has been met with criticism by the hosts. China threatened on Monday "firm countermeasures" should the U.S. proceed with the diplomatic boycott of the Games. "Without being invited, American politicians keep hyping the so-called diplomatic boycott of the Beijing Winter Olympics, which is purely wishful thinking and grandstanding," China Foreign Ministry spokesperson Zhao Lijian told reporters at a daily briefing. "If the U.S. side is bent on going its own way, China will take firm countermeasures," he added.
The diplomatic boycott also opens the doors for other U.S. Olympic dignitaries to attend. In a press conference updating Salt Lake City's plans to bid for the 2030 or 2034 Games, bid leader Fraser Bullock said he and a contingent from Salt Lake City intend to be in China. "Our focus is strictly on our Games that we are endeavoring to host," he said. "Our focus is not on any diplomatic boycott or any political dynamics."
While the boycott may present diplomatic challenges, the leadup to another Olympic and Paralympic Games has been dominated by talk of a new variant of COVID-19. But organizers for the Beijing Winter Games are holding firm that the event will go on as scheduled — similar to statements made by Tokyo organizers in the spring of 2020 in the weeks leading up to an eventual postponement.
At a daily briefing last Tuesday, Zhoa said Omicron would "certainly bring some challenges in terms of prevention and control" but added "I'm fully confident that the Winter Olympics will be held as scheduled, smoothly and successfully."
While Beijing remains confident the Games will be staged as planned, organizers in Tokyo and within the IOC were similarly resolute in the weeks leading to when the Summer Games were scheduled to be held in 2020. But in the span of three weeks in March 2020, organizers went from saying preparations were "continuing as planned" to announcing a one-year postponement. And the Hong Kong Marathon organizers have already delayed the 2022 race, scheduled for February, back to November.
Beijing's run-up to the Games has been dominated by anything except the competition that is planned to start in early February. The idea of having a Winter Games in the Chinese capital was met with criticism when the announcement was originally made years ago since Beijing was one of only two potential hosts left in the competition; the country's alleged treatment of Turkic Muslim Uyghurs and the IOC's refusal to acknowledge it has led to international criticism; and most recently, tennis star Peng Shuai's accusation of sexual assault against a former top leader of the ruling Communist Party and the resulting question of her safety and well-being.
China plans some of the world's strictest restrictions against freedom of movement for athletes and anybody coming from outside of the country to be at the Games — the hosts saying it is to limit potential transmission of COVID and critics hinting it is a convenient excuse to obstruct other reasons. Overseas spectators will not be allowed and the overall count of foreign visitors for the Games (an estimated 20,000) will be severely restricted compared to Tokyo's protocols, when an estimated 50,000 attended. Athletes, staff and journalists will be confined to bubbles for the duration of the Games.
The level to which China restricts movement in and out of the country for COVID-related reasons was reiterated in mid-November when a Polish luge athlete, Mateusz Sochowicz, fractured his leg on November 8 during a training run and was hospitalized near Beijing. When Poland's luge federation tried to get him home on a commercial flight, China told them that it would first require a two-week quarantine; Sochowicz traveled on an Air China cargo plane from Beijing to Milan instead before taking another flight to Warsaw, the Poland luge federation said, saying the cargo plane's interior was like that of a passenger jet and "very comfortable."
Against all of this is the backdrop of Switzerland's new quarantine rules that threaten multiple World Cup winter sports events that athletes would be competing in to prepare for Beijing. Olympic officials in Switzerland urged the federal government to exempt international athletes and officials from mandatory 10-day quarantine periods from an ever-increasing number of countries on Switzerland's red list, including Canada, where the most recent World Cup women's races were held. World Cup champions Mikaela Shiffrin of the United States and Lara Gut-Behrami of Switzerland are scheduled to travel to Switzerland for two super-G races.
"If travel restrictions and quarantine rules are maintained, the organization of international sporting events in Switzerland will be in danger, if not impossible," said Jürg Stahl, the president of Switzerland's national Olympic committee.
Switzerland is also due to host events in cross-country skiing, ski jumping and ski cross in the next three weeks. The government on Monday canceled the 2021 World University Winter Games based at Lucerne with less than two weeks' notice shortly before hundreds of athletes, coaches, officials and event staff were due to arrive.