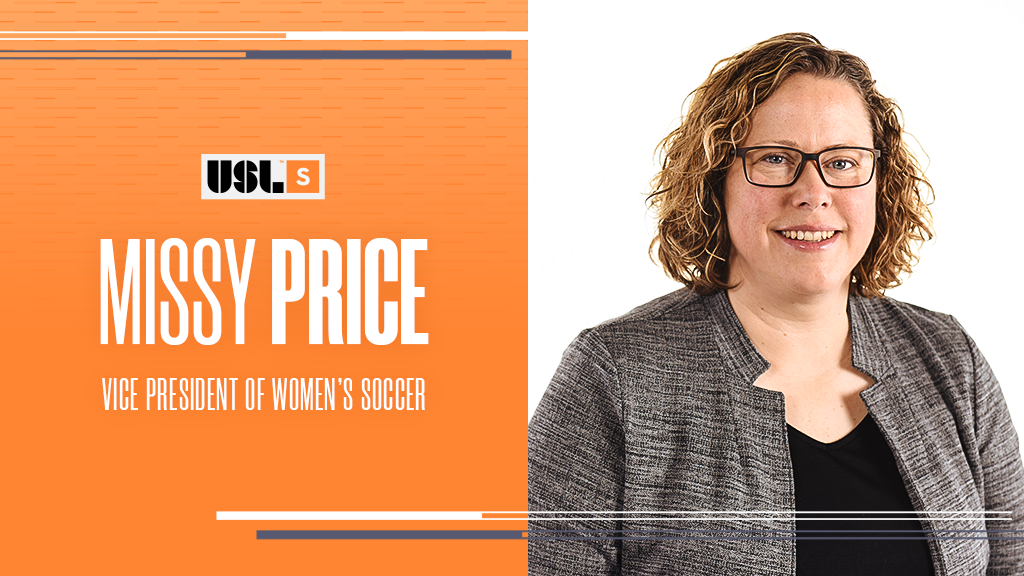 The United Soccer League has named Missy Price as vice president of women's soccer to lead on-field initiatives for the USL's youth-to-pro women's pathway and support USL Super League and W League Clubs in structuring their technical departments.
Price brings more than 20 years of experience as a coach, instructor, consultant, author, and public speaker. She played collegiately at the University of Maryland and holds a United States Soccer Association "A" coaching license, a United Soccer Coaches Premier Diploma and this month will complete her term as president of the United Soccer Coaches Board of Directors.
"I am delighted to join the USL and its massive commitment to growing the women's game at all levels," Price said. "We are creating a full, sustainable pathway that elevates and prioritizes women in soccer and we're building on a solid foundation of experience and infrastructure. It's truly exhilarating to be able to play a part in that evolution."
Price served as head soccer coach at Wellesley College and as head women's soccer coach at the University of Nevada. She also served as an assistant coach at the University of Miami, University of Illinois and the University of Virginia.
"We are thrilled to welcome Missy to the USL because she's a tremendous person who brings such an impressive and unique set of credentials," said USL Super League President Amanda Vandervort. "Missy is incredibly well respected in the women's soccer landscape. Very few women's soccer executives focus squarely on the technical side, and Missy has all the knowledge and ambition to help build our women's pathway into one of the best in the world."
The pre-professional USL W League will kick off its inaugural season this year with more than 40 teams across the country with academy girls' teams extending the pathway to the elite youth level, while the college game continues to develop and produce players for the next steps.
"Dr. Missy Price is an outstanding soccer executive," said USL Chief Executive Officer Alec Papadakis. "Like many of us here at the USL, she is a proven leader who has played and coached the game at a high level. We are building an unprecedented pathway for girls and women that culminates in the USL Super League, which will be a globally admired professional league. Our commitment is creating career opportunities for women players, coaches, technical directors, professionals and executives."