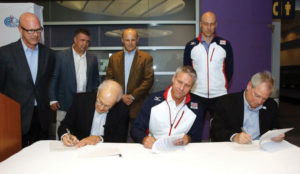 After being based in Colorado Springs for 25 years, USA Badminton announced in December that it will relocate its national headquarters and training center to Anaheim, California. In addition to office space, the NGB will have access to eight badminton courts at the American Sports Center as part of the agreement, which is effective through 2024.
The announcement was made during a press conference with Sports Anaheim, a division of Visit Anaheim. The destination marketing organization also announced that it has reached new marketing and training-site agreements with USA Water Polo and USA Volleyball.
Big changes. USA Badminton's plans to relocate come on the heels of the hiring of new CEO Jeff Dyrek. "Anaheim has a passion for sports and we're looking forward to sharing in that passion to bring sports to Southern California and really get to the core of our membership," Dyrek said. "This is essentially the epicenter of everything that's going on with badminton."
David Simon, chairman of the organization's board of directors, also noted that Colorado's high altitude also factored into the decision to move. "You cannot play a major tournament in Colorado Springs because of the altitude, which affects the flight of the shuttlecock," Simon said. "It's not required that you have to have your headquarters in a place where you can play the sport, but it certainly helps."
USA Badminton, which has four employees, has not determined when the move will take place but expects to set a timeline early this year. USA Badminton will join USA Water Polo as the only national governing bodies with headquarters in Southern California.
Based in nearby Huntington Beach, USA Water Polo signed an agreement with Sports Anaheim that will name the city its "official travel destination." The marketing partnership will provide Anaheim with opportunities to brand the destination at USA Water Polo events nationally. Additionally, Anaheim will host the sport's 2017 and 2019 National Junior Olympics.
USA Volleyball, meanwhile, penned an agreement with Sports Anaheim that will see the sports commission take over the city's end of a contract covering training sites. Although USA Volleyball is headquartered in Colorado Springs, it has enjoyed a long relationship with Anaheim. American Sports Center has been the training site of the men's national team since 2006 and the women's team since 2009. The new extension is valid through 2020.
Continued growth. Launched in March 2016, Sports Anaheim has worked to bring a number of events to Anaheim and Orange County, including the 2017 International Weightlifting Federation World Championships, the 2017 USA Gymnastics P&G Championships and the 2017 USA Fencing North American Cup. Sports Anaheim also worked with the Amateur Athletic Union, which recently opened its first West Coast office in the city.
"We're thrilled with the growth we've seen in Sports Anaheim," said Jay Burress, president and CEO of Visit Anaheim. "The message is out there to the community and to the industry that Anaheim is a player in the sports industry, and we want to continue to grow that."