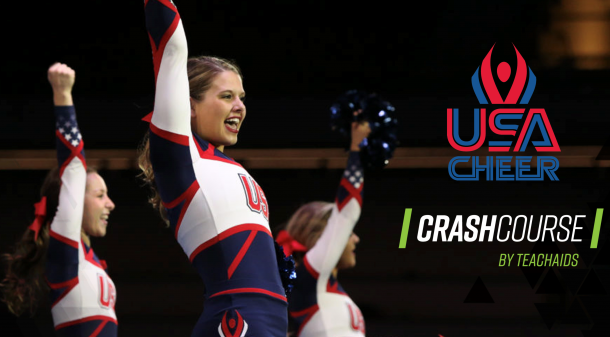 USA Cheer, the national governing body for sport cheering and the sport of stunt, has reached an agreement with TeachAids to provide the company's CrashCourse concussion education technology to its members.
CrashCourse is a suite of interactive products focused on the prevention and treatment of concussions and related mental health issues, and is designed to educate athletes, parents and coaches about concussions. The program also serves as a resource for athletic trainers, rehab specialists and physicians.
USA Cheer is the latest NGB to sign on to the program, which has also reached recent deals with USA Football, USA Artistic Swimming, USA Field Hockey and US Speedskating, among others.
"Athlete safety is central to everything we do and it's critical that participants in our sport and their parents and coaches understand what a concussion can look like and how to deal with it," said USA Cheer Executive Director Lauri Harris. "We're thrilled to partner with TeachAids to promote effective concussion education for our members and athletes of all ages."
The CrashCourse curriculum will be available to USA Cheer members for free, with certification, throughout USA Cheer's programs nationwide.
"We are honored to work with USA Cheer to introduce CrashCourse concussion education into their programming," said Piya Sorcar, founder and CEO of TeachAids. "Their leadership to make their sport safer is an example for all."