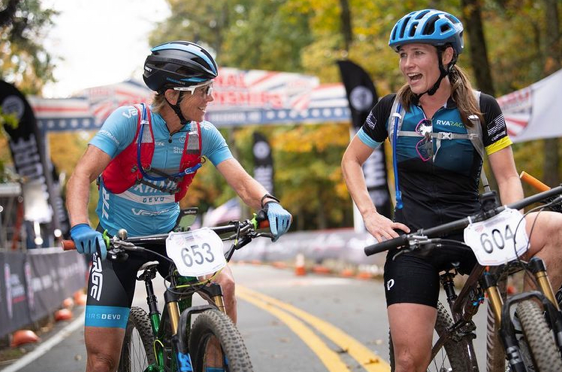 The USA Cycling Marathon Mountain Bike National Championship will return to Gambrill State Park and the Frederick Watershed in 2022 after a successful first launch in 2021. The event will be staged October 23 and was announced as part of a series of USA Cycling championships for 2022.
"USA Cycling is thrilled to return to Gambrill State Park in Frederick, Maryland with our 2022 USA Cycling Marathon Mountain Bike National Championship," said Tara McCarthy, senior national events manager for USA Cycling. "Our racers loved the course and are looking forward to returning to chase the title of National Champion."
"We're excited to welcome the USA Cycling Marathon Mountain Bike Championships back to Maryland for a second year in a row," said Terry Hasseltine, executive director of the Maryland Sports Commission. "The 2021 event not only had fantastic competition in the park and Watershed, but it was also an opportunity for a number of partners and businesses in the Frederick community to engage with competitors from all across the United States."
USA Cycling and Maryland Sports have developed a deep relationship when it comes to hosting major events in the state. Most recently, Maryland Sports and Visit Hagerstown hosted the USA Cycling Amateur Road National Championships in 2018 and 2019, while Visit Annapolis is set to host a USA BMX championship this summer.
"When we got word that USA Cycling was looking for a new location to host this particular event in 2021, we knew we had everything that they and their competitors were looking for," Hasseltine said. "Visit Frederick, a longtime TEAM Maryland partner, has so much to offer, both for the outdoor sports enthusiasts, and their families and friends who come out to support them."
Gambrill State Park is managed by the Maryland Department of Natural Resources. Maintenance of the Frederick Watershed is overseen by the city of Frederick, while the bike trails are frequently kept up by the nonprofit group, MORE, The Mid-Atlantic Off-Road Enthusiasts, a grassroots organization that aims to expand riding opportunities and increase trail access throughout the Mid-Atlantic region.
"Hosting hundreds of mountain bike riders, crews, and fans in Frederick for this national championship race is a great opportunity to not only share Frederick with the country but to generate significant returns for the community," said Richard Griffin, director of economic development for the city of Frederick.