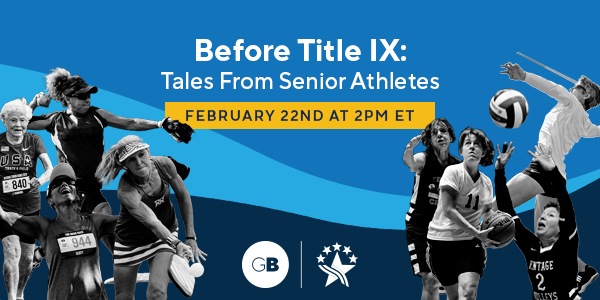 As the 50th anniversary of the passage of the landmark Title IX legislation that opened up opportunities for women in sports approaches, the National Senior Games will offer a livestreamed program featuring several athletes talking about their experience in the years before its passage.
"Before Title IX: Tales from Senior Athletes" will be presented by NSGA Communications and Growing Bolder, and will air live on February 22 at 2 p.m. ET. The broadcast will feature stories from five women who broke barriers in sports:
Katherine Switzer, 75 – 261 Fearless founder and running legend who broke the marathon gender barrier
Leurene Hildenbrand, 90 – Denied sports as youth, she has played multiple sports in Senior Games
Alice Tym, 79 – Former No. 13 tennis player and Hall of Fame college tennis coach
De Ette Sauer, 80 – Swimmer who lost 100 lbs. and found an elite athlete within
Jo Dill, 76 – Basketball player and Maine Senior Games Coordinator
The National Senior Games Association believes that there are more women who are still active in the organization's events that lived through that era than any other organization or event.
To view the program, those interested can tune into the National Senior Games' Facebook page (@SeniorGames1) and on YouTube (@NationalSeniorGames), as well as Growing Bolder's Facebook (@GrowingBolder) and YouTube (@GrowingBolder). The program will be archived for later view.
The NSGA also intends to survey female athletes from the Title IX era in the coming weeks to solicit their stories with more programs planned in the future.