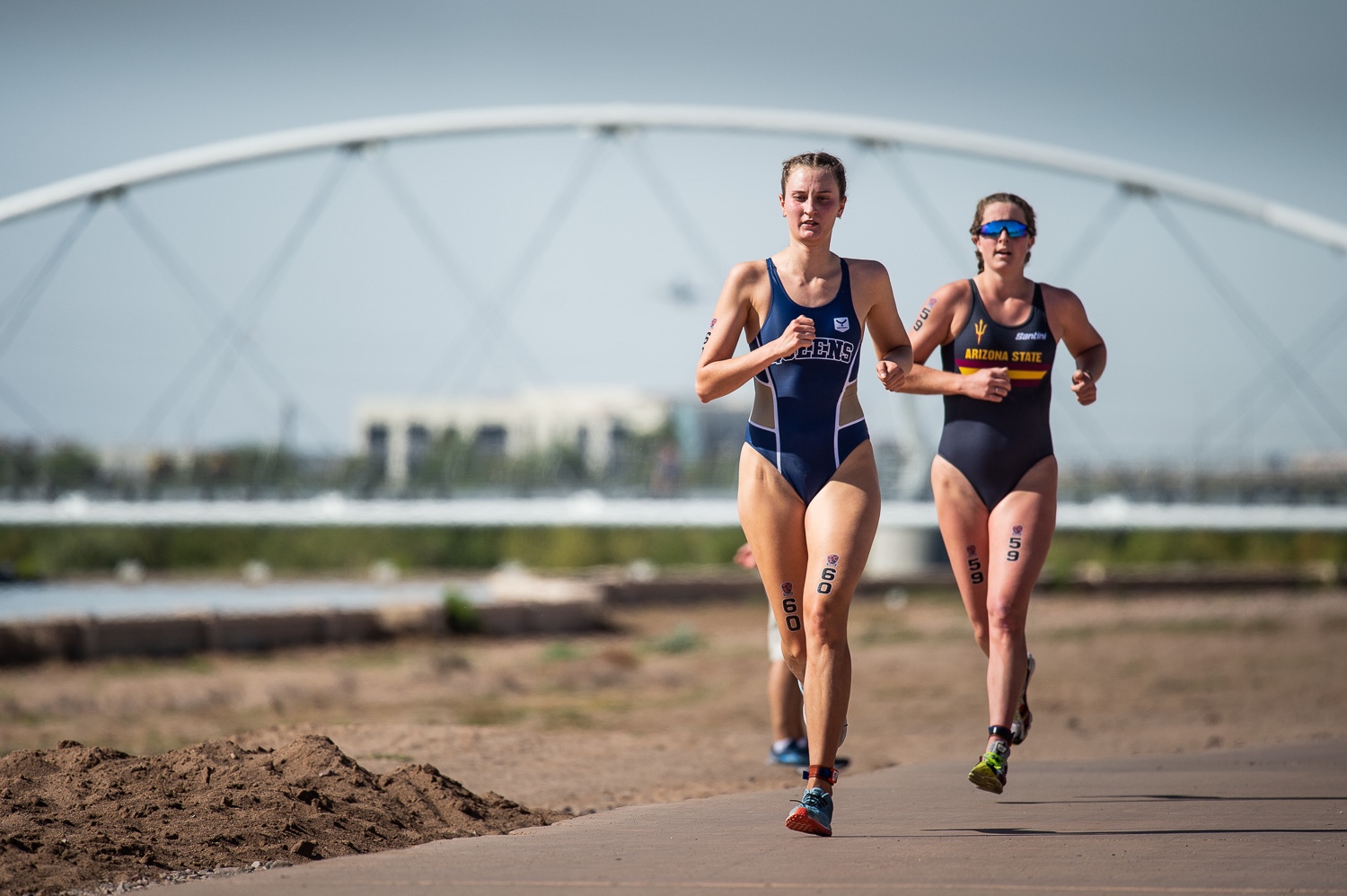 USA Triathlon has secured its 40th university offering women's triathlon at the varsity level, the minimum number that the NCAA will consider for potential championship consideration. Cal Poly Humboldt in Arcata, California, will become the 40th program, beginning competition in fall 2022.
Triathlon has been considered an emerging sport by the NCAA since 2014. That designation began a 10-year window for the sport to gain at least 40 participating schools before the NCAA would consider authorizing a championship. More steps still remain, including committee, council, divisional and budget approvals, but the milestone is considered significant as many emerging sports fail to meet the threshold in the amounted time.
"This is a monumental moment for not only Cal Poly Humboldt and the sport of triathlon, but also for women's sports," said Rocky Harris, USA Triathlon CEO. "It's fitting we've hit this milestone on the 50th anniversary of Title IX as this sends a resounding message across the country that women's sports are thriving."
Humboldt will become the 17th Division II institution to add women's triathlon as a varsity sport and the second in the California, joining the University of San Francisco.
"Cal Poly Humboldt is ecstatic to welcome triathlon to our campus as the 12th NCAA varsity sport," said Cooper Jones, executive director of intercollegiate athletics and campus recreation. "We're thrilled to announce triathlon as our newest sport, one which we believe will be successful in the very near future. I look forward to doing our part to grow the sport both regionally and nationally."
Humboldt's program was made possible through a grant from the USA Triathlon Foundation that is offered to select NCAA membership institutions to develop, implement and sustain women's triathlon programs at the varsity level.
"Getting to this point has been a 13-year process with contributions from so many," said Tim Yount, USA Triathlon chief sport development officer. "Throughout this process Cal Poly Humboldt has shown their dedication to not only supporting a triathlon program but also investing in its continued success."
Women's triathlon is a fall sport, and the varsity season includes National Qualifiers followed by the Women's Collegiate Triathlon National Championships, organized by USA Triathlon and typically held in November. The draft-legal races are sprint-distance, featuring a 750-meter open-water swim, draft-legal 20-kilometer bike and 5-kilometer run.
Women's Varsity Collegiate Triathlon Programs:
NCAA Division I (9)
Arizona State University (Tempe, Ariz.)
Delaware State University (Dover, Del.)
East Tennessee State University (Johnson City, Tenn.)
Hampton University (Hampton, Va.)
Texas Christian University (Fort Worth, Texas)
University of Denver (Denver, Colo.)
University of San Francisco (San Francisco. Calif.)
University of South Dakota (Vermillion, S.D.)
Wagner College (Staten Island, N.Y.)
NCAA Division II (17)
American International College (Springfield, Mass.)
Belmont Abbey College (Belmont, N.C.)
Black Hills State University (Spearfish, S.D.)
Cal Poly Humboldt (Arcata, Calif.)
Colorado Mesa University (Grand Junction, Colo.)
Daemen College (Amherst, N.Y.)
Davis & Elkins College (Elkins, W.V.)
Drury University (Springfield, Mo.)
Emmanuel College (Franklin Springs, Ga.)
King University (Bristol, Tenn.)
Lake Superior State University (Sault Ste. Marie, Mich.)
Lenoir-Rhyne University (Hickory, N.C.)
Montana State University Billings (Billings, Mont.)
Newberry College (Newberry, S.C.)
Queens University of Charlotte (Charlotte, N.C.)
St. Thomas Aquinas College (Sparkill, N.Y.)
Wingate University (Wingate, N.C.)
NCAA Division III (14)
Alvernia University (Reading, Pa.)
Calvin College (Grand Rapids, Mich.)
Central College (Pella, Iowa)
Coe College (Cedar Rapids, Iowa)
Concordia University Wisconsin (Mequon, Wis.)
Eastern Mennonite University (Harrisonburg, Va.)
Greensboro College (Greensboro, N.C.)
Guilford College (Greensboro, N.C.)
Millikin University (Decatur, Ill.)
North Central College (Naperville, Ill.)
Northern Vermont University-Johnson (Johnson, Vt.)
Transylvania University (Lexington, Ky.)
Trine University (Angola, Ind.)
Willamette University (Salem, Ore.)