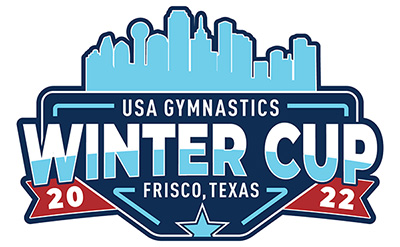 USA Gymnastics' 2022 premier events season will kick off February 25–27 with the three-day Winter Cup at Ford Center at the Star in Frisco, Texas featuring men's and women's divisions along with the Elite Team Cup and Nastia Liukin Cup.
"After the success of last year's Winter Cup, the first to feature both men's and women's competitions, we can't wait to bring this event to Texas," said Stefanie Korepin, USA Gymnastics' chief programs officer. "This is an exciting time to be a gymnastics fan with so much up-and-coming talent. Fans will have the opportunity to cheer on some of their favorite athletes while getting to know a whole new generation of gymnasts who have their eyes set on Paris in 2024 and beyond."
The men's competition will span two days with the all-around champion crowned Friday and individual event winners determined Sunday. On the women's side, senior gymnasts will compete Saturday afternoon with juniors to follow on Sunday. Both will vie for all-around and apparatus titles.
"Visit Frisco is thrilled to welcome the Winter Cup to Sports City USA this year," said Josh Dill, Visit Frisco director of sports and events. "Texas has long-been a top location for elite gymnastics talent and we look forward to showcasing local and national talent at Ford Center in February."
Action will start with the 13th annual Nastia Liukin Cup, which will have an expanded field of 20 junior and 20 senior gymnasts determined based on performances at a series of invitationals held around the U.S. in the coming weeks. Proceeds support the Nastia Liukin Fund, a charitable fund within the National Gymnastics Foundation.
"I am beyond thrilled to have the 13th edition of the Nastia Liukin Cup here in my hometown," said Liukin. "Thirteen is my lucky number, so it seems more than a happy coincidence that USA Gymnastics' Winter Cup and the Nastia Liukin Cup will be hosted in Frisco this year. I look forward to welcoming these amazing gymnasts and their families to the city I call home."