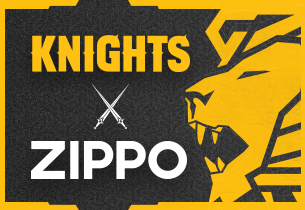 The Pittsburgh Knights have signed a multi-year, integrated marketing partnership starting in 2022 with Zippo that will incorporate key products such as the Zippo Windproof Lighter and Zippo's line of HeatBank Rechargeable Hand Warmers.
Zippo will have branding on the team jerseys and will collaborate with the Knights franchise and players as the upcoming seasons ramp up. Additionally, fans can keep an eye out for more integrations including an exclusive content series, Twitch activations, achievement unlocks, avatar skins and Easter eggs.
"This partnership with Zippo perfectly captures the Knights' strong commitment to the esports community and who better to lean on than a brand that offers best-in-class products that are congruous with gaming," said James O'Connor, president of the Pittsburgh Knights. "Teaming up with this historic brand will not only allow our team to play confidently but also give our gamers a reliable edge during competition."
Zippo will be the title sponsor of the upcoming Knights Rocket League Invitational Winter Bash, which takes place December 27–28. Additional specific events featuring the partnership will be announced at a later date. Zippo is best known for its windproof lighters and they have recently released HeatBank Rechargeable Hand Warmers.
"The partnership between the two companies is rooted in the shared belief of integrity, innovation, grit and tradition," said William Kolasa, senior director of digital at Zippo. "The Pittsburgh Knights feature some of the most talented competitors in the world, and we're thrilled to team up with the franchise and equip their awesome players with the best industry leading gaming gear Zippo has to offer."