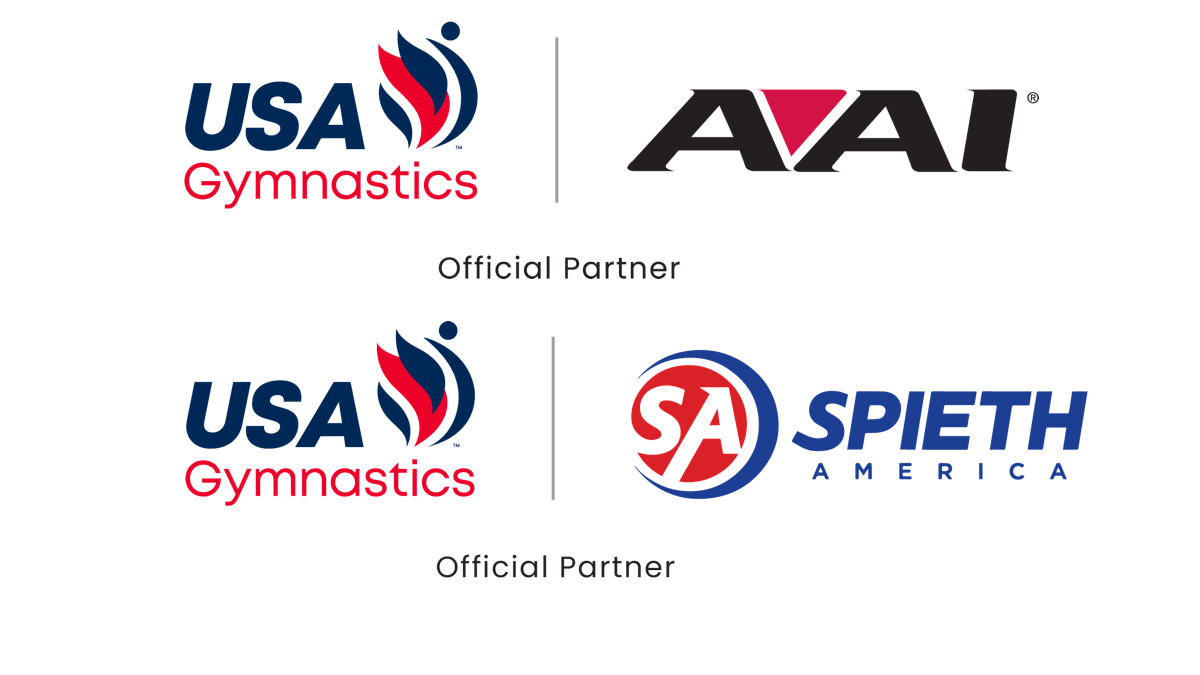 USA Gymnastics has extended a partnership with one equipment supplier in American Athletic Inc., and added a new partner as another official equipment supplier in Spieth America, the national governing body announced this week.
A partner of USA Gymnastics since 1963, AAI will continue to serve as the official supplier for the artistic development and Xcel programs. The two programs collectively serve more than 75 percent of USA Gymnastics membership. In 1972, AAI began its relationship with USA Gymnastics at local and regional championship events, as well as elite national championships. The current partnership focuses on the development programs in which more than 100,000 young athletes participate each year.
"We are thrilled to have AAI continue to support our development and grass roots programs," USA Gymnastics President and Chief Executive Officer Li Li Leung said. "Sustaining and strengthening the partnerships that have been foundational to this organization and our growth is so important for us and our community. We are thrilled to continue our work with AAI and look forward to the future."
Starting in 2023 the USA Gymnastics' men's and women's artistic Development Program National Championships will be Presented by AAI. They will supply equipment to this and to the Eastern and Western Championships and support the Regional Championships. They also will supply equipment for the Gymnastics for All National Championships and Gymfest and will continue to support hands-on educational clinics at National and Regional Congresses.
"AAI's long-standing partnership with USA Gymnastics and decades of dedication to the sport shine through within this agreement," said Lisa Ebersole, AAI product marketing manager. "Growth of the sport, and growth of the athletes is a key driver for us and allows us to focus on our core — supporting the gymnastics clubs and building the future."
The first major artistic development events of the 2023 season will be the Eastern and Western Championships in April and May, respectively.
Spieth America will serve as the supplier for the Elite and National Team Programs for men's and women's artistic gymnastics and for the acrobatic, parkour, rhythmic and trampoline & tumbling disciplines at all levels, from development through elite. Spieth has provided equipment for 12 Olympic Games and 90 World, European, or Canadian Championship events as well as the 2022 World Games in Birmingham, Alabama.
"We are so excited and proud to welcome Spieth America into our partnership family for the first time," Leung said. "With them, we are able to serve a broad range of needs for the gymnastics community. We look forward to our collaboration over the next six years."
As part of a partnership that extends through 2029, Spieth America will supply equipment for roughly 15 events annually. It also includes support for elite programs and athlete health and wellness initiatives. The USA Gymnastics elite artistic competitive season starts 24-26 with Winter Cup in Louisville, Kentucky.
"We are extremely honored and elated to partner with USA Gymnastics to supply all premier events." Spieth America's Managing Director Brent Poulsen said. "Our defining purpose is to keep gymnasts safe, creative, and inspired and we are fully committed to a true partnership where we collaborate to deliver on all USA Gymnastics 'goals. Gymnastics is our number one priority, and we have a dynamic team that is laser focused on providing superior equipment and services to the entire gymnastics 'community."