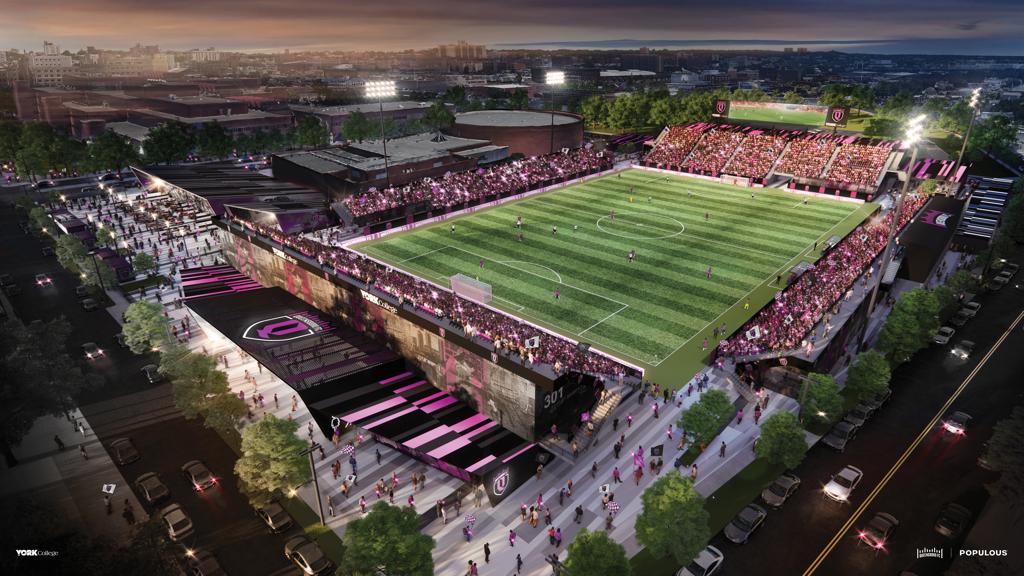 Queensboro FC, a United Soccer League expansion club, has become the latest team to announce a new purpose-built stadium when it begins play in at York College of The City University of New York in spring 2022.
The 7,500-seat modular venue will be the first purpose-built stadium for soccer by any professional sports team in New York City. In addition to hosting QBFC practices and competition play, the stadium will also serve as the venue for York College's commencement, CUNY Athletic Conference tournament games and other free or ticketed events. The university and the club will also partner on several programs including curriculum on topics surrounding health, wellness and sports education, as well as the integration of QBFC front office, coaches and players as guest speakers. The sides also plan initiatives hosted by QBFC and York College related to youth and student development in the form of seminars, clinics and internships.
Populous will design the stadium, whose pitch will be a turf playing surface to allow for year-round access for sports, entertainment and community events.
"Today is an exciting day for Queensboro FC," said Jonathan Krane, owner of Queensboro FC, which will play in the USL Championship, the league's top division. "The announcement of our home stadium site at York College represents a bold new chapter for professional sports in New York City. More importantly, we are proud to deliver our QBFC fans a dedicated soccer specific venue, built by and for the Queens community, bringing us all together to celebrate the beautiful game."
"The soccer community in Queens is finally getting what they've always wanted — their own team and their own stadium," said Aly Wagner, former U.S. Women's National Team player and part of Queensboro FC ownership group. "We have worked really hard over the past two years to bring QBFC to life, and this stadium represents a huge step forward. It will serve as a physical manifestation, and a leading example, of how to build a modern-day soccer team in an ever-changing world of sports and entertainment."