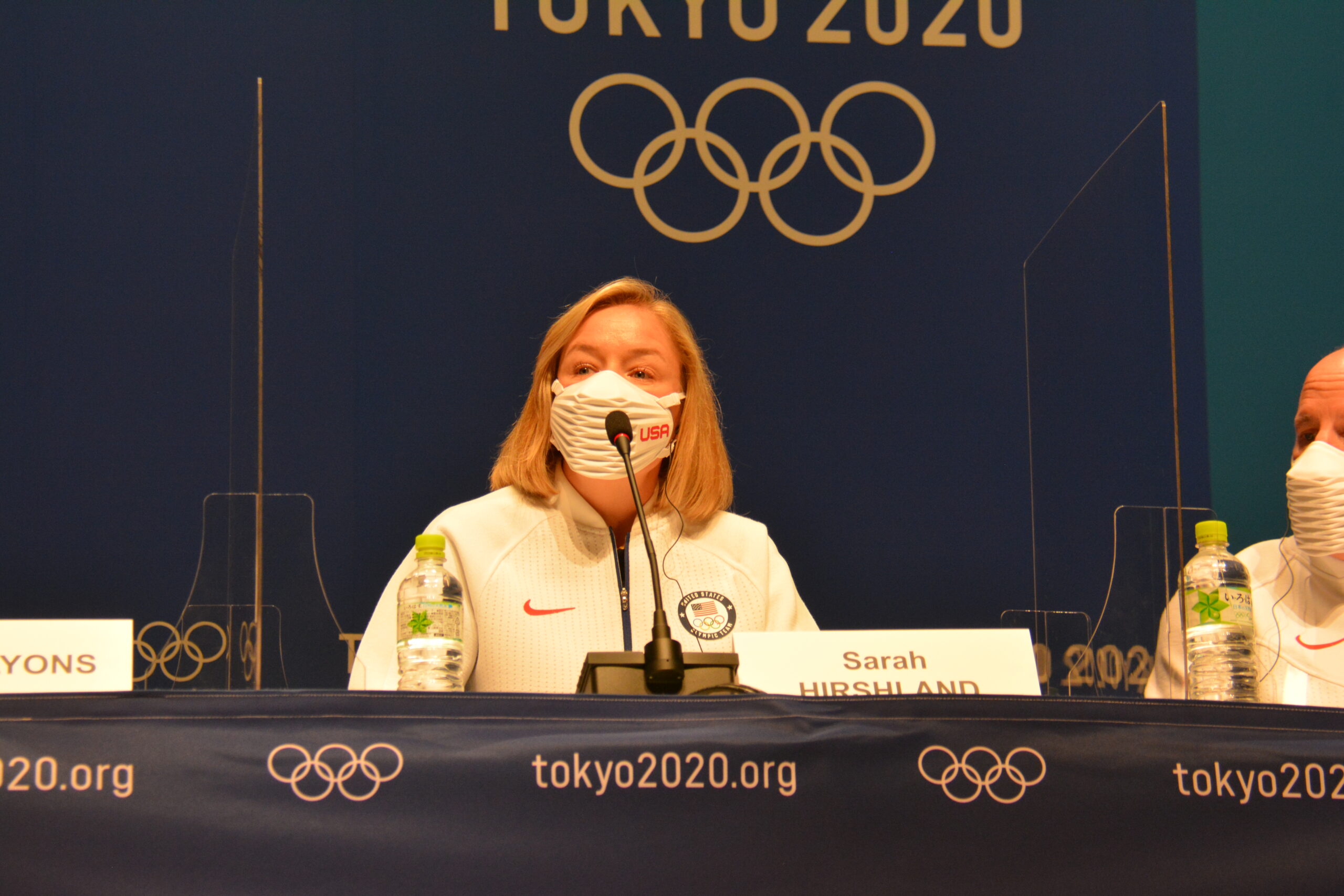 When Team USA heads to Beijing in February, U.S. Olympic & Paralympic Committee officials say they will be the most prepared team to deal with the uncertainties of COVID-19 that will make for a second consecutive Olympic and Paralympic Games staged under strict virus countermeasures.
Members of the U.S. team as well as coaches, administrators and support staff will be required to be fully vaccinated to compete, a more strict policy than the USOPC held during the recent Tokyo Games, where vaccines were encouraged. The only exemptions will be for those who can prove they have a medical restriction from getting a vaccine, based on measures already announced by Beijing 2022. In those cases, athletes will be required by Beijing organizers to quarantine for 21 days upon arrival to China before they can resume training or competing.
At the start of a two-day media summit in advance of the Games, USOPC Chief Executive Officer Sarah Hirshland said lessons learned from Tokyo will be carried over to Beijing. "We're strong, we're focused and if this summer is any indication, we'll be the most prepared (National Olympic Committee) and (National Paralympic Committee) in Beijing."
The U.S. expects to bring a delegation of more than 240 Olympians and 65 Paralympians to compete in Beijing, as well as an unknown number of coaches, support staff and administrators. There will be 187 medal events contested in Beijing, including new disciplines of women's monobob, big air skiing and several new mixed-gender events.
Addressing another major expected storyline of the Games, Hirshland said the USOPC will be focused on giving Team USA athletes a chance to compete despite expected political protests or diplomatic boycotts of the Beijing Games over human rights issues in China.
"The athletes of Team USA and the athletes of the world have been preparing for the Games for years," she said. "The opportunity to compete for the United States is a special one and a singular event for the great majority of Olympic and Paralympic athletes. We are focused on protecting that opportunity."
A trio of USOPC medical experts also addressed the challenges ahead in Beijing both in terms of COVID mitigation and how athletes will adjust to the unknowns ahead from a mental health perspective as well.
Dr. Jonathan Finnoff, the USOPC's chief medical officer, said the vaccine requirements that the USOPC and Beijing 2022 have put in place will make athletes safer and come from lessons learned in Tokyo. "These are challenging times but the vaccination policy we've put in place and China has put in place will make the Games as safe as possible," he said.
Sean McCann, the senior sport psychologist for Team USA who will mark his 14th Games in Beijing with Team USA, said winter athletes may be better positioned to adjust to the potential isolation without family members in Beijing, who will be banned from attending just as they were in Tokyo. All foreign spectators have been banned from the upcoming Games, although spectators from China are expected to be allowed to attend.
"Winter sport athletes from the United States have a specific challenge in that most of their competition happen in Europe," he said. "They are very familiar with being away from support systems, sometimes spouses, or kids in some cases, five months of the year. That's always a challenge. In some ways I would argue our winter sport athletes are a little bit better prepared from being cut off from their support systems."