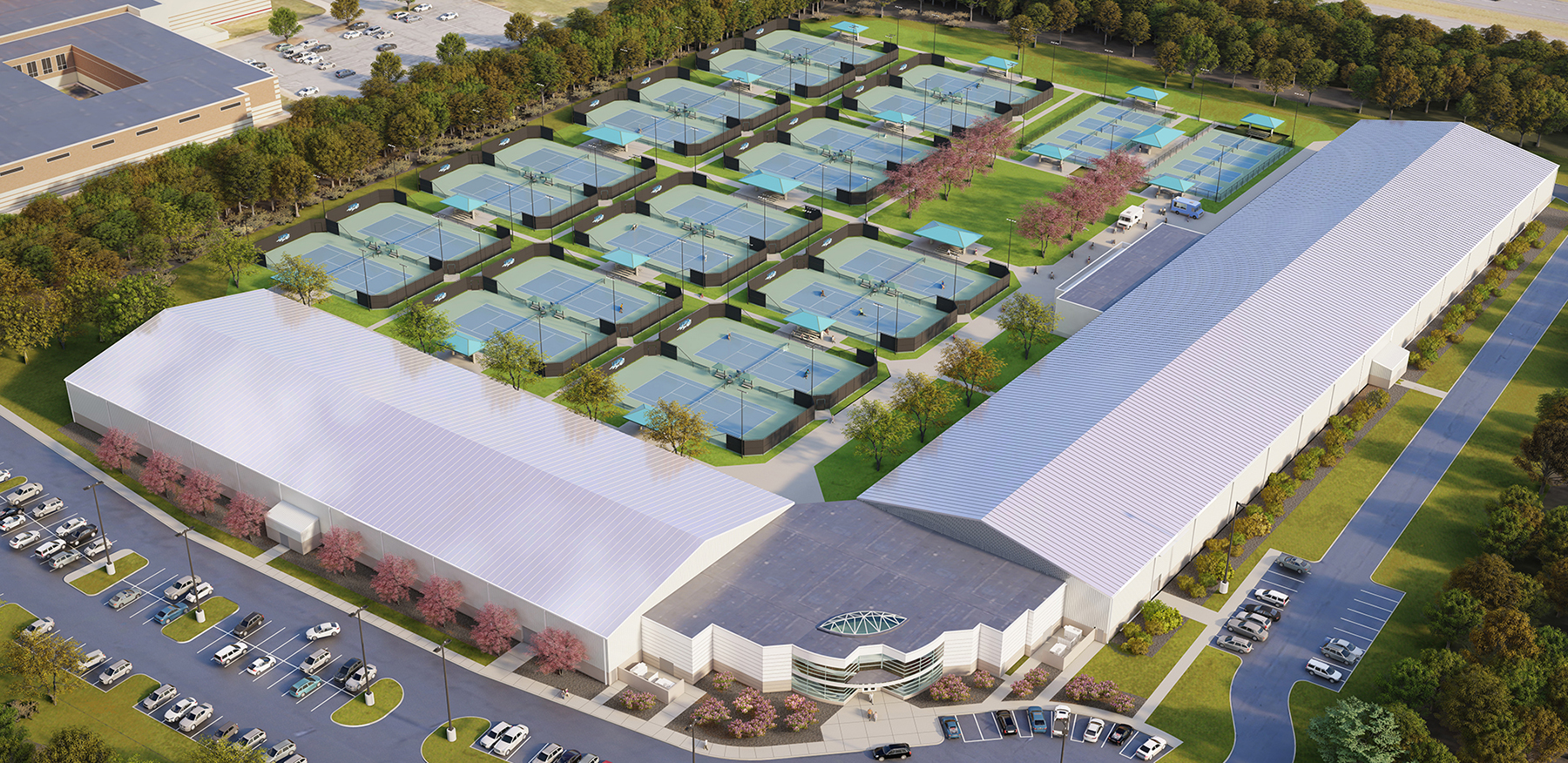 The United States Tennis Association Mid-Atlantic Section plans to build a 36-court tennis campus in Loudoun County, Virginia, creating a year-round community health and wellness venue through tennis.
The campus will draw local, regional and national level tennis events and feature daily programming, allowing the nonprofit organization to service the mission of growing the sport and attaining their vision for tennis in every community in the Mid-Atlantic region. In the Mid-Atlantic region 1.3 million people report playing tennis, the third highest in participation rate per population in the country.
Plans include 20 outdoor courts, 16 indoor courts, 8 pickleball/youth courts and more than 190,000 total square feet of tennis infrastructure for daily programs and match play, leagues, events and community initiatives. Once built, the USTA Mid-Atlantic plans to house its operations and headquarters on the campus.
"We have an enormous opportunity to use tennis as a way to impart meaningful change among individuals and communities and introduce the sport to so many more people," said Tara Fitzpatrick-Navarro, chief executive officer of USTA Mid-Atlantic. "Our community-first approach with our pursuit of the tennis campus will allow us to build something that will be transformative and unmatched in ability to elevate and enhance lives, the community, and the entire Mid-Atlantic region."
The project will cost approximately $42 million and has an anticipated opening in 2025 as the anchor feature of a planned community, with a diverse slate of home sites and community amenities. USTA MAS has accepted a $250,000 Loudoun County Business incentive from Loudoun Economic Development for the tennis campus project. The Loudoun County Board of Supervisors and the Economic Development Authority will have a public vote for final approval of the incentive package during the March 15 Board of Supervisors meeting. Following the meeting, USTA Mid-Atlantic will conduct a capital campaign to secure funding.
"This new development aligns with Visit Loudoun's strategic vision to position the county as a top-tier sports destination," Visit Loudoun President and Chief Executive Officer Beth Erickson said. "It will open up the opportunity to attract new tournaments and create jobs as well as drive demand for our hotels, restaurants and other attractions. We couldn't be more thrilled to welcome USTA Mid-Atlantic to Loudoun."
In addition to community-based tennis and outreach programs, the Mid-Atlantic Section estimates hosting more than 50 annual events and projects more than 78,000 event attendees.
"The new campus will bring people from different walks of life together and serve as a key part of the Mid-Atlantic community, fulfilling their social and emotional needs, elevating and enhancing the lives of all who visit," said Beth Twomey, chief operating officer for USTA Mid-Atlantic. "It will be a hub of learning, teaching and growth that amplifies beyond its walls out to the larger community and Mid-Atlantic region."