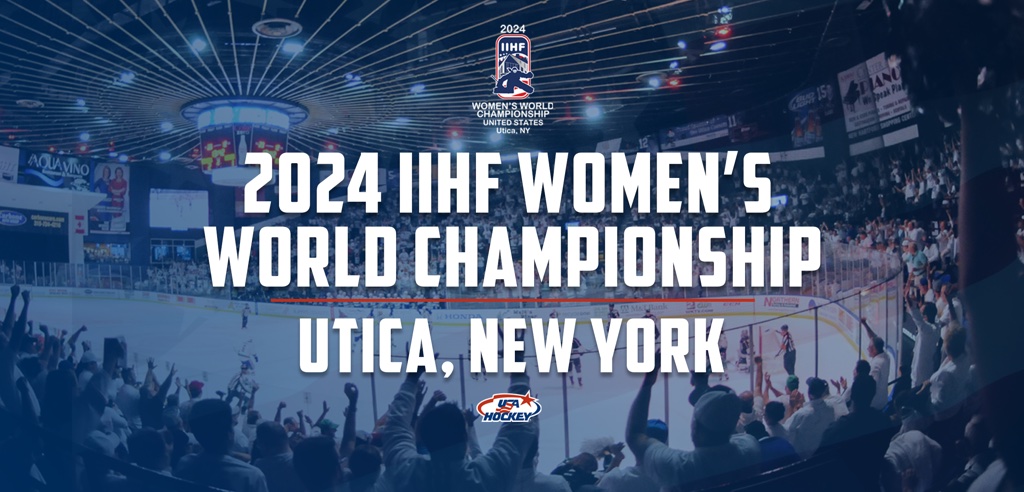 The 2024 IIHF Women's World Championship will be hosted by Utica, New York, with games at multiple venues throughout the Mohawk Valley Region, USA Hockey announced on Sunday before this year's world championship title game between the U.S. and Canada in which the Americans won 6-3 to claim its first win over its rivals since the 2018 Olympic Winter Games.
The event is scheduled for April 4-14, 2024, and will include 31 games at the Adirondack Bank Center and Utica University Nexus Center featuring 10 teams. The U.S. has hosted the IIHF Women's World Championship on four previous occasions, the last time in 2017 in Plymouth, Michigan, at USA Hockey Arena where Team USA took home gold on home soil for the first time ever.
"We're thrilled to have the IIHF Women's World Championship back in the U.S. and could not be more excited to bring the event to Utica," said Pat Kelleher, executive director of USA Hockey. "The leadership of the Mohawk Valley Garden group, led by Robert Esche, in partnering with us and the support from the state of New York, Oneida County, Turning Stone Resort and the city of Utica has been fantastic. It's not often we get to host world championships in the U.S. and we know fans will enjoy the opportunity to see the best women's hockey players in the world in person next April."
Other U.S. host cities have included Burlington, Vermont (2012), Minneapolis (2001) and Lake Placid, New York (1994). The 2024 IIHF Women's World Championship will include the top 10 teams in the world. The teams will be split into two groups of five and each team will play the other four teams in its group in a preliminary round. The teams will be seeded following the preliminary round with the top eight teams advancing to the quarterfinals.
"It's awesome to have the Women's Worlds back in our country again," said Katie Million, director of women's national team programs for USA Hockey, "I know fans will enjoy the talent they'll see on the ice and hopefully we'll be able to celebrate a second straight gold medal on home soil next April."
Adirondack Bank Center is home of the Utica Comets, the AHL affiliate of the New Jersey Devils. The Utica University Nexus Center, which opened in 2022, is home of the Utica University women's ice hockey team and contains three ice surfaces. The two facilities are adjacent and connected by a walkway.
"We are confident that Utica will be an excellent host," said Luc Tardif, president of the International Ice Hockey Federation. "It is always a positive to have someone like Robert (Esche), who played on U.S. National Teams and also played in the NHL, involved as he brings a unique perspective that will contribute to what we know will be a great Women's Worlds."