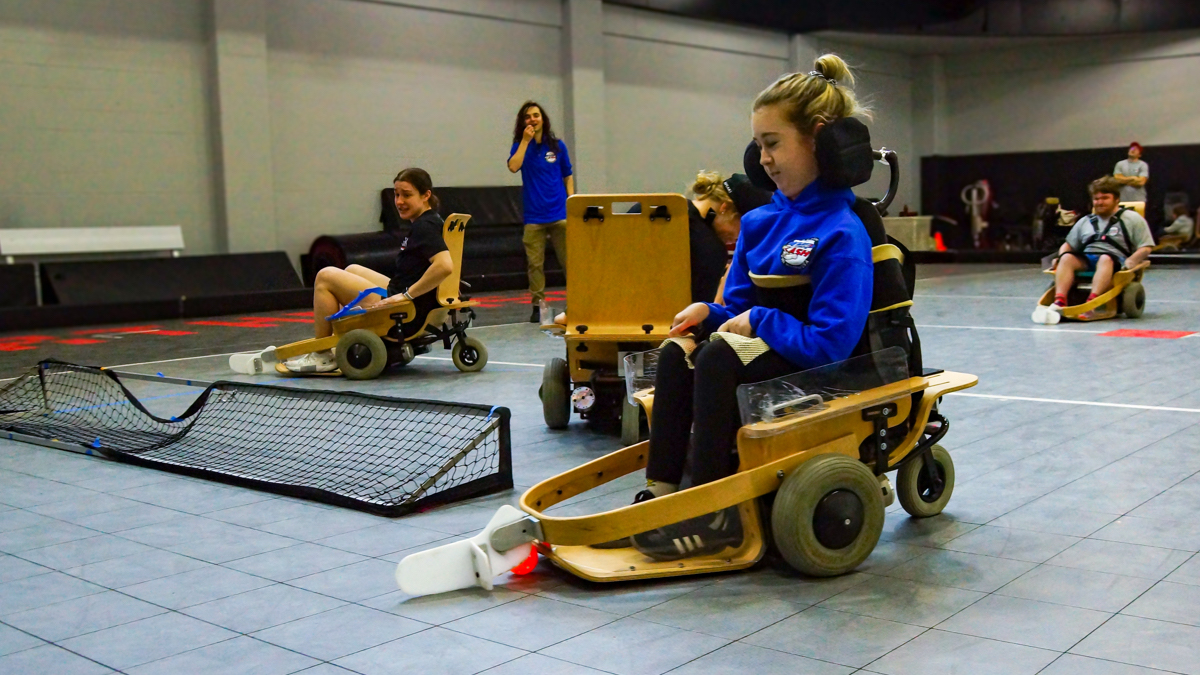 The Northeastern University men's and women's hockey teams showed up to the rink prepared for a battle. These teams have won Beanpot tournaments and been to Frozen Fours, but they were no match for the squads they were up against. Two games took place that day in Boston, with the Division I athletes getting blanked by a cumulative final score of 13-0.
This was the first introduction for the ice hockey players into the world of volt hockey. Volt is an accessible form of hockey that is played by people with a variety of disabilities, particularly those with limited upper mobility. The adaptive sport uses a specialized wooden wheelchair controlled with a joystick, which can reach nearly 10 miles per hour at top speed.
Marley Robinson — a recent Northeastern graduate who is a member of the Boston Whiplash, the first organized volt hockey team in America — recalls the Northeastern ice hockey players seemed a bit lost in the volt world.
"They tried using their hockey strategies and I could see them communicating a lot more than us and trying to run plays," Robinson said. "And then as soon as they'd start driving, they'd lose control and have no idea what they were doing. They quickly learned there's a lot of strategy and technical ability that you need to be able to maneuver the chairs, as well as controlling the ball."
Much like those Northeastern players, the majority of the United States has never heard of volt hockey. But a community in Boston is aiming to change that.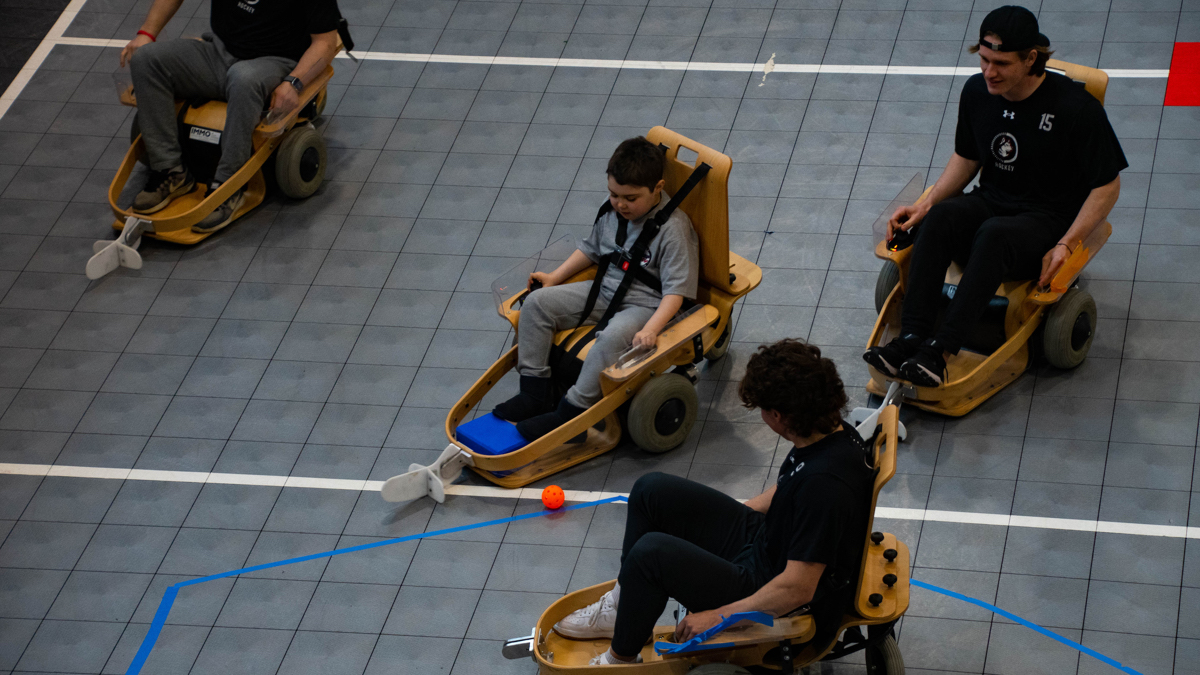 Robinson is the co-founder of Diversability, a club dedicated to promoting disability advocacy, education and collaboration among the Northeastern community. She's joined on the Whiplash team by Desi Forte, the youth program manager at Easterseals Massachusetts.
Both Robinson and Forte were introduced to the sport during an adaptive sports demonstration in the Northeastern community at Boston Self-Help Center.
"I was active with sports when I was younger, but haven't been in my adulthood," Forte said. "So when I saw this, I was very interested and intrigued because it looked like something I could do. Most people don't even know it exists, so it's really cool to be able to tell people about this sport, especially within the disability community. And I look forward to engaging more of the community and getting more people involved."
Avery Melam is a second-year student at Northeastern and one of the leads on the Northeastern University research team that is studying adaptive sports and its benefits on the mental wellbeing of participants. She joined the research team in late 2022 and has been involved with the Whiplash since.
"It gives you some adrenaline just watching it, seeing the players go really fast on the wheelchairs," Melam said. "They'd been doing this for over a year before I joined, but everybody was so welcoming to me. Even though I joined from a different aspect, it's still so much fun to just be a part of this team."
Volt hockey is international
While the Boston Whiplash have only been around for two years, the sport of volt hockey has deep roots throughout Europe. Each year, Sweden hosts a tournament featuring teams from around the continent. Now, that event is expanding.
The tournament, featuring 22 teams and nearly 200 players, was rebranded as the inaugural Volt Hockey World Cup, which took place in September 2022. The Whiplash sent a team to Gävle, Sweden, as the first American squad to participate in the event. This year, the Whiplash will send two separate squads to the World Cup.
"I remember when I was in Sweden last year, I was talking with one of the girls we played against who was really good and I asked her how long she had been playing. She said since she was 7 or 8," Forte said. "We saw some of the high-level teams that play extremely competitive. I look forward to us growing the sport here to get to that point where that's the goal — to be on one of those higher-level competitive teams."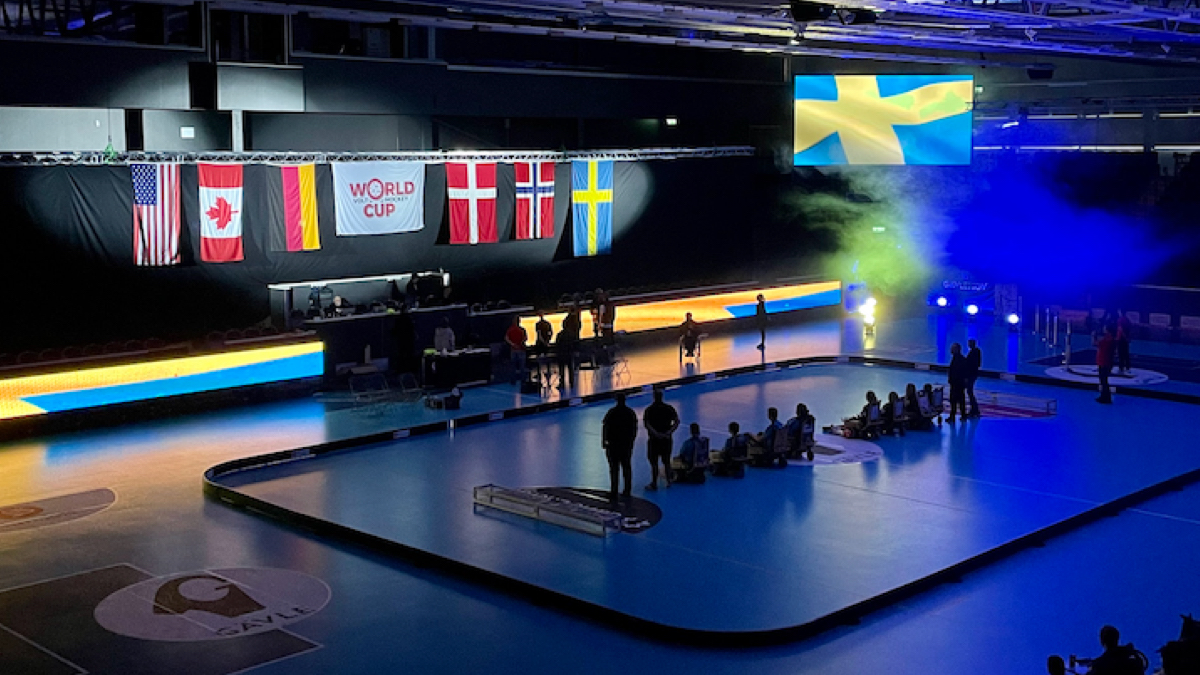 The challenge is not just about improving at the skill side of the sport to be competitive with the established European teams. There is also a financial aspect that the Whiplash must battle.
Buying and storing the specialized wheelchairs, finding places to practice and play, as well as the travel to Sweden, are all growing pains of trying to expand the sport.
The team has a GoFundMe page to help raise funds for the 2023 Volt Hockey World Cup, which is September 15–17. There is also a website live streaming the games.
"Last year was an amazing experience, but this year's going to be very different," Forte said. "Last year we went in with no real expectations because we had never played a game before. We had never even really seen a game before. So when we got there, it was trial by fire. We were learning as we were going in those games because we had practiced, but we had not played a real game."
There's cause for optimism, as the Whiplash earned a silver medal at the North American Volt Hockey Tournament in Toronto over Memorial Day weekend.
"We got second place and that was the first time that I've been part of a team playing competitively. We won five out of seven games," Robinson said. "We've also been able to have scrimmages and practices, and we've really focused on drills and being better about knowing the rules."
Cultivating the future of volt hockey
In addition to interviews involving players on the Whiplash, Melam and the research team also got in contact with multiple volt hockey teams in Scandinavia as part of their research. Part of the study is comparing the quality of life benefits between people in the United States and people abroad in countries such as Sweden, Denmark and Norway.
"It's really interesting to see the difference, because over there the sport is much more established," Melam said. "It's been going on for about 30 years now. It's awesome to see the transition between how it is impacting people in the first few years of playing, but then also how it's made a lifelong impact on people who have been playing this sport for 15, 20 years."
Robinson says most adaptive sports, outside of power wheelchair soccer, aren't naturally competitive and aren't fast-paced enough for her liking. But volt hockey has captured her heart.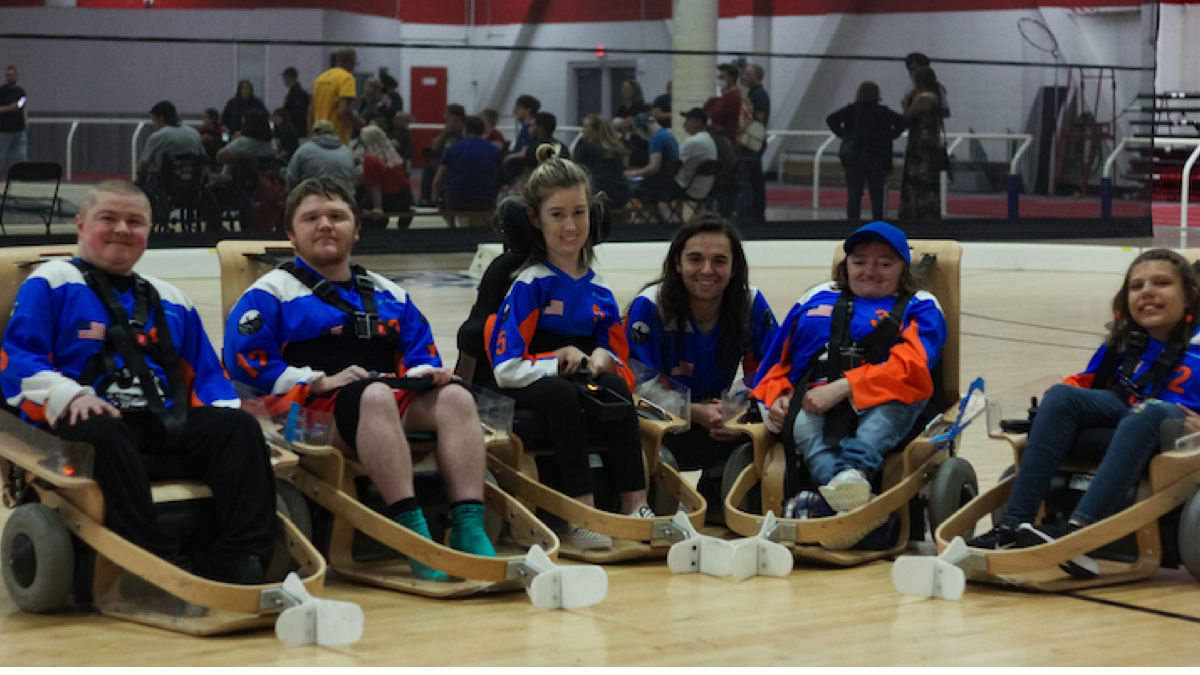 "I'm a competitive person, so being able to have a competitive sport aspect introduced into my life has been huge for me," Robinson said. "There's also a community aspect in playing a team sport. Desi and I have never been part of team sports growing up, so we haven't been taught what it's like to be on a sports team. So being able to go through that now in our 20s and 30s is definitely interesting."
Boston is the birthplace of volt hockey in America, with the Whiplash leading the way and other regions in Massachusetts starting to develop teams. Forte sees this as the beginning.
"We hope that we'll raise exposure and awareness and encourage other places around the country to get involved and start forming teams," Forte said. "The hope I see is that we have more teams forming all over the country and can have tournaments, and maybe one day we host a tournament here in Boston."
"The main goal is just to develop the sport in general," Robinson added. "We've received interest from people out in Seattle, and in Salt Lake City. So there's definitely a desire for the sport to grow. It's just a matter of forming the organization to provide that support to people. The chairs are very expensive, so being able to fundraise and provide teams with assistance is important as well."
All three women echo how important the Boston Self-Help Center has been in affording these opportunities for volt hockey. The small nonprofit provides the space the Whiplash practice at the Tobin Community Center in Boston.
"I know a lot of people who want something like this, but don't know that it's available to them," Melam said. "I would love for it to be a lot more accessible to people so they don't have to drive multiple hours every time they want to go and practice, so everybody gets a chance to play the sport if they want. It's an amazing sport."