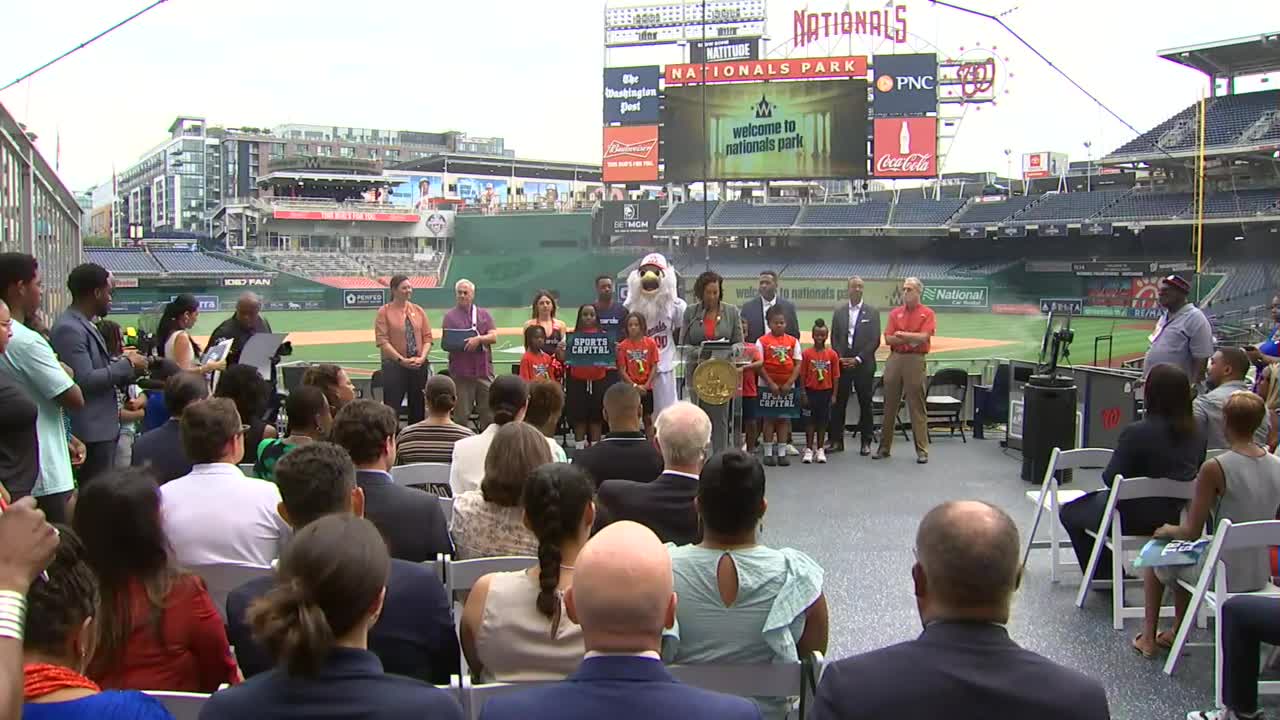 Washington, D.C., Mayor Muriel Bowser announced the creation of a Sports Team within the Office of the Deputy Mayor for Planning and Economic Development during a rally inside Nationals Park, the home of the district's Major League Baseball team.
The newly-formed DMPED Sports Team will work with the District's professional teams and coordinate across local agencies and with Events DC to maintain, expand and attract sports teams and events to the area.
"We are proud that so many world-class teams and athletes represent DC, and we're committed to maintaining, expanding, and attracting sport in DC – from our professional athletes to the future all stars in our rec leagues," Bowser said. "We are also celebrating a new opportunity to unlock the full potential of the RFK campus, to build on our waterfront as a Sports Capital destination, and to transform a sea of asphalt into jobs, housing, and amenities for DC residents."
A focus of the group will also be to develop the next generation of athletes and coaches. Last year, the mayor's budget included $60 million to create the Sports Complex at RFK, an indoor sports facility that will accommodate gymnastics, indoor track and field, boxing and more. The DMPED Sports Team will also commission a "DC Sports Study" to identify funding mechanisms to support the goal of maintaining, expanding, and attracting sports in DC.
Last week, Audi Field hosted the 2023 Major League Soccer All-Star Game, with a sell-out crowd of 20,621 fans in attendance. Last week marked a new chapter for the Washington Commanders with the approved sale of the team to Josh Harris. The Mubadala Citi DC Open at the William H.G. FitzGerald Tennis Center starts July 29 and runs through August 6 with the annual tournament featuring the ATP and WTA Tours for the first time; the tournament is the fourth-longest running pro tennis event in the U.S. and the longest-running tournament in a public park.
"We know how important sports are, not only to DC's economy by creating jobs and generating tax revenue, but also to our culture by celebrating traditions that bring us together as a city," said Interim Deputy Mayor for Planning and Economic Development Keith Anderson. "DMPED and our Sports Team are excited to work with District agencies and our partners to support the success of our teams, both on and off the field."
This fall, after the study is complete, a DC Sports Summit will bring together owners, staff, and stakeholders from the District's professional sports teams.