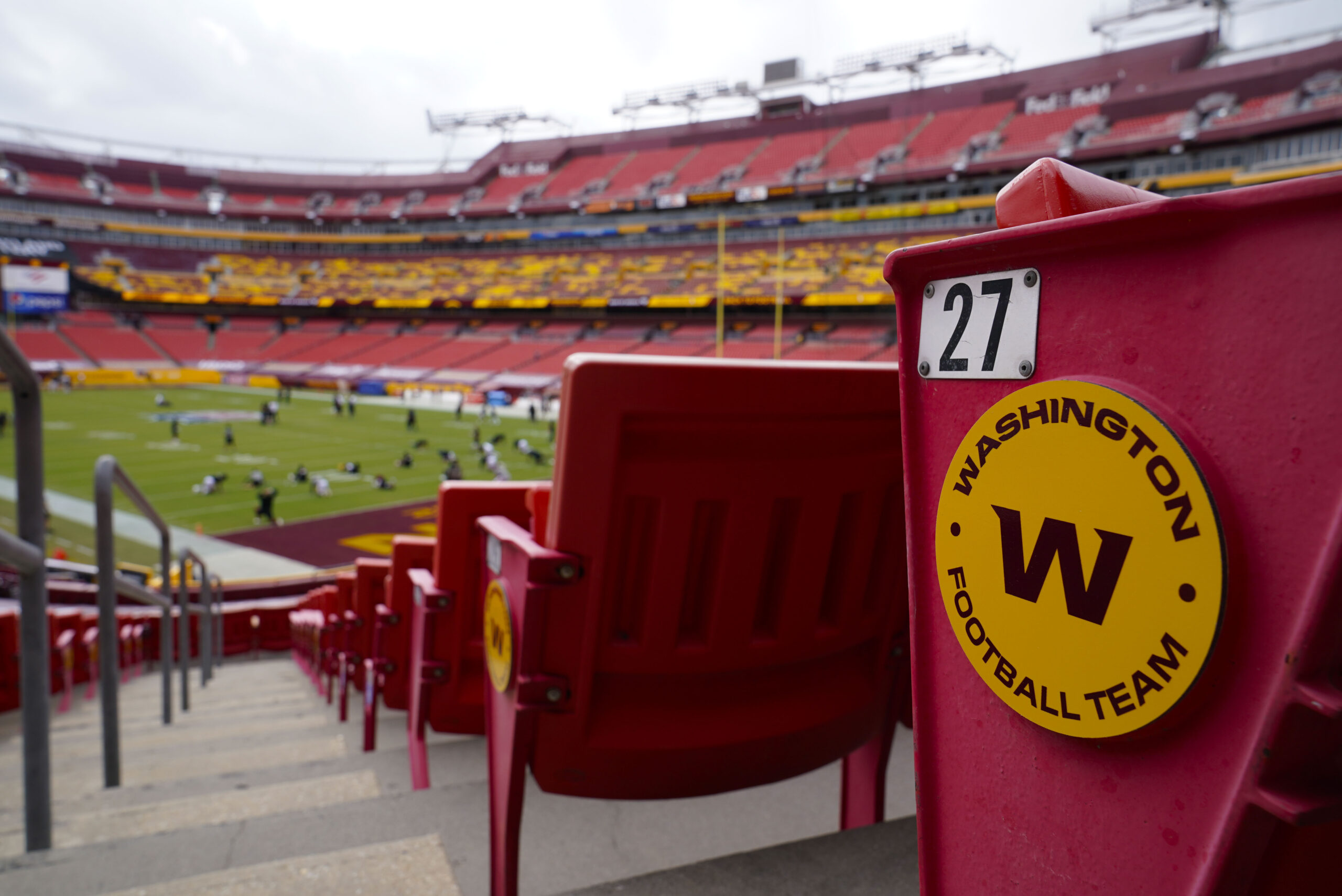 While consistently talked about around the Maryland and District of Columbia areas, the fact is that any future stadium project for the Washington Football Team is not going to be determined anytime soon, the team's president said during a keynote interview at last week's Association of Luxury Suite Directors virtual meeting.
During "Presidents Conversation: The Future of Football & Business in Washington," WFT President Jason Wright told interviewer and NFL colleague Al Guido, president of the San Francisco 49ers, that "we're at an early starting point. It's probably a six-to-seven-year process on the fast side of things. It could take longer. There's so many interdependent factors along that timetable."
Washington's lease with the state of Maryland and Prince George's County at FedEx Field expires in 2027. With a capacity of 82,000, the team averaged 65,488 last season, ranking 20th in the league, a disappointing number for a team that has such a devoted fan base.
"We still have seven years in our existing stadium," Wright said. "There's a lot of to be desired in the fan experience in our existing stadium and I don't want to take my eye off of that."
And with the former home for the team, RFK Stadium in Washington, D.C., slated for demolition soon, there has been years of lobbying from the team both in subtle and non-subtle ways about potentially relocating back to where it played from 1961 to 1996. To do so, though, there would be several political hurdles to jump over between funding for the stadium and a broader project. Plus, RFK sits on land owned by the U.S. Department of the Interior.
"I think where our thinking is most fleshed out is how we're going to build this stadium and what we really want it to be," Wright said. "We want this stadium to be built and represent an inclusive and purpose-driven organization and represent an inclusive and purpose-driven area. … There's this lens of inclusion and purpose that goes into how we are planning and designing the building itself."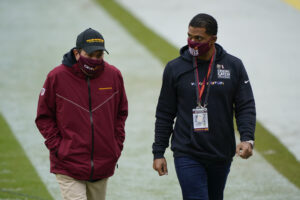 Rebranding Still in the Mix
Along with a potential new stadium project, Wright and WFT are tasked with an even more high-profile moment of rebranding. The team dropped the nickname it has held for decades over the summer after years of criticism for its racist overtones. There was talk recently that the team may just go with Washington Football Team for next season as well rather than rush the process of picking a new name and branding with colors and more.
"It is an immense opportunity," Wright said, joking his Twitter mentions are on fire — to put it nicely — about nickname possibilities. "It is harder than the standard rebrand. This is going to be holistic. The degree of change is hard to pay off. The public scrutiny is hard to do that underneath. The degree of difficulty is super high. But the potential impact is also super high. Because our fan base is so engaged and passionate about this, the opportunity to reintroduce ourselves to them along the way is going to be really important and immense."
Wright, a player in the NFL for seven years with four teams before going into a business career at McKinsey, became the first Black person to hold a team president position in the NFL when he was hired by Washington in August.
"At the beginning, I knew I needed to answer it," Wright said. "But I felt like 'man, if I was a white dude I wouldn't have to answer these questions and I could just start working.' But at the same time, there wouldn't have been a news story about it either. I have to recognize that it is unique and as I've said before, it is important to reflect on it not because of me, because I walked into something that many other people have labored hard in the past to create the opportunity for."
One of Wright's other impending tasks will be to deal with an investigation being conducted by the NFL into Washington's workplace after multiple stories. "That we haven't had a great people environment is well documented," said Wright, who added he does not know anything about the status of the investigation — later adding "I don't know what it's going to say, I'm guessing it's not going to be pretty. But it's information that we need to have. We can't fix what we don't face. … The best thing I can do is be prepared to move swiftly."
Understanding Esports Venues
Meanwhile, opportunities are abounding for esports venues to crop up in destinations given that for the most part, they are not the size of other professional sports venues — with the exception of the planned Nerd Street Gamers complex that will take up a city block in Philadelphia and have its own zip code.
"For us, this building is more than just a competition space," said Nerd Street Gamers CEO and Founder John Fazio during another discussion at the ALSD conference. "This is a job creator. This is an ecosystem developer that we believe will have long-term economic impact in Philadelphia."
That city is also the future home of Fusion Arena, designed by Populous. "One of the things that has been interesting to watch is the evolution of the different venue types that we've seen the market ask for," Populous Senior Principal Brian Mirakian said. "When you're watching a major event, everybody in traditional sports wants the Jack Nicholson seats. People want to be as close to the action at an NBA or NHL game. In esports, the sight lines are totally different. People don't want to have proximity to the players but the best viewer experience with the screens."
Mirakian and Populous' portfolio also includes Esports Stadium Arlington, the virtual host for this year's EsportsTravel Summit. "The way we designed Esports Stadium Arlington was to cater to the casual gamer as well as the professional," said Jonathan Oudthone, president of the venue. "Modularity is one of the most important things to keep in mind. When we designed Esports Stadium Arlington, that was number one thing we kept in mind because we wanted to be able to conform to any type of esports standard."