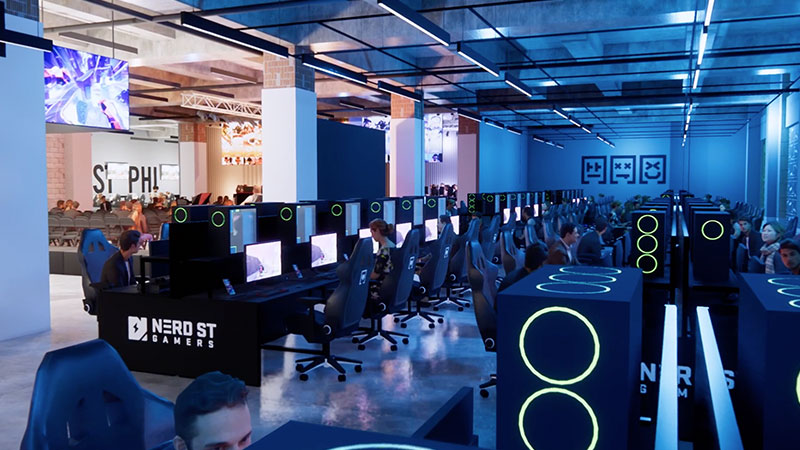 The esports infrastructure company Nerd Street Gamers will be opening its own industry campus in Philadelphia called 'The Block" with global broadcast studios, training centers for professional teams and schools and potentially a Localhost facility for community and pro-level events as well as programming.
The center will be located at 401 North Broad Street and be the new corporate HQ for Nerd Street Gamers, which aims as part of the development to provide low-cost access to equipment and education throughout the downtown community. The building is owned by Netrality, the operator of data centers that facilitate the interconnection between major fiber networks and regional connectivity.
"Not only are we creating one of the industry's largest gaming landmarks with The Block, but we're also building a home for every member of Philadelphia's gaming community and contributing a vital element to the redevelopment of North Broad Street," said John Fazio, founder and chief executive officer of Nerd Street Gamers. "With this esports campus, we're supporting the growth of the industry as a whole by increasing access to opportunities for gamers, public organizations, educational institutions, and the community at large."
The company plans to partner with local organizations and educational institutions building esports programs including Temple University. Nerd Street Gamers will also roll out a partnership with the Center for Autism and Neurodiversity at Jefferson Health to launch procedures, programs and initiatives for the autism community to positively impact esports.
"By collaborating with Nerd Street Gamers, we can expand the innovation they bring to the city as a whole and empower and showcase the strengths of individuals with autism," said Wendy Ross, director at Jefferson Health's Center for Autism and Neurodiversity. "Esports is in a unique position to provide new social and job opportunities for people with autism, and this esports campus in Philadelphia is an incredible launching point for the entire industry."
The announcement of a new headquarters in Philadelphia is the latest milestone for the local gaming company. Fusion Arena is slated to open in the heart of the Philadelphia Sports Complex to host local professional esports teams. The design firm Populous will be working on both the Nerd Street headquarters and the Fusion Arena project.